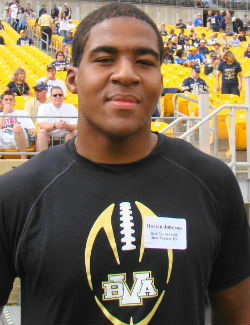 While this year's unit is far exceeding expectations, one of the biggest needs for Coach Urban Meyer and the Ohio State coaching staff moving forward is help along the offensive line.
Jack Mewhort, Andrew Norwell, Corey Linsley, Marcus Hall, and Reid Fragel have done an excellent job through the first half of this season, but Meyer has continually harped on depth being an issue along the line.
Freshmen Taylor Decker, Kyle Dodson, Jacoby Boren, and Joey O'Connor seem like they could be the real deal in the early going, but after that there is not much to look forward to in a couple years when the current starters depart.
In the 2013 recruiting class, OSU has already secured verbal commitments from Centerville (OH) OT Evan Lisle and Indianapolis (IN) OG Tim Gardner, which is a good start, but Ed Warinner would still like to add another lineman to the incoming group.
The top remaining target on the big board is Belle Vernon (PA) Area OT Dorian Johnson. Standing at 6-6/285, Johnson was once a member of Penn State's 2013 class, but de-committed shortly after the Nittany Lions were sanctioned for the Jerry Sandusky events.
Johnson opened things up and quickly named hometown Pitt, the Buckeyes, and Virginia Tech as his new top three in that order, with no set timetable for a decision.
Going into Saturday Johnson had only been on Ohio State's campus once and the Panthers were thought to have a sizable lead for Johnson's signature, but that all changed just a bit after the four-star tackle and his family made the trip west on I-70 to Columbus.
We caught up with Dorian to find out how far the visit closed that gap, what he did on the visit, what he's looking for in the school of his choice, and more.
Keep reading to find out more about one of the nation's best offensive linemen in the class of 2013, Belle Vernon Area's Dorian Johnson.
How was your visit for the Nebraska game?
I had a really good visit, it was a really good time. It was the craziest, loudest game I've ever been to. The atmosphere was great.
What was your favorite part of the visit?
Being down on the field before the game and watching the players warm up was really cool.
Did you get to meet fellow recruits on the visit?
No I did not because we got into Columbus pretty late so I didn't have the chance to meet many people.
Pitt was your leader coming into the visit. Is that still the case?
It's still Pitt, then OSU, then Virginia Tech, but the visit helped close the gap. They definitely moved up a bit.
Do you have any upcoming visits?
Yeah, I may get down to Pitt this Saturday and plan to go back to Ohio State for the Michigan game in November.
When would you like to make your college decision?
Probably at the end of November or beginning of December.
What will be the biggest factors in your decision?
I just want to go to a place where I'm comfortable with the coaches and commits. Proximity will also be a factor.
Which OSU coaches have you been in contact with? What are they telling you?
I usually talk to Coach Warinner and Coach Meyer. They really want me to come to Ohio State and they really like my game.
What goals do you have to close out your career?
I just want to finish the year strong and try to make states.
JUNIOR HIGHLIGHTS: