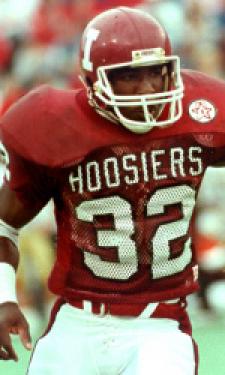 When Kevin Wilson left a cushy job as offensive coordinator at Oklahoma to become the head coach at moribund Indiana, many thought it was a step down the professional ladder. It's a debatable topic when the landscape in Bloomington is surveyed.
Now in its 122th season, Indiana has won 42.5 percent of its games and a grand total of two conference championships – none since 1967. The Hoosiers have a football practice facility named after a famous musician – John Mellencamp – and a subpar stadium that holds 53,000 people. And that's after an extensive renovation.
Meanwhile, the basketball program just built a $16.5 million, 67,000-square foot cathedral that doubles as a practice facility. That's on top of the already iconic Assembly Hall.
It's clear where the priorities are in Bloomington, and there is nothing wrong with that. There are football schools and basketball schools. Few have been able to achieve a successful balance between the two, though Ohio State is one them.
Since Indiana fired Bill Mallory – a coach who led the Hoosiers to six bowl games in 13 years – following the 1996 season the Hoosiers have been to one bowl game in 15 years. Over those 15 seasons, Indiana has won 55 games, an average of 3.6 per season.
Mallory's firing is similar to one that occurred 10 years later to Glen Mason at Minnesota. Both programs had sustained success not seen in years under but got greedy and have been dumpster fires ever since.  
Indiana slipped in Mallory's final two seasons, winning just five games overall and one conference game. But it was still questionable considering where he had taken the program. The Hoosiers went 0-11 in his first season and then went on to win seven or more games five times, including three eight-win seasons.
In 1987, a season Indiana beat Ohio State and Michigan, the Hoosiers entered November with a chance to advance to the Rose Bowl. Then-OSU head coach Earle Bruce called the loss "the darkest day in Ohio State football since I've been associated with it."
When Indiana beat Ohio State again the next season, it became known as "Dark Day II." But since a tie in 1990, the Buckeyes have defeated Indiana 17 consecutive times.
Wilson was hired to return the Hoosiers to the postseason and hang tough with the Big Ten's top programs. But he's only won three games overall and just one against a FBS program, and even that was against first-year member Massachusetts. His record against ranked opponents is 0-3. 
It appears that 16 years later, Indiana is still searching for its Bill Mallory.
Opponent
The issues for Indiana are aplenty, but most reside on the defensive side of the ball. Offensively, the Hoosiers field the nation's 26th-ranked total offense, putting up 472 yards and 33 points per game and the Big Ten's top passing attack with 307 yards per game.
A big contributor to Indiana's continued struggles has been inconsistency. The Hoosiers have been in every game this season but wilted in the fourth quarter – Indiana has scored 57 second-half points. A big cause for that is youth. The Hoosiers are one of the youngest teams in the nation, relying mostly on underclassmen.
A week ago, the Hoosiers led Michigan State, 27-14, at the half before the Spartans held them scoreless in the second half. Urban Meyer and several Ohio State players have pointed to that first-half performance as reason why a letdown will not occur.
Even without starting quarterback Tre Roberson, who suffered a season-ending injury in Indiana's second game, the scoring has not diminished. Roberson, a Braxton Miller-lite, opened up the Hoosier offense to something not seen since Antwaan Randle-El played at Indiana in the late 90s and early 2000s.
Cameron Coffman and Nate Sudfeld have split time replacing Roberson, but both are more traditional pocket-passers. They've combined for minus-22 yards rushing since Roberson's injury. A 2-0 team also has stumbled to 2-3. Granted two of those games were against conference opponents, but a loss to Ball State is inexcusable.
The Buckeye defense is second in the nation in passes intercepted with 10, but Coffman and Sudfeld have just one interception between the two of them.
Wilson hasn't announced who will start against Ohio State – Coffman has started both games without Roberson and completed 67 percent of his passes – but there isn't much intrigue for the Ohio State defense. Each quarterback offers the same style.
"I'd expect both of them to play," Wilson said. "I don't know if Cam will go first. At the same time, Cam has played three games as the starter and we haven't won. We'll keep looking at that. But I think Cam has played well."
Indiana relies heavily on bubble screens, something the Buckeyes have struggled with all season. All four of their non-conference opponents tried to screen them to death, and it nearly worked on a couple occasions.
As John Simon and Nathan Williams continue to get healthier, the Ohio State defense gets better. CJ Barnett also will be back in the fold on Saturday. Ohio State will likely be in its nickel package a vast majority of the game with Orhian Johnson occupying the star position. Due to Etienne Sabino's injury, Storm Klein will be in the linebacker who stays on the field while Joshua Perry will come off. 
One of Coffman and Sudfeld's main targets is Cleveland Glenville product Shane Wynn. He may be undersized at 5-foot-7, but Wynn has developed into a reliable offensive weapon for the Hoosiers.
He's the team's leading receiver with 28 receptions, including 12 a week ago against the Spartans. Fellow wide receivers Cody Latimer (20 receptions, 363 yards, two touchdowns) and Kofi Hughes (16 receptions, 248 yards, two touchdowns) and tight end Ted Bolser (15 receptions, 161 yards and a touchdown) are also potential targets. 
The Hoosiers do have a solid running back in Stephen Houston. He's averaging more than five yards per carry and has four touchdowns. But it will be tough for Indiana to rely too much on him Saturday with Ohio State's defensive line's capabilities. The probability of Indiana's offensive line being overwhelmed is high. Two freshmen start for the unit that has allowed more than 1.5 sacks per game. 
Ohio State's "piranha" kickoff coverage unit has garnered much attention this week, and it will face its biggest test against Indiana. The Hoosiers field the 10th-best return unit in the country, averaging more than 28 yards per kick return. Tevin Coleman is averaging more than 40 yards per return in four attempts, including a 96-yarder for a touchdown. As a decided underdog on both sides of the ball, Indiana could find special teams to be a gamechanger.
Buckeye Breakdown
Stopping Braxton Miller and slowing the rest of the Ohio State offense will be a daunting challenge for Indiana. Its defense has allowed 440 yards and 28 points per game, along with the most touchdowns in the Big Ten – 17. The stat that sums up the Indiana defense: Ball State scored 41 points against the Hoosiers.
The same inexperience issues that have plagued the offense are also visible on the defensive side of the ball, the defensive line being the exception. Three seniors occupy spots on the line, including Adam Replogle, the Hoosiers' best player, who has a team-high 36 tackles, 4.5 for loss and 2.5 sacks.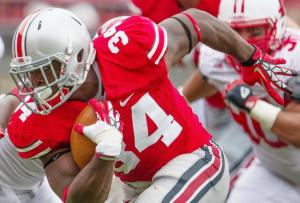 The Indiana D-Line vs. Ohio State O-Line will be an interesting matchup to keep an eye on. The Buckeyes offensive line has shined the past two weeks, but even a unit can have a letdown. It's not just a team-wide emotion.
Ohio State being able to go to its strength on offense – running the football – is the area of most concern or Indiana. If you can't slow Miller or the rushing attack, there is little hope for even keeping the game close. The Buckeyes have the 10th-best rushing offense in the country. Seeing that diminish against Indiana isn't likely.
Carlos Hyde had a career day last weekend, and all indications are that the coaching staff plans on riding him heavily this week. It's a combination of his success and the need to rest Miller's legs and body when at all possible. In late October and November, the Buckeyes will need their quarterback at full strength if an undefeated season is in the cards.
But it isn't just the pass defense that has struggled; the Hoosiers are also giving up beaucoup yards through this air with a young secondary. Miller only completed seven passes last week, mostly because he didn't need to. Ohio State will probably want to get its passing game going this week.
Devin Smith wasn't involved at all against Nebraska, while Jake Stoneburner has completely disappeared. His old position mates, Jeff Heuerman and Nick Vannett, were extremely active last week in stretching the field against the Cornhuskers.
Meyer said Thursday that Ohio State will run more wildcat plays and he hopes to get Kenny Guiton into the game in the first half. And while the Hoosiers could change things on special teams, Corey "Philly" Brown is coming off a week in which he was Big Ten special teams player of the week with a 76-yard punt return for a touchdown.
How it Plays Out
Even in a home game, Indiana will be tasked with taking the crowd out of the game Saturday. Gashing the Ohio State defense early with quick, short passes should be the goal for Indiana.
It may work, based on what teams have done against the Buckeyes so far this season. But they'll likely adjust, and on offense all bets are off. Miller, Hyde and Co. will move the ball at will. The passing offense will also make a cameo appearance. Miller still hasn't had an eye-popping day throwing the football, and if it's ever going to happen, it will be against Indiana.
This is the type of game when Heisman Trophy candidates tack on video game stats. The opportunity for Miller to have 400 total yards is present.
Through six games, Ohio State has played to the level of its competition. It could happen again Saturday. But Meyer suspects a night game will help mitigate some of the letdown vibes from the Buckeyes. The stadium will be at or near capacity and a large portion of them will be clad in Scarlet and Gray.
At 6-0 and with talk of an undefeated season and AP national title surrounding the team, this is not the time to have a mental gaffe. Playing down to the competition or not, Meyer and his staff undoubtedly keep the season objectives in front of the team.
The ray of hope for the Hoosiers is that they hung tough with the Buckeyes last year in Ohio Stadium; granted, that was a dysfunction group of Buckeyes and Roberson was healthy. But any positivity is good.
When the line for this game opened up at 17, many were shocked at the low number. Expect the Buckeyes to have it covered by halftime and possibly the end of the first quarter.
Ohio State 49, Indiana 20