Around the Oval is our weekly look at the Ohio State sports that don't always get the coverage they deserve.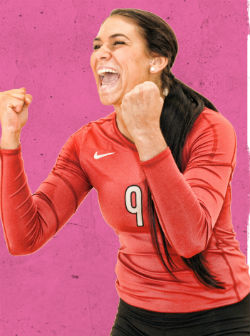 In this edition of ATO, we'll start things off with the Ohio State women's volleyball team, who just put an outstanding week in the books.
The week began with a come-from-behind victory at #21 Illinois, as the Bucks took a 3-2 (16-25, 25-27, 25-21, 25-15, 15-12) win Friday in Huff Hall. The victory was Ohio State's first win over the Illini since 2007 and the team improved to 12-5 overall and 3-2 in the Big Ten.
In the match, OSU lost the first two sets but held tough and came back to win the next two. Illinois took a quick 5-3 lead in the fifth before the Buckeyes went on a 4-1 run for a 7-6 advantage.
Another Ohio State rally pushed them ahead at 11-8 and an Illini error sealed the Buckeye match win by a score of 15-12.
Junior Kaitlyn Leary had a team-best 14 kills and finished with 5 digs for the Bucks. Senior Mari Hole totaled 13 kills with 8 digs and 2 block assists, while classmate Emily Danks added 10 kills along with 2 service aces and 5 block assists. 
Ohio State then went down to Evanston for a match with Northwestern and the result wasn't nearly as dramatic, but yielded the same result, a 3-0 victory. In the contest, Danks put her name down in the Ohio State record books, becoming the volleyball program's all-time leader in career service aces with two more aces in the match.
Next on tap for the Buckeyes is a three-game home stand against Indiana on 10/12, Purdue on 10/13, and Penn State on 10/17. Be sure to catch them in action at St. John Arena.
Women's Soccer
On Buckeyes Go Pink Day Sunday afternoon at Jesse Owens Memorial Stadium, Ohio State defeated Purdue, 1-0. 
With the win, the team improved to 8-4-1 and 3-2-1 in Big Ten play, while Purdue dropped to 7-5-2 and 2-3-1 in conference play.
The Bucks controlled possession for much of the first half but were unable to get on the board until Tiffany Cameron gave the squad a 1-0 lead in the 41st minute. Kenzie Schlemitz played a long ball after gaining possession off of a Purdue corner and Cameron dribbled past the Purdue defense, finishing the play off from 10 yards out.
The match was slow and a grind as head coach Lori Walker put it, "It was a little slow and methodical but we were able to do what we need to today...Tiffany was extremely special today and it was nice to honor a lot of women we really look up to. They represent what courage really stands for so it was nice to honor them on our breast cancer awareness day."
Up next, Ohio State goes to Iowa on October 12 and Nebraska on October 14 to continue conference play.
Men's Soccer
The Ohio State men's soccer team dropped a match to Michigan State, 2-1, on Sunday afternoon at Jesse Owens Memorial Stadium.
The loss drops the Bucks to 4-7-1 overall and they remain winless in the Big Ten through three games. The Spartans are now 4-6-1 on the season and 1-1-0 in the conference. The bright side, for those other than members of the team, is that OSU still beat them in football!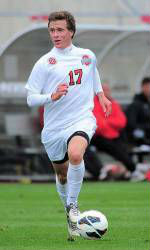 Although sophomore transfer Yianni Sarris scored his first goal as a Buckeye, cutting into the two-goal deficit late in the second half off an assist from fellow sophomore Zach Dobey (who earned his first career point on the play), Coach John Bluem was very disappointed in his squad:
"I am extremely disappointed in our team...That was a very bad performance. There was no courage. We lacked effort; we lacked discipline. Nobody wants to work hard," Bluem said after the defeat.
The Buckeye kicksters try to turn things around tonight when they take on Bowling Green at home before traveling to Northwestern on Sunday.
Men's Golf
The men's golf team hosted and competed in the Jack Nicklaus Invitational, but wasn't able to keep the title local for the hometown fans.
The team finished 11th overall with a 36-hole score of 629, as tournament play was cut short 18 holes due to frost both Monday and Tuesday morning.
Freshman Tee-K Kelly led the Bucks with a score of 11-over 155 to finish tied for 23rd overall. Boo Timko, Matt Turner, and Grant Weaver all finished tied for 35th with a score of 14-over 158.
Kent State took the tournament crown, finishing with a team 29-over 605 and UCF's Greg Eason got special recognition for being the only tournament participant to shoot under par at 4-under 140.
The Buckeyes will conclude their fall schedule at the Royal Oaks Intercollegiate in Dallas on October 28-29.
Buckeye bits
For her record-breaking performance, Emily Danks earned OSU's Athlete of the Week award.
OSU field hockey dropped to 9-5-1 (1-2) on the season after losing 1-0 to #20 Michigan State at home. The Bucks will take on Michigan on October 14.
Women's golf finished the Windy City Classic in 10th place with a 43-over 907. Next up is the Susie Maxwell Burning Classic in Norman, Oklahoma on October 15.
The #10 women's hockey team upset #8 Minnesota-Duluth 3-1 on the road this past weekend. Goalie Chelsea Knapp stopped 39 shots and was named WCHA Defensive Player of the Week as the team improved to 4-0 (2-0) on the season.
Men's hockey opened their year with a 3-2 exhibition win over Waterloo and kick off the regular season this Friday and Saturday at Minnesota-Duluth.