One year ago, Carlos Hyde had a career night against Nebraska, rushing for 104 yards and two touchdowns on just 13 carries. A week later at Illinois, Hyde was an afterthought, receiving just three carries and gaining eight yards.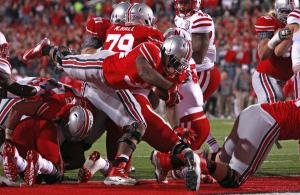 Don't expect history to repeat itself in Bloomington on Saturday night.
Again, Hyde is coming off his best performance to date against the Cornhuskers, achieving career highs with 140 yards and four touchdowns.
"I wore my lucky pants," he said.
After his outing against Nebraska in 2011, Hyde's production took a dip because Boom Herron returned from a six-game suspension. This season's starting running back, Jordan Hall, is likely to miss his second straight game Saturday due to a torn PCL. But even if he did return, Hyde's carries aren't going anywhere.
For the better part of a month, Urban Meyer has been asking, pleading that someone other than Braxton Miller become a playmaker and running threat. Hyde became Exhibit A, but there was doubt percolating in Meyer about his ability since Hyde had never put it all together in the field.
The verdict after shucking off the Huskers was beyond reasonable doubt – Hyde is for real.
"We have two good runners right now," Meyer said. "We have a quarterback who is, obviously, ridiculous running the ball. And then we have Carlos Hyde, who is starting to earn a lot of respect."
Last season, Hyde let his immaturity take hold of him, going to Twitter to air his grievances about the coaching staff and a lack of playing time. In the story of Dr. Jekyll and Mr. Hyde, it is Hyde who is the evil one. But Ohio State's Mr. Hyde has developed into a leader under the new staff. The only accusations of being evil would come from opposing coaches and players.
Hyde has gained 298 yards on the season and is averaging almost five yards per carry. He returned to action at Michigan State after missing two games from a sprained MCL suffered during the first half against Central Florida in Week 2.
The idea in East Lansing was to get both he and Hall on the field at the same time. But those plans were short-lived after Hall was injured in the first half. In his absence, Hyde gained 49 yards, none more important than the final 18, which came on the Buckeyes' final possession and allowed them to run out the clock on the Spartans in a 17-16 victory.
Due to Hall's injury, Hyde had more pressure on him entering last Saturday's game against then-No. 21 Nebraska. Could the offense be effective with only one runner? Would Hyde be able to lighten Miller's load? The answers to both of those questions were a resounding yes. But it took a while for the offense to get clicking.
In an opening quarter that Meyer referred to as a "train wreck," Ohio State had zero first downs and just 17 yards of total offense. They would gain 481 over the final three quarters, including 242 in the second. Hyde and Miller totaled 326 rushing yards, nearly all of Ohio State's 371 yards on the ground, and more than 65 percent of its total yardage.
"Even though we started off slow, we told each other, 'Just stay focused. There's still a lot of ball to be played,'" Hyde said. "We stayed together and there was no stopping us."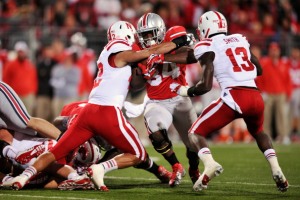 The cherry on top was Hyde's 16-yard touchdown run in the final minute of the ballgame. Even a fourth-quarter fumble at the tail end of a 15-yard run couldn't damper Hyde's spirits.
"It happens. It's football," he said. "You're going to make turnovers. You just can't get down about it. The next series, the coaches were like, 'We're going to run the same play, so just keep going.'"
Said Meyer: "We wanted to really rely on Carlos Hyde a little bit, to pound him the way I felt he earned it. I made that comment after what I saw in that last drive against Michigan State, that maybe we can pound the ball for five, six, seven yards."
It doesn't show up on the official box score, but Hyde kept several plays going by bouncing off would-be tacklers, moving his feet and running with a purpose. That physical, smashmouth brand of football led to YAC – or yards after contact – helped lead to four touchdowns, the most by an Ohio State running back since Eddie George in 1995. 
"It's post-contact yards," Meyer said. "But I also saw the line of scrimmage change. When he was getting into the line of scrimmage, it was two, three yards down the field that he's doing. That's a big guy. If you get him started, it's hard to bring him down."
There was a lack of patience in Hyde on and off the field in 2011. After a year of growing up, he's learned to let plays develop and hit holes quicker and also become a better teammate – another attribute not appearing in statistics.
Hyde and Corey "Philly" Brown's production both soared Saturday – Brown returned a punt 76 yards for a touchdown – but the two also delivered unselfish, all-around performances. On Miller's 30-yard touchdown run as the first half was nearing an end, Hyde blasted a Nebraska defender who attempted to bring Miller down. Brown repeated the act on Miller's 72-yard jaunt.
And following the game, it was Hyde who had to gather himself before his postgame interview, taking deep breaths before thanking his offensive line.
"I have to give all the credit to those guys," he said. "They're the reason why I got into the end zone – because they did their job."
Miller had similar praise for the line, as did Meyer. The unit may have struggled against non-conference competition, but once the calendar flipped and consecutive ranked opponents invaded the schedule, the offensive line has played its two best games of the season.
"That offensive line (opened up holes) in the second quarter, third and fourth," Meyer said. "My guys right now are that offensive line. I just love them to death. To see what they did (against Nebraska) and see their reaction in there and know what they've gone through."
The bright lights will shine down on the Buckeyes again Saturday night as they travel to Indiana for their second primetime game in as many weeks. A national TV audience will again tune in, but there's no telling what Hyde and the offensive line have in store for Act III.