During fall camp, multiple defensive coaches for Ohio State chided Bradley Roby for wanting to play wide receiver and his usual position of cornerback. Become good at one position before even thinking about taking on another, they said.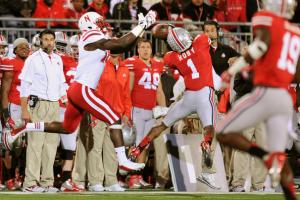 Well, six games into the season, it appears Roby, a one-time wide receiver commit to Vanderbilt, has mastered the art of cornerback. He had two interceptions in Saturday's 63-38 win against Nebraska, including a pick-six that gave Ohio State its first points of the game.
The stat sheet for Roby seems to be never ending. He's the team's fourth-leading tackler with 32 stops, he has a sack, a fumble recovery and a blocked punt and he also leads the Big Ten in passes defended with 11.
And all of that was done in five games. Roby missed the Alabama-Birmingham game due to a banged-up shoulder.
Saturday night, he had four tackles and a pass breakup near the goal line to go along with his two interceptions, earning him co-defensive player of the game honors with defensive end John Simon.
"The reason he is good is because God gave him a lot of ability, but the reason that he's great is because he has taken what God has given him and he's mastered his craft," cornerbacks coach Kerry Coombs said.
Prior to the season, Roby talked about taking that second-year leap. After redshirting in 2010, he started all 13 games last season as a freshman. And he produced. Roby finished the season with three interceptions, the most on the team along with Orhian Johnson. He also had 47 tackles, including 3.5 for loss, and ranked ninth in the conference in passes defended.
Entering his second season as a starter, Roby's goal was to put himself in the same category as former first-team All-American cornerbacks Jack Tatum, Shawn Springs, Antoine Winfield and Malcolm Jenkins. Each also went on to have successful careers in the NFL – Winfield and Jenkins are still active.
To reach that level, though, Roby knew it was going to take hard work. Throughout the summer, he stayed in Columbus and worked out with his teammates in the weight room and on the practice field. After a few months on the job, Coombs already noticed a huge improvement in Roby's game, much of which came simply from work ethic.
"A kid like Bradley, whose film study is extraordinary, hours and hours of film study, he'll know his opponent," Coombs said. "He understands the route that's coming, he's prepared for the ball when it comes and then he finishes the play. He's the guy that wants to make plays, that needs to make plays for our team to be successful."
A recent draft evaluator had Roby slotted as the sixth-best cornerback prospect for his class and the No. 18 overall pick in the 2014 NFL Draft, following his junior season. Because he redshirted in 2009, though, Roby will be eligible for next spring's draft since he'll be three seasons removed from high school.
"Frankly, I think the sky's the limit," Coombs said. "I think Bradley's a first-round draft pick down the road."
And it will be at cornerback, not wide receiver.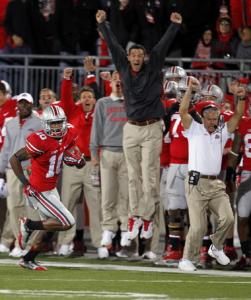 Missing Persons Report
Two weeks ago at Michigan State, Corey "Philly" Brown had one of the best statistical days in program history for a wide receiver.
Twelve catches.
It's a high output for any wideout, but especially one at a school whose leading receiver had 14 catches a season ago. But those dozen catches, the fourth-most ever at Ohio State, only added up to 84 yards receiving. It prompted Urban Meyer to make jokes about Brown being allowed to make guys miss.
On Saturday night, Brown heeded his coach's message and made 11 guys miss. Early in the third quarter, he returned a punt 76 yards down the Ohio State sideline to give the Buckeyes a 49-31 lead, seemingly putting the game out of reach.
Meyer wanted explosiveness, and he got it. Meyer and Miller both called Brown's return was a game-changer. The Big Ten honored him as its special teams player of the week, while Meyer crowned Brown as Ohio State's special teams player of the game.
"That was great blocking," Brown said on the return. "They made perfect blocks and made it easy for me. The blocking was so good all I saw was the punter."
But it was another coach prior to the return that was in Brown's ear: Stan Drayton. He was imploring Brown to change the game.
"Going out there, I knew I had to make a play," Brown said. 
He made just as big a play in the second quarter on Braxton Miller's 72-yard run, springing the quarterback loose with a block on the outside. Brown also had three catches for 35 yards. That ups his season total to 35 receptions for 352 yards – a stunning reversal from 2011.
"It's a perfect situation," he said.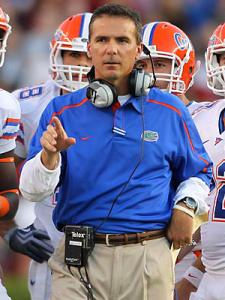 Gator Bait
The separation between Meyer and the Florida football program has been a bizarre situation since he announced his second retirement in December 2010. In some ways, it's taken on the image of a messy divorce. Despite winning multiple national championships and lifting the Florida program to the top of the college football stratosphere, Meyer seemed to be resented by fans. 
It reached new heights when he took the Ohio State job a year after his retirement. Even the media got involved. The Orlando Sentinel's Mike Bianchi and Sporting News' Matt Hayes have criticized Meyer roundly for leaving Will Muschamp with a broken program.
The Gators stumbled to an 8-5 record in Meyer's final season in Gainesville and finished 7-6 in Muschamp's first year in 2011. But now Florida sits at 5-0 and ranked No. 4 in the country with wins over Tennessee and LSU. Suddenly, claims of a program in a downward spiral look unfounded.
And one of Florida's biggest fans is happy to see the turnaround.
"Always be a Gator," Meyer said. "I keep in touch with some of those players. Great win (over LSU). Great, tough win against a tough opponent, absolutely.
"I'm very proud of those guys. Love those guys. Really proud to see Jeff Driskel play well. He's a heck of a player."
Asked to comment about Florida being left with little to no talent, Meyer chose to take the high road.
"I don't want to get into all that cupboard is bare, because that's one man's opinion," he said. "We've got to move on."
He and his assistants have moved on quite nicely, in fact. Ohio State is also undefeated – 6-0 – and ranked in the top 10 for the first time since the 2010 season. But Meyer isn't the only current Ohio State coach that has a former employer succeeding on the football field.
Tim Hinton and Ed Warinner came from Notre Dame, now 5-0 and ranked seventh in the country; Coombs shot up I-71 from Cincinnati, where the Bearcats are enjoying a 4-0 season and sit at No. 21; Tom Herman arrived from Iowa State, which is coming off an upset of TCU and is now 4-1; and Everett Withers, who was the interim head coach at North Carolina last season, has watched the Tar Heels get off to a 4-2 start.
Hinton, the tight end and fullbacks coach, said he keeps tabs on the Fighting Irish but hasn't been able to keep in close contact with many former players or co-workers.
"I don't talk to my wife," Hinton said with a chuckle.
Coombs has a much easier reason to stay in tune with Cincinnati football – his son, Dylan, is a freshman defensive back on the team. Coombs also estimates that he recruited 60 percent of the team while he was the associate head coach, among many other titles, at Cincinnati.
"I stay in close contact with the Bearcats," he said. "I'm extremely proud of those kids at Cincinnati. Those coaches are my friends and that's my town. That's where I was born and raised. For them to be in the top 25 is fantastic.
"Those are kids that I raised. I love those kids and I love those coaches, and I want nothing but the best for them. I hope they win every week."
As Coombs alluded to, all things Cincinnati are in his blood. Prior to his stint with the Bearcats, Coombs was the head coach for 16 seasons at powerhouse Colerain High School. He led them to a state championship in 2004 and nine other playoff appearances. Coombs compiled a 161-34 record during his 16-year tenure and is regarded as one of Ohio's all-time great high school coaches.