After checking up on Ben Hartsock, Dustin Fox, Maurice Hall, and Roy Hall, it's time to catch up with another member of the 2002 National Championship team that will be honored this November in wide receiver Drew Carter.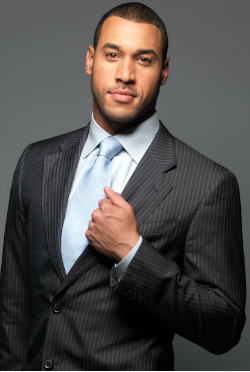 Carter, a graduate of Solon High School in the Cleveland area, came to Ohio State after playing just one year of high school football. What he lacked in experience he certainly made up for in raw athleticism, and John Cooper didn't miss the opportunity to bring him to Columbus right before the turn of the century after he recorded 33 receptions for 890 yards and 13 scores in his lone year on the Solon gridiron.
Needing to learn the game further, Carter redshirted during his freshman year (1999) at OSU before seeing the field in limited time during his redshirt freshman season in 2000. In his third year with the program, he was expected to have a slightly larger role, but tore his ACL and missed the entire season.
After rehabbing, Carter came back to contribute to the national championship run in 2002 and was primed to finally earn a starting role during his last year in Columbus during the fall of 2003. Things were looking good for the speedster, who recorded a 4.27 40-yard dash time in training camp that year, but his season was cut short once again after the senior tore his other ACL.
Extensive rehab was the plan again and Carter bounced back to have a great showing in front of NFL scouts and get selected by the Carolina Panthers in the 2004 NFL Draft. Today, after spending multiple years in the NFL, Carter once again finds his football career cut short by injuries, but is making the most of his life after the game.
We caught up with Drew to hear the latest on what he is doing now that his playing days are over, look back on the 2002 season, get his thoughts on the 2012 Buckeyes, and more.
Join us after the jump to hear from former Buckeye wide receiver and NFL veteran, Drew Carter.
Walk us through your time from Ohio State up until what you're doing now.
After tearing my ACL during my last year at Ohio State, I went through the rehab process for four months and was luckily able to get healthy enough to work out for scouts. I ran a 4.4 second 40-yard dash and was drafted in the fourth round of the 2004 draft by the Carolina Panthers. 
I played for Carolina from 2004-2005 through 2007-2008 and then became a free agent. I signed with the Oakland Raiders in March of 2008, but tore my knee again in the pre-season and decided to call it quits after that.
I began interning for the NFL Network as an analyst for a while and thought about going in that direction for my career after football. After thinking about it, I decided on pursuing an acting career and looked to do anything I could to get in front of the camera. A lot of my confidence to do that actually rooted from OSU media days where I would do tons of interviews with reporters and on TV.
I started doing a lot of work in commercials and some things on TV. I have been in a Budweiser commercial and some other things and am just working hard to pursue more opportunities. I was fortunate to be smart enough to invest my money from the NFL wisely and because of that I am able to be doing what I want right now.
I also invested in a jewelry company, Metal Noir, that is based out of the Bay Area. When I signed with Oakland I got connected with that. We make custom pieces and the company has just taken off so that has been a focus of mine as well.
Was it tough facing life after football?
When you first stop playing you go through a little funk when you're seeing everyone you know still playing. I grew up not playing football until my senior year of high school and played just one year before earning a scholarship to Ohio State. Football wasn't always a passion of mine and I just loved to compete, so when I look back on it I never thought my football career was going to happen the way it did and I'm just happy that I got as far as I did.
What lessons that you learned at Ohio State are helping you with your current career?
Humility and dedication. Everyone jokes that I still ran a 4.4 40-yard dash before the NFL Draft, but the amount of dedication I had to put into my rehab and workouts taught me the type of effort needed to be successful. As for humility, I have been treating this career as if it was a sport. I am a competitor, but I also know that rejection happens, especially in sports. From my experiences, it's easier to deal with rejection in my new career because of my time in sports and I also know you have to leave those behind you and move in. Just like in football, if you mess up you move on to the next play; you do the same thing with acting.
This is the 10-year anniversary of the 2002 team. Are you going to the reunion?
Yeah, I've heard talks about that, but I'm not sure of the details. I am going to go though. I still have family in Ohio so I'll go home for Thanksgiving and then go to the Michigan game so it will work out perfectly.
Do you think Coach Tressel will show up to the game?
I hope so. I love that guy. I speak to him every once in a while and I really hope he's there because he deserves to be honored with us.
Who do you still talk to from your OSU days?
I still talk to my freshman roommate, Steve Bellisari. I also talk to Craig Krenzel, my best friend Michael Jenkins, Will Smith, Maurice Hall, Dustin Fox, Mike Doss, Matt Wilhelm, Brandon Joe, and some other guys. With social media it's easier to keep in touch these days.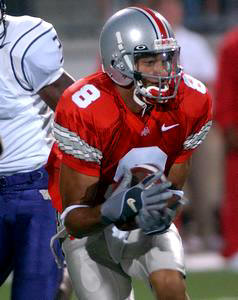 What is your most memorable moment from the 2002 season?
Probably the last play in the national championship game, just because it meant so much. There were so many things throughout that season, though, that I still remember to this day.
One thing that sticks out was that the receivers had a ritual of doing certain handshakes before the games. It was all of us from seniors all the way down to walk-on freshmen. We did it before the first few games and kept winning so we felt like we HAD to do it before every game throughout the whole year.
There was a night game on the road at Illinois and because it was an away game, we didn't have our full squad and only had the travel roster. I just remember warming up before the whole game and all of us receivers that were there couldn't do it the same way because we didn't have everyone, but felt we still HAD to do it to keep the tradition and superstition alive. 
I also remember sitting in the weight room with Michael Jenkins before the Michigan game and just talking with him about how we just needed one more win. All of our dreams and everything we had worked for were so close and we knew we had to win that one game. You don't realize how special something like that is until you get there and that moment with Mike is when I realized it.
Finally, I just remember the camaraderie of the guys in that locker room. What we did was so special and we were all so close and in it all for one to accomplish what we did.
Going into the national championship game, what was your mindset?
The media made it seem like they were an NFL team, so obviously everyone thought they were going to win. We even had one of the guys on our team from Florida come back from a trip to home with a flyer promoting "back-to-back champion" parties for the Miami team after they beat us. We definitely used that as bulletin board material and we weren't afraid to take them on. We knew after all that happened that it was our year. There was all that talk about Florida being elite in football as compared to Ohio. There's a reason the Hall of Fame is in Canton. We knew we could play just as good as anyone else in the country and Miami was no different.
Who was the best player you played with or against in college? In the NFL?
In college, I would say best I played with was Chris Gamble. He was just a freak athlete. Best I played against was probably Bob Sanders of Iowa who went to the NFL.
In the NFL, the best I played with was Julius Peppers. He's a monster who is 6-7/290 or so, but can run like a linebacker and gets all over the field. The best I ever played against in the pros was Sean Taylor and he was a beast. Troy Polamalu, Ed Reed, Darrelle Revis, and Antonio Cromartie were all really good too, but Sean Taylor just sticks out to me as being the best I went against.
Have you watched OSU so far this year? What are your thoughts on Coach Meyer and the team? [Question asked prior to Nebraska game]
I have watched them. I like what he's [Meyer] doing. It's his first year and there's definitely going to be some transition when you have change like that but it's going well so far. They have been solid, but their tackling needs to get better and that just comes with maturity. Braxton is developing pretty well. As a receiver I'd love to see more passes on offense. Braxton's progressions need to improve and he needs to trust his guys. That will happen in time.
Do you have a family of your own right now?
No, I'm not married nor do I have any kids right now. You can say I'm more of a bachelor type [laughs]. I do have a girlfriend who lives in Ohio, but I'm not completely ready to settle down just yet, as everyone has their own timeline. It is funny to see guys that I played with being married and with kids, especially when I get their Christmas cards and all of that.
If you can say one thing to Buckeye Nation what would it be?
I would just say I love you guys to death. You were always there for me and I will always be there for you. Thank you.
Thanks to Drew for taking the time out of his busy schedule to sit down and chat with us. You can follow him on Twitter @ChrisDrewCarter, check out his jewelry line Metal Noir, and see how his budding acting career develops on his official site.