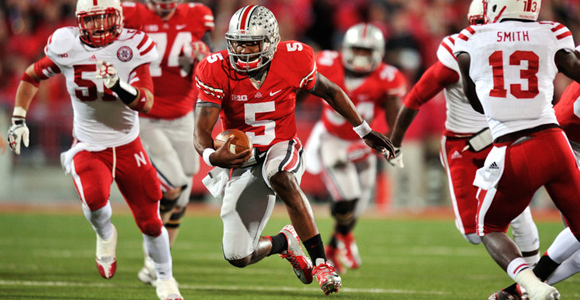 The offense Ohio State scored 63 points. Say that back to yourself, digest it, think about it and then go tell your friends (after you read this of course). This is your Nebraska Debriefing.
Water Cooler Prep (Everything you need to know…in one paragraph)
The two offenses came out and traded punts until a Bradley Roby pick six early in the first quarter. The Cornhuskers answered on the very next drive when Rex Burkhead snapped off a 73-yard run to put them in a position to tie it. Nebraska scored another TD after the Buckeye offense came out flat and it was 14-7 with one quarter in the books. Braxton and friends had tallied a grand total of 17 yards and you were worried. But, as he has had a tendency to do, Miller sensed your worry and turned it into fuel for his game-changing machine, popping off a 72-yard scamper of his own eventually ending in six to make it 17-14 bad guys. Braxton's play opened up the scoring floodgates for both teams and by halftime the Buckeyes were up, 35-24. The teams traded TDs until the Buckeye D came up with a stop, forcing Nebraska to punt it away, which then forced Philly Brown to house it for a 76-yard score. Later in the fourth, Rod Smith threw his hat into the scoring ring on a good-looking 33-yard rush for a TD, putting the game out of reach at 56-31. The score won't reflect it, but the Buckeye D looked good in the second half of this one. Also Carlos Hyde…my goodness 140 yards and 4 TDs. Why aren't you on my fantasy team?
Heard at the tailgate (The talk before the game)
"Contain Rex Burkhead and Taylor Martinez…that's the answer."
"You think the Buckeyes will have anything left in the tank after the emotional win last week?"
"It's homecoming—take your shirt off, swing it round your head like a helicopter."
Heard at the afterparty (The Deets at the end of the game)
"When was the last time the Buckeyes put up over 60?...Seriously, I want to know."
"This team now has a legitimate shot to go undefeated; the football gods are cruel."
"Braxton Miller…is he invited to New York in December?"
Give that man a buckeye leaf (Player of the game)
Braxton Miller, folks. My. Oh. My. The kid broke his career rushing yardage record with 186 yards and 1 TD on the ground. He also racked up 127 yards and 1 TD through the air.
While Braxton clearly was the player of the game, I want to give a special shout-out to my man El Guapo. Carlos Hyde was the backbone of the offense and had a near perfect game sans a fumble after a mannish run up the gut early in the fourth. He finished the day with 140 yards and 4 (yes 4) TDs, making him the first OSU running back since Beanie Wells in 2007 (vs. Wisconsin) to rush for 3+ TDs in a single game. Good enough for a Buckeye leaf in my book.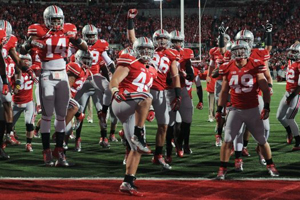 Weekly Snot Knocker
With about 6 minutes left in the game, Taylor Martinez was running for his life down the middle. Instead of performing the trademark slide we had seen all evening, Martinez was blindsided by Garrett Goebel who placed him gently violently on the turf.
Did you see that?! (Play of the game)
Just when I think Braxton has shown me everything he has, he goes and does something like this. His instincts when rushing the football might be some of the best I've ever seen. 
This rush is not only the play of the game because it looked amazing, it's also here because it jump-started an offense that was seeing absolutely no production on their side of the ball. The Buckeyes needed a big play, and Braxton delivered...again.
When you sank into your chair (The moment buckeye football disgraced your family)
Ugh.
Jim Tressel's Least Favorite Moment of the game
Least Favorite Moment 1: With about a minute left in the first quarter and down a TD, Meyer dialed up a fake punt from OSU's own 25. The Buckeyes needed 7…they got 6. Jim Tressel looked up from Pinterest just long enough to shake his head in disgust and softly whisper "field position, dammit" before continuing to search for interesting things to do with cardboard boxes.
Least Favorite Moment 2: While sorting recyclables late into the night, Tressel saw the final score of the game scroll across the bottom of his kitchen mounted 13-inch Daewoo. He retched in disgust at the thought of scoring 63 points against an opponent, woke up Ellen and asked her to comb his hair. It's the only thing that calms him down.
What you texted your friend at the end of each quarter
First Quarter: Roby One Kenobi!!!!! But that's all we got right now.
Second Quarter: Nothing like putting up 4 TDs in a quarter…
Third Quarter: Carlos Hyde has 3 million touchdowns.
Fourth Quarter: ROD SMITH SIGHTING!!!! Wow, this team is explosive when things are clicking. Undefeated season???
It was over when
Rod Smith got his first carry of the game and made the most of it: a 33-yard okie doke that he took to the house. The score put the Scarlet and Gray up 56-31 and all of Buckeye Nation smiled. It's clear an offense is starting to jell in Columbus.
This has been your Nebraska Debriefing...end transmission.