Aside from the wide receivers, perhaps no position group was harped on more than the offensive line by Urban Meyer prior to the start of the 2012 season. There were two returning starters (only one playing the same position), two players who had shuffled up and down the line and been in the doghouse, and a tight end.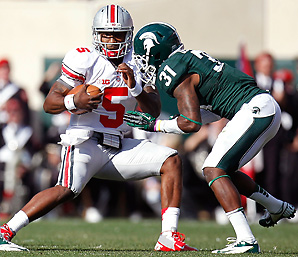 There weren't All-Americans to stare at. Instead, Meyer and offensive line coach Ed Warinner would have to mold the Buckeye linemen into a competent group. It started in the winter when strength coach Mickey Marotti got ahold of them and reshaped their bodies. Weight was shed and a more svelte, fit group was carved for an up-tempo offense.
In the closing minutes of last Saturday's win over Michigan State, the offensive line prevented the Spartan offense from ever stepping back on the field, helping produce three first downs that ran the clock out. The game signified a turning point in the season for a unit that had been termed "nonfunctional" in the spring.
"I remember smiling," Warinner said of the game's final possession. "I was like, 'This is great. We've got the ball, let's go win a game.' I believed that we could do it, I think our players believed that and I think they showed that when they went out on the field."
Count Meyer among the Scarlet-and-Gray-clad fans that thought the Silver Bullets would have to preserve the victory in the final minutes. But it never came to that.
"That's not to disrespect our players, but I know the way the game goes and everybody watching that ballgame knew we were going to run the ball," Meyer said. "It helps when you have the quarterback get you one of them. And Carlos Hyde…he's a very good player."
The decisive run on that nine-play "drive" that included three kneel downs came on 3rd-and-4. Running back Carlos Hyde was told a first down would end the game. He didn't want to make things interesting and busted through the Michigan State defense for five yards.
"It kind of felt like I scored a touchdown on that run," Hyde said. "It was pretty exciting. I knew I had to get four yards. I wasn't going to be stopped."
It wasn't just the final four minutes, 10 seconds, but the entire game where the offensive line flexed its muscles. The Buckeyes had 204 yards rushing – 136 from Miller – and a touchdown. Up and down the line – Jack Mewhort, Andrew Norwell, Corey Linsley and Marcus Hall – guys held their blocks and kept the top defense in the conference in check.
"The praise they received was for more than just one drive," Meyer said. "They ran the ball against one of the nation's best run defenses for 200 yards.
"Those five guys are locked and loaded."
But it was the play of Reid Fragel that drew the most attention. The converted tight end moved to right tackle after the Gator Bowl and has been learning the position ever since. Limiting Michigan State defensive end William Gholston to four tackles and only one for loss was a step in the right direction.
"Reid Fragel has become an offensive lineman," Meyer said. "He wasn't an offensive lineman at first. Who are we kidding? He was a tight end trying to figure it out. His last two games – he's now an Ohio State offensive lineman. When you say that around here, that's powerful stuff."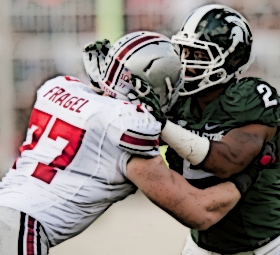 The remaining four linemen's work did not go unnoticed, though. In a break from tradition, there was not one offensive player of the game. Meyer chose to award the entire starting offensive line.
"It's great to have an offensive line grade out as your player of the game," Meyer said. "You usually win that ballgame."
Said Warinner: "Getting recognition like that was good for them. I think it validates the hard work they've put in."
The 2011 season was bad all the way across the board, but it was especially troubling for the offensive line. They gave up 3.5 sacks per game, which negatively affected an already underwhelming passing game.
So far in 2012, the line has only allowed 1.6 sacks per game. It's led to an improved passing attack and a better overall offense.
"I think last year hurt us a little bit," left tackle Jack Mewhort said. "We've been kicked a lot. A lot of things have been said about us."
Their biggest critic has been the man in charge.
"I see a group of players that kind of get beat up a little bit because I like to go after offensive linemen and challenge them quite a bit," Meyer said. "I see a coach (Warinner) and a group of guys that, unfortunately, we only got five. I can't say we have seven, eight. We don't. We have five guys right now."
One week later, Ohio State can't afford a letdown from any part of its team. But the focus will be on the O-Line when the Buckeyes have the ball. When two evenly matched teams – or any two teams, period – play, it's often the team with the better line play that walks out victorious. The battle in the trenches – it's cliché but true.
Nebraska will be focused on taking Ohio State's run game away and forcing Miller to throw. It's the same idea Michigan State had it just didn't work very well.
Ohio State is averaging almost 34 points and 418 yards per game. More than half – 224 yards – is coming on the ground. The box score isn't completely dissimilar from Meyer's previous 10 years as coach, just that there's less total yardage.
"We're not what we want to be," Meyer said. "I think that's rather obvious. We're not built for that yet. So our job is to go find a way to win a game. If that means ham-and-egging it and doing whatever we have to do, that's who we are.  We're not this high-flying, high-octane offense yet. We're working awfully hard to become that."
A game with the Cornhuskers could be just what the Buckeye offense needs. They surrendered 653 total yards, including 344 rushing, to UCLA. Bruins dual-threat quarterback Brett Hundley averaged more than four yards per carry.
But the Nebraska defensive line is a unit that has proven it can adjust. Three weeks after that UCLA debacle, the "Black Shirts" clamped down and only allowed 56 yards rushing to Wisconsin's vaunted run game.
One year ago the Badgers humiliated Nebraska in its first Big Ten conference game, winning 48-17. Montee Ball had 151 yards in that game. This past Saturday he was limited to 90 yards on 32 carries, an average of less than three yards per touch. Ball only had 30 yards on 15 carries in the all-important second half.
The Nebraska defensive line wore out the Wisconsin offensive line as the game got longer. When the fourth quarter rolled out, the Cornhuskers frequently made their way into the backfield.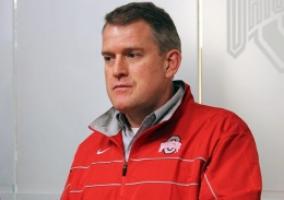 "I thought our defensive line did a good job of getting off blocks," Nebraska defensive coordinator John Papuchis said. "They got better as the game progressed. They started to get a feel for how they were being blocked and attacked."
The game was nearly an identical replication of last year's Nebraska-Ohio State game, when the Buckeyes lost hold of a 21-point second-half lead. This time it was Wisconsin who blew a lead – 17 points.
Miller and Hyde had breakout games at Nebraska last year. While Ohio State has an overhauled offense and new coaching staff, if the Cornhuskers can effectively modify its rush defense from a season ago, they could make it a long Saturday night for the Buckeyes.
Or the pushback from the offensive line could result in a wannabe-high-octane-offense becoming more of a finished product.
"That's the group right now that I'm most pleased with," Meyer said of the line.
Heavyweight fights always have a winner and loser. A few ticks before midnight on Saturday, Ohio State's offensive line will have a say in the victor, but it must be fully functional.
"They have big defensive tackles that try to knock the guards back," Warinner said of the Nebraska D-Line. "They have defensive ends that are aggressive, quick. It's a challenging defense.
"We'll have to take it a notch up from last week."