There are several storylines for Saturday's Ohio State-Nebraska game. The talking point for many is the mobile quarterbacks. The Buckeyes' Braxton Miller and Cornhuskers' Taylor Martinez are two of the top dual-threat signal-callers in the country.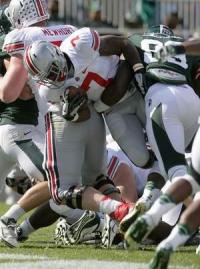 Martinez is coming off a Big Ten player of the week performance in which he led his team back from a 17-point second-half deficit to beat Wisconsin. Miller also had a head-turning day. Aside from throwing the game-winning 63-yard touchdown pass, he accumulated 315 total yards.
But he also took several hard shots to his body. After a sore Sunday, Miller said he was feeling fine today in practice. Head coach Urban Meyer went a step further and said his quarterback was "very good."
After suffering a game-altering injury at Nebraska last season, Miller and the Buckeyes will be looking for a revenge victory Saturday night in Ohio Stadium.
Injuries:
CJ Barnett is a maybe.
Jordan Hall is out.
Michael Bennett is "fine," in Meyer's words, and will play.
Miller is 100 percent.
Meyer said Miller had a slower recovery than usual this week due to the physicality of last Saturday's game.
It won't be much different Saturday, according to Meyer. He said Nebraska is a physical football team that will try and punch Ohio State in the mouth.
The wide receivers have made a big turnaround and one of the guys leading that 180 is Devin Smith. Meyer said if someone would have told him that in April, he would have looked at them like they had seven heads.
Smith has gained the edge with hard work. Meyer said he didn't see that work ethic in the spring.
Meyer said he has zero reservations with throwing the ball deep.
The past two weeks there have been murmurs in the locker room about revenge. Last week, Meyer said it was mostly the offense talking because of their performance against Michigan State last season.
Meyer and athletic director Gene Smith have not talked about scheduling since June.
A plan for Saturday (the day, not game) is being finalized. Meyer and strength coach Mickey Marotti will decide what course of action to take. Meyer said they have an idea since Florida played in so many night games.
Nebraska's run game is so good because of the players, not necessarily the scheme, according to Meyer. He raved about Martinez and Rex Burkhead and also lauded the offensive line.
Nathan Williams was practicing one day a week, if any, at the outset of the season. Now he participates in almost every drill during practice.
Miller said the trainers told him to hold still while William Gholston was down on the field. He said he was happy Gholston was able to get up.
Miller and Smith have obviously developed a rapport with the deep ball. Completing deep passes is all about practice, Miller said.
Looking back at last season's Nebraska game, Miller said he was mad at himself because he felt like he let his team down by being injured and not returning.
Miller said he doesn't feel like he's been overused this season by running so many times.
It will be Miller's second career night game at the Horseshoe, and he said it should be "crazy."
Devin Smith played up the revenge factor, saying Ohio State "owes" Nebraska a loss.
Smith said he was a deep threat in high school, too, but that that's not the only thing he can do on the field. He said he's also good at making defenders miss.
Beautiful. That's how Smith described Ohio Stadium under the lights. He also said it's much louder at night.
Ryan Shazier said it sucks flying home after a loss. He said last season's flight home from Nebraska was silent.
Flying home from East Lansing was a big celebration.
Shazier said you have to get a body on Burkhead to bring him down.
Going against Miller and Ohio State's running backs in practice makes it easier to prepare, though, according to Shazier.
Cardale Jones is playing the role of Martinez on the scout team.
Bradley Roby said going against Martinez – throwing and passing – will be a tough test.
To describe Martinez in one word, Roby said: fast. 
Roby is still battling a shoulder injury. He said there's no way he's sitting out. The only reason he missed the Alabama-Birmingham game was because the defensive coaches felt they could win without him.
For night games, Roby said he sits around most of the day and tries to temper his emotions.
Once the game starts, it's the same. Roby said you can't let yourself get too hyped up.
Roby said Nebraska is a team that thrives on momentum and once things are going well, the offense runs at a quicker pace. The goal on Saturday is to slow them down.
Roby has eight pass breakups but zero interceptions on the season. He said he gets grief from all of his teammates, but he thinks he's due for one. He said it has to happen Saturday.