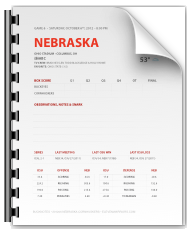 Bucknotes are your pocket guide for the game. Print them off and amaze your friends with your knowledge and insight.
Tomorrow: Eat Too, Brutus, Homecoming 2012, and ranked Big Ten division leaders meeting in just the 11th night game in Ohio Stadium history. Hot damn. 
Oh, it's also Ryan Shazier's birthday, which means Congress is considering it for national holiday status.
Among tomorrow night's key matchups: Drew Basil's fresh open field tackling skills vs. Ameer Abdullah's fondness for accumulating return yards.