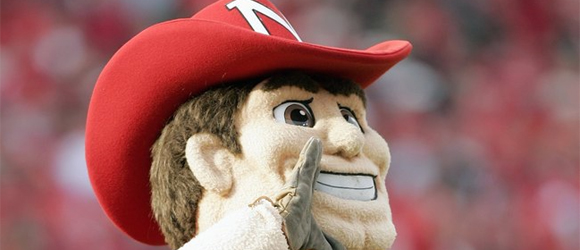 This Saturday night, the newbie of the B1G rolls into Columbus, in search of another victory over the Buckeyes. Their historic comeback against the Buckeyes in Lincoln last year was heartbreaking for Ohio State, who now comes into the game with a chip on their shoulder.
Despite an unexpected loss to the Bruins in Week 2, the Huskers have made some improvements, and their second greatest comeback in program history, against the Badgers last week.
Here to dissect this 2012 Huskers team, and what to expect to see in the Shoe on Saturday, we welcome Erin Sorensen of Bleacher Report, and Husker Extraordinaire.
Nebraska is 4-1 so far this season. How does this compare to your preseason predictions for this team? What about the way the Huskers have played has surprised you?
I originally thought Nebraska would be 4-1 by the time they faced Ohio State, however I thought the one loss would be to Wisconsin, not UCLA. While Wisconsin has had their fair share of struggles, the Huskers have shown that they are not a perfect team either. Quarterback Taylor Martinez has improved, yet still shows signs of struggles from the past. This is the defense's first season with new defensive coordinator John Papuchis, so there are also some growing pains there that were exposed against the Bruins. To be 4-1 is a good thing, from my perspective, because it could have easily been 3-2.
With that said, the biggest surprise so far was how both sides of Nebraska's ball pulled together against Wisconsin. It was very reminiscent of last year's Ohio State game. Comebacks must be Nebraska's thing these days.
UCLA got an unexpected win over Nebraska in Week 2, and Wisconsin looked good for the first half against the Huskers last week. What can we learn from the Bruins and the Badgers in terms of how to beat the Huskers?
As I mentioned a little before, the Bruins really exposed the Husker defense's weaknesses. They found where Nebraska struggles and played to that. The inability to adjust was the biggest issue for Nebraska. For Wisconsin, the first half was very similar to the UCLA game. The Badgers knew when to put the ball in the air and force the corners to make plays they were unable to make, while also knowing when to run the ball up the middle. It was a smart game plan that paid off for awhile.
What we learned from both games is that Nebraska does have weak points but in Wisconsin's case, the team can rally. For Ohio State, it will be key to play to the Huskers weaknesses and play to that. Ohio State's Etienne Sabino and Ryan Shazier will be crucial also, as they will be the ones to stop Martinez from his explosive runs. The key to beating Nebraska is to put more pressure on them than they can handle, force Martinez to run and stop him before he can. If able to do that, Ohio State will be capable of forcing turnovers and controlling the momentum of the game. If not, Martinez can and will take off, making it difficult to catch him.
Who are the two or three key players, on each side of the ball, that you would say OSU fans should look out for on Saturday?
The key players on the offense for Nebraska are running back Ameer Abdullah and I-Back Rex Burkhead. Both are outstanding in their own ways. Abdullah is fast and if given a hole, he'll be gone. The Buckeyes will need to keep an eye on him, because most teams tend to watch Burkhead. However, "Superman," as Burkhead is called by many Husker fans, finds a way to power through most any situation. In fact, he carried a Badger defender on his back for a few yards last Saturday. Burkhead is strong. Between the two of them, the running game for Nebraska can be lethal.
On the defensive side of the ball, keep an eye out for Daimion Stafford. The safety is consistently putting pressure on a quarterback. It's a gamble pulling him and PJ Smith up, leaving the corners one-on-one with the receivers, but Stafford usually produces results. He's become familiar with quite a few opposing team quarterbacks to date.
Taylor Martinez has always seemed to be a bit of a Jekyll/Hyde scenario. Which version do you think we can expect to see on Saturday?
That's the million dollar question, isn't it? It seems there has been a lot more of "Mature Taylor" than the Taylor of the past this season, so I think we'll see a good side of him. If anything, he has learned to adjust when things aren't going as planned. It might not be perfect, but he's improving. Playing on the road against Ohio State will absolutely be a challenge, so we may not know what kind of quarterback Martinez has improved to until the clock hits zero on Saturday.
Nebraska's only loss so far this year came on the road, against UCLA, and the Huskers were able to put together a comeback in front of a home crowd against the Badgers on Saturday night. How much of a factor do you think this game being at Ohio State will be for Nebraska?
I honestly worry more about Nebraska at home than I do when they are on the road. While the Big Ten may not see this as much, head coach Bo Pelini was known for saying the Huskers played better on the road while members of the Big 12. The conference may be different but that sentiment may still ring true. Nebraska fans also travel extremely well, so expect to see a lot of "Husker Power" in the crowd. If anything, that may provide a little feel of home that is needed while still providing the pressure Martinez seems to thrive under.
In order to beat Ohio State on Saturday, Nebraska is going to have to ___________.
Play consistent. It's important Nebraska does not get behind and have to make up the deficit. While it seems the Huskers have good luck with this strategy from time to time, it's key to not make that a strategy. The Huskers need to play smart, play strong and get the lead early. From there, it will be about holding on and controlling the game. If the team can keep their cool and play together, good things can and will happen.
Both teams have had their struggles so far this season, but what do you see as the most favorable matchup for the Huskers, in trying to beat the Buckeyes on Saturday?
I'm very anxious to see how each team's defenses hold up against the other's offenses. Braxton Miller and Taylor Martinez both have their own issues this season and how the two face off is extremely exciting to me. Nebraska and Ohio State have been very difficult to score on in the red zone. Regardless of any other defensive struggles, both teams really step up and make it difficult to score once in the red zone. I'll be anxious to see who keeps their cool between Miller and Martinez, so as predictable as it is, I'm anxious to see how each quarterback holds up against the opposing side's defense.
What are your thoughts and predictions for the game?
My prediction is that this is going to be a bit of a blood bath. Ohio State has a chip on their shoulder from last year's loss, while Nebraska is fighting for a crucial win in their campaign towards becoming Big Ten champions. While Ohio State is favored to win, I don't think it's that easy to say who will and will not come out victorious. I love a good game and I think the Huskers and Buckeyes will provide one. I see Braxton Miller being a big threat and containing him will be a major part of Nebraska's game plan. If Miller is forced to win the game with his arm by the Nebraska defense, it could swing the Huskers' way. If not, Miller will run his way to a win.
Ohio State 24, Nebraska 20
---
Thanks again to Erin Sorensen for sharing her Husker insights. You can read more from Erin at the links below:
Twitter: @helloerinmarie
Bleacher Report: Erin Sorensen