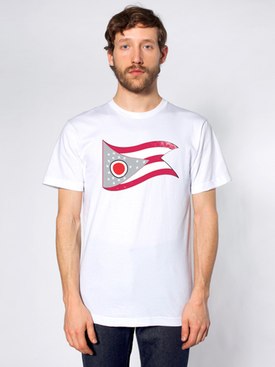 Once again we're asking for your predictions for the Ohio State-Nebraska game this weekend.
You know the routine by now. Simply leave a comment with your prediction of the final score for Saturday's game against the Cornhuskers. If you nail the score—or come closest—you'll get to name your shirt from the impressive collection at Eleven Warriors Dry Goods. Like the beautiful flag you see to the right. Or a different shirt. Your call.
One lucky winner will have songs written about them, like bhead, who came closest to predicting the 17-16 victory in East Lansing last weekend.
The fine print:
Must be 18 years-old or older.
One entry/comment per person.
Duplicate predictions are ineligible — first come, first serve.
If Ohio State loses this game, there will be no contest winner. If you believe Ohio State will lose this game, don't enter the contest.
Deadline for entries is kickoff.
Good luck!