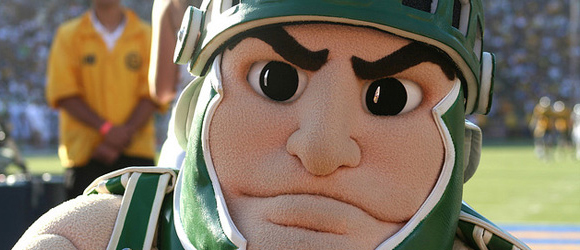 A year ago, Ohio State was 3-1 and hosted Michigan State for its first conference test of the year. Going into that game, many weren't sure what to expect of the team in B1G play without its decade-long leader Jim Tressel. Though it was apparent that changes needed to be made at the quarterback position, fans remained optimistic that the Buckeyes could rebound from a disappointing loss at Miami and have a fairly successful season. Unfortunately, the Michigan State game was a sign of painful moments the 2011 season had in store.
This time around, with a more proven leader in Urban Meyer and a more talented starting quarterback in Braxton Miller, Ohio State gets its first conference and first road test against the Spartans. Truthfully, both teams have underperformed compared to their preseason hype. Ohio State sits at #14, more of a formality reserved for a traditional powerhouse that has gone 4-0, but still has many things to prove on the field.
To help us take a look at this B1G opener between the Buckeyes and Spartans, who both have something to prove this Saturday in the only matchup this week of top 20 teams, Chris Vannini of The Only Colors shares his insights into this Michigan State team.
Michigan State is 3-1 this season. How does this compare to your preseason predictions for this team? What has been a key factor in any differential between your expectations and reality?
I think a 3-1 start fits a lot of preseason predictions. Most people didn't know what to make of the offense entering the season, and problems were expected, especially in the passing game. Those familiar with the program expected Le'Veon Bell to have a breakout year, but I don't think anyone expected this much this quickly. Now, part of that is because he's the only reliable part of the offense, but 200 yards is 200 yards, and Bell has been spectacular this year. The issue moving forward is that this is the first time he's been the feature back and many are worried he won't be able to keep up this pace. If the passing game improves, hopefully some of the load can be taken off his shoulders. But right now, that doesn't look good.
MSU lost in disappointing fashion to Notre Dame and even struggled against Eastern Michigan last week. What are some of the takeaways from those games that you'd like to see corrected by this Saturday?
The biggest problem is the passing game. Against Notre Dame, MSU's offensive line was blown up by the Irish, and quarterback Andrew Maxwell was constantly under pressure (also sacked four times). When Maxwell was able to get off a good throw, the receivers dropped some balls, including a touchdown. Bell only had four carries in the second half (none in the fourth quarter) as MSU moved to a hurry-up offense. The problem was that meant the receivers were the key to the offense, and that caused problems. Against Eastern Michigan, it surprisingly was much of the same. The receivers have dropped at least six passes in each of the last two games, including two touchdowns. It's a really young group, and this seems to be a mental issue. Does that bode well in front of another national audience? I don't know. Maxwell hasn't been perfect, but he still has OK numbers given there has been no one on the outside who has been reliable.
Le'Veon Bell and William Gholston aside, who are some key players, on both sides of the ball, that OSU fans should look out for on Saturday?
On offense, it's tight end Dion Sims. The 6-foot-5, 285-pounder has 22 catches for 277 yards and two touchdowns as the only guy Maxwell has faith in throwing to. He was expected to be the safety blanket as Maxwell got accustomed to game experience, but he's the No. 1 target now. He'll obviously be a point of interest for the OSU linebackers.
On defense, linebacker Max Bullough is the leader of everything. The junior is a captain and leads the Spartans in tackles and TFLs. He had nine tackles and one TFL in the game in Columbus last year. He'll be blitzing up the middle with frequency, but when he's not, he'll certainly be keeping an eye on Braxton Miller all day.
What are this team's biggest weaknesses that you're hoping don't get exposed by the Buckeyes on Saturday?
In terms of the defense, it's the tendency to over-pursue and be too agressive. Notre Dame had a couple long runs from the running back on some misdirection. With all the blitzing MSU does, this is a group that is always swarming to the ball at full speed, but a couple delay runs to the weak side could work. I normally wouldn't say straight runs to the outside off tackle would be very effective, but Notre Dame also had some success with that in the second half, sealing off MSU's offensive linebackers. Given Urban Meyer's offense is built on speed, I'm going to be very interested to see how MSU's defense deals with the sideline-to-sideline plays.
On offense, it's basically the passing game. I'm sure Ohio State will load the box, and Andrew Maxwell is going to have to make some throws (and receivers catch) in order to win.
Michigan State leads the Big Ten in rushing, passing, total and scoring defense. What are some of the reasons this defense has had success so far?
The biggest reason is because of the communication and knowledge of MSU's system. In Mark Dantonio/Pat Narduzzi's first few seasons, they stuck with the 4-3 set and were burned by spread teams. It didn't seem to be working. But once the coaches got their players in, things changed. MSU has speed on the ends of the line and the linebackers. This means a lot of blitzing. The cornerbacks are very physical, and the safeties need to be extremely smart when it comes to reading plays, especially when the backers blitz. The players love the freedom they're given in the system, but that comes after Narduzzi trusts them. After last year's breakthrough season, nine starters returned from the Outback Bowl, yet they're still a young group. MSU only played one scholarship freshman last season, so the depth has been built up, and even if (when) Narduzzi leaves, the defense should be stout for quite some time.
Both teams have had their struggles so far this season, but what do you see as the most favorable matchup for the Spartans in trying to beat the Buckeyes on Saturday?
Back to the defense, it's containing Braxton Miller. Narduzzi's system and players have shut down running quarterbacks over the last three years. I saw a stat from one of our writers that the longest QB run against MSU over the past 43 games was 26 yards by Ricky Stanzi. As I mentioned above, the ends have the speed, but they've been great at containing run-first quarterbacks (Denard Robinson, Miller last year, Tre Roberson [although, Indiana...]), and the speed by the outside linebackers complements that. Where they've struggled is with mobile quarterbacks who rely on their arm first (Russell Wilson, MarQueis Gray, Everett Golson kind of). Miller is going to need to make throws.
What are your thoughts and predictions for the game?
Man, I really don't know who to pick. I feel like you could flip a coin. I'm going to 13-10 MSU. This game really is a strength vs. strength and weakness against weakness. MSU is No. 1 in the Big Ten total defense and No. 7 in total offense. OSU is No. 4 in total offense and dead last in total defense. Whoever's weakness is stronger might be the difference. I haven't watched a ton of Ohio State this year, but it seems like big plays have been the biggest problem on defense. That's also been MSU's biggest problem on offense. Last year, following poor offensive performances, MSU seemed to do a good job of refocusing on what they're good at. This game was ugly last year, and I think it's going to be the same this year.
Do you have any things to do, sights to see, or places to eat for our readers that will be making the trip to East Lansing for the game?
The place for everything is Grand River Avenue (which will be right near College Gameday, for those of you coming up). Instead of the details, I'll give you the EL Visitors' Guide that one of our writers put together last year. It's got everything from lodging to tailgating to night life and everything you need to know about coming to our city.
Enjoy your time.
---
Thanks to Chris Vannini of The Only Colors for his time. You can read more on all things Sparty by checking out the links below:
Twitter: @theonlycolors and @ChrisVannini
Facebook: TheOnlyColors