In the current day of air-it-out offenses and basketball on grass, Saturday's matchup between Ohio State and Michigan State could be a trip down memory lane for the 40- and 50-somethings in attendance.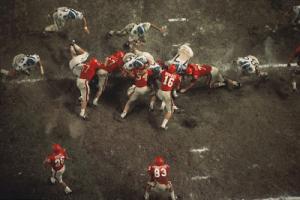 Three yards and a cloud of dust will, once again, be in vogue. But it won't be Woody Hayes and Duffy Daugherty on the sidelines. Mark Dantonio's presence isn't all that surprising. He was cut from the Nick Saban and Jim Tressel mold, two classic conservative coaches. Saban and Dantonio's craft is on the other side of the ball – defense.
Urban Meyer, however, has proven to be one of the most innovative offensive minds in college football. His spread offense, which incorporates power, not just passing, has been responsible for more than 100 wins, an undefeated season, four conference championships and two national championships in 10 full seasons as a head coach.
Through the season's first four games, Ohio State (229 yards per game) and Michigan State (176 yards) rank 24th and 53rd, respectively, in the county in rushing offense. Ohio State's passing offense ranks 96th, while Michigan State is a modest 61st.
The Buckeyes' do-it-all quarterback, Braxton Miller, has 441 rushing yards on the season, an average of more than 110 yards per game, and has scored seven rushing touchdowns on the season. He ranks third in the Big Ten and 16th in the country in rushing.
In the season opener, Miller set the Ohio State single-game rushing record for a quarterback with 161 yards. Already, he has runs of 65, 55 and 37 yards. 
On the season, Jordan Hall, Carlos Hyde, Bri'onte Dunn, Rod Smith and Zach Boren have combined for 444 yards and six touchdowns.
In the Buckeyes' 29-15 win over Alabama-Birmingham last week, Hall had a career-high 105 yards. Ohio State should have Hall and Hyde healthy for the same game for the first time all season on Saturday. With two running backs in the game, along with Miller's run-pass threat, Ohio State's offense could develop into a 'pick your poison' outfit for opposing defenses.
"We'll have to be very efficient," Meyer said. "So Carlos, Jordan Hall and Braxton Miller, we have to find a way to get some yards running the ball. It has to be some creative stuff because to turn around and hand the ball off, we tried it last year (against Michigan State) a little bit and it went reverse. It's a very good defense against the run. We'll have to be very efficient. That means we just don't want to waste time."
In Ohio Stadium last season, the Buckeyes turned in one of their worst offensive performances ever thanks to the Spartan defense. Ohio State's quarterbacks were sacked nine times while the offense gained 35 rushing yards on 39 attempts. The only Ohio State points came with 10 seconds left in the 10-7 loss.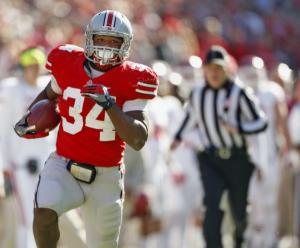 Ohio State's running backs have dealt with injuries since the summer. On Monday, Meyer said he's already been writing down different plays on a whiteboard that can include Hall and Hyde, two contrasting tailbacks.
"I think that's what you want," he said. "We want those guys in there."
Hall can spread defenses out with his slashing and pass-catching ability, while Hyde is a more traditional between the tackles runner. The man the Ohio State defense will try to contain is 244-pound pillar of might Le'Veon Bell.
"He reminds me of Ron Dayne, even more athletic," Meyer said. "A guy that's extremely powerful, times up his blocks very well and runs through tackles. You see athleticism that usually people that size don't have."
Bell, a Heisman Trophy candidate, is averaging more than 150 yards per game, gaining 210 against Boise State and a career-high 257 against Eastern Michigan. The Big Ten's leading rusher (third nationally), Bell has five touchdowns. The Columbus native's performance against Eastern Michigan last week earned him Big Ten offensive player of the week honors for the second time this season.
"If it turns into a 200-yard rushing day where they just block you into next week, then we're going to lose the game," Meyer said.
If he has to be a workhorse for the Spartans to grind out a victory, Bell can do so. He carries the ball 29 times a game on average and had 44 touches against Boise State and 36 carries in Saturday's win over Eastern Michigan. 
"I think he's a very patient runner," co-defensive coordinator Everett Withers said. "He does a nice job of setting up blocks, and I think he does a nice job of cutting back. He knows when to cut back, where the soft spots in the defense are, he does a nice job with the stiff-arm out on the edge, he lowers his shoulder inside. He's built as an I-Back inside-runner, and I think it fits with what they're trying to do offensively."
In high school, Boren, a Pickerington graduate, and Bell, a Groveport-Madison product, faced each other. Boren, who also played of defense, had to tackle Bell more than once. Even then, Bell was relied on to almost literally carry his team to victory.
"They would feed him the ball 30 or 40 times a game, and that's the same at Michigan State," Boren said. "He's a great player and powerful runner."
Going against one of the nation's leading rushers will always concern a coach, but when your defense hasn't exactly been stout, that angst is heightened.
Ohio State ranks last in the Big Ten in total defense, allowing nearly 395 yards per game. UCF, California and UAB each gained at least five yards per play. The Buckeyes gave up 512 yards to Cal and 403 to UAB. Meanwhile, Michigan State is first in the conference, limiting opponents to just 233.5 yards.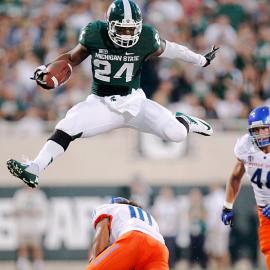 Told that the Buckeyes ranked 12th out of 12 Big Ten teams on defense, Meyer said, "That's something that has to change real fast."
Cal was the only team, though, that had sustained success running the ball against the Buckeyes, and most of that was because of four plays. Opponents are averaging four yards per rush. Not great, not horrible. But it's nothing compared to Bell's output.
"The No. 1 thing we're going to have to do is stop the run," linebacker Etienne Sabino said. "Their run game is the strength of their offense. They have a great running back. We have to stop them from running. If we're able to do that, we can have a pretty good game.
"You've got to stop him before he gets going. A big back like that is hard to bring down if he gets moving, so you have to stop him before he gets going."
After facing four straight offenses that attempted – and succeeded much of the time – to tear off small chunks of yardage play by play and execute the occasional big gainer, Meyer hopes facing a more traditional offense will be an advantage for Ohio State.
"I think our defense is kind of built for this," he said. "It's not built for sideline to sideline dink-and-dunks."
Another benefit to Ohio State: full use of personnel. Michael Bennett, CJ Barnett and Bradley Roby are expected to play. Bennett's presence, especially, could be big in holding down the Michigan State running attack.
Co-defensive coordinator Everett Withers said he saw better tackling against UAB. The Buckeyes contributed parts of Tuesday and Wednesday's practices last week to tackling and will do so again this week.
"If you emphasize it, hopefully it helps you get better and improve," Withers said. "I thought we were better tackling. I think tackling is like interceptions. When people worry about you not getting a bunch interceptions, all of a sudden they come. You're not tackling good, then all of a sudden it's not an issue anymore."
Bringing down a behemoth like Bell seems like a lot to ask from a unit that hasn't been the best at getting ball carriers on the ground. But Sabino and other players actually said having something to grab on to, as opposed to shifty scatbacks, makes it easier.
"We're going to have to make sure we keep him sideways and not let him go north and south," Withers said. "That's got a lot to do with leveraging the football.
"If you can leverage the football and get guys that you want inside and outside the ball carrier, then you should tackle him."
The misses are magnified in conference play, where it's harder to escape unblemished with your "C" game. One missed tackle or blown assignment on defense can spell the difference between a win and a loss.