In December, as Ohio State loaded the team plane to head south to Jacksonville, Fla., for the Gator Bowl, all but one player was accounted for: Rod Smith.
The wheels went up without the then-freshman running back, and he never arrived to the Sunshine State. It wasn't the desired end to an already forgettable season for Smith, especially with a new coaching staff taking over.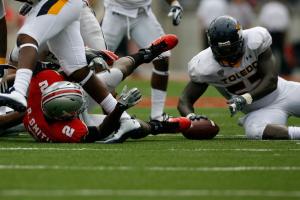 The 2011 offseason was filled with turmoil never seen before at Ohio State. Through it all, Smith grinded out a role in the offense. On the eve of the season opener versus Akron, starting tailback Jordan Hall was suspended, elevating Smith's role even more.
He didn't start that day, but he was the second-string running back. In the first game of Smith's career, he rushed for 74 yards and a touchdown on 18 carries. Before he even played in a game, fans were fawning over the bruising Smith. After seeing him produce, the hype machine grew and comparisons to Eddie George were in full bloom.
At 6-foot-3 and 228 pounds, the Fort Wayne, Ind., native had the size, physique and running style of the 1995 Heisman Trophy winner and four-time Pro Bowler. Soon, there would be on-field comparisons between the two. But it didn't have to do with 300-yard rushing games or splitting the Notre Dame defense.
Not even close.
As Smith was closing in on the end zone against Akron, the ball came loose from his grasp and the Zips recovered it. No big deal, people thought. The Buckeyes won, 42-0, and Smith had otherwise been impressive.
The following week Ohio State was leading Toledo, 27-22, late in the fourth quarter when Smith fumbled again. It gave the Rockets one final chance for victory, an opportunity they nearly cashed in on.
Smith got four carries the rest of the season, and none in the final nine games and was briefly moved to linebacker.
It was eerily similar to the beginning of George's career. In 1992, "End Zone Eddie" scored three touchdowns in his third career game. But disaster struck soon thereafter when George fumbled twice inside the five-yard line against Illinois. One resulted in a 96-yard return for a touchdown, while the Illini manufactured a 99-yard game-winning drive with the other in an 18-16 win. Like Smith, George was virtually shutdown the rest of the season, carrying the ball 12 times in the final seven games.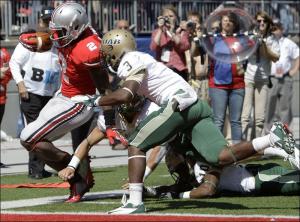 In the pantheon of all-time college football greats, Archie Griffin ranks near the top. He, too, began his career with a fumble.
Shortly after Urban Meyer held his first team meeting as the head coach of the Ohio State Buckeyes, Smith and his father sat down in Meyer's spacious office in the Woody Hayes Athletic Center. But the tone was far different than most family visits to the coach's office. It didn't have the happiness of a recruiting trip.
"The conversation in January is, 'You're probably not going to make it. It's probably best you move on and play somewhere where you can play, because it's obvious you're not good enough to be here,'" Meyer said on Monday.
The "real honest conversation," as Meyer called it, even included transfer papers. Smith had unfinished business in Columbus, though, and decided to stay.
"He didn't do great as the spring went on," Meyer said. "He did not have a great summer. Then something clicked these last few weeks. I mean, he's on a mission right now. He's a good guy. I love Rod Smith. I love guys that turn it around. Now that's one game."
The one-game performance he's referring to came on Saturday against Alabama-Birmingham when Smith averaged four yards on six carries. He also scored a touchdown. It was an unexpected turn of events after Smith didn't even play the previous week and was third-string as recently as three weeks ago. Entering the UAB game, Smith had 26 yards rushing on the season and was part of a poor quarterback-running back exchange that led to a fumble against Central Florida.
When the Buckeyes trailed 9-0 to UAB, it was Smith they turned to, handing off to him on the final three plays of a 10-play drive that cut the deficit to two points. It was only the second touchdown of Smith's career, the first coming in that 2011 opener versus Akron.
"He's earned it," Meyer said. "That was not a hit-or-miss deal, where, boy, I hope this works out.  He's done it in practice, and he's earned that right. So there's no reluctance at all to put him there."
The climb up the depth chart for Smith actually started at another position. On a Meyer-coached team you don't just jump into the deep end, you first tread water. Special teams, specifically the punt-block team, is where he molds his talent before unleashing them on offense or defense.
Two weeks ago Smith battled true freshman Bri'onte Dunn for the starting spot at running back after Carlos Hyde suffered a sprained MCL. Jordan Hall ended up getting the call when he was cleared to play by doctors after sitting out since July because of a foot injury.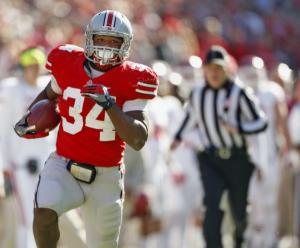 Not only did Smith not start, he didn't even play. But Meyer raved about the sophomore's emergence as a special teamer.
"Rod's doing a good job," he said two weeks ago. "Rod is going to start on punt-block. You don't just all of a sudden say, 'Go play tailback.' That doesn't happen. You can be on punt-block and then we can have a chat about running the football.
"When you start on special teams, the next thing is you'll start playing."
Ohio State's No. 1 punt-block unit – "The Freak Show – features the team's best athletes. Meyer doesn't just trot anyone out there, and he stayed true to his word.
"I had to show them I could do it in practice," Smith said. "My number was called today and they gave me an opportunity."
All of a sudden, a week after many people were pressing the panic button on the backfield, it could be a strength and change the entire complexion of the Ohio State offense. Hyde is expected to play this weekend at Michigan State, which will mark the first time he and Hall have played together. Their presence on the field will give the offense an added dimension and force opposing defenses to game plan for it. Adding an effective Smith into the mix is another boost. It should also free up quarterback Braxton Miller to be more effective passing the football and allow him to run less.
"If he continues as is, he's in the plans for several more years," Meyer said of Smith. "He's a talented guy."
Meyer called Smith's father a "great guy" and credited Smith's family as being a helpful source during his darkest days. Now, nearly nine months after being told there was no future for him at Ohio State, Smith has an opportunity to become firmly entrenched into the tailback rotation.
"What a great message for our entire team," Meyer said. "He was lower than most guys on this team. To see him rebound, his grades are doing well, he's got a good look about him.
"It's called maturity, and it's happening."