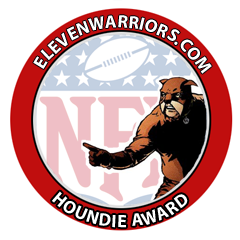 At one point in time, this award was known as the Buckeye NFLer of the Week. Thanks to a typo and the ensuing LOLsession from the commentariat, it was renamed as the Houndie. Same intent, but now with a better name.
As we wrap up week three of the NFL season, there are two things we learned from this past weekend. First of all, there is no clear dominant team in either league, as only Atlanta, Arizona and Houston sit undefeated.
Second, the executives of the NFL, Time Warner and Insight read 11W. After my mini-rant last week, the NFL Network miraculously reappeared on my cable selection over the weekend, which will allow me to watch the mediocre Thursday night games.
This past week was supposed to be a matchup of dynamic quarterbacks, but Cam Newton forgot to show up at home and the Giants destroyed the Panthers, 36-7.
Chris Gamble helped hold Victor Cruz to six catches for 42 yards, notching five total tackles, while Ben Hartsock and the Panthers O-Line paved the way for just 60 yards on the ground.
The Bears got a home win against St. Louis, 23-6, as Dane Sanzenbacher was once again inactive and James Laurinaitis led the way in tackles for the Rams. Lil' Animal had a season high 11 tackles, including one for a loss and now has 30 on the young season, which puts him in the top ten. 
Over in Minnesota, the Vikings shocked the 49ers, 23-14, giving Jim Harbaugh's crew their first loss of the season. Antoine Winfield was his usual stud self, recording eight tackles, including four solo stops and one TFL. He also defended a pass, as the Vikings held San Fran to 280 total yards. Michael Jenkins was targeted five times, but hauled in just one catch for eight yards.
For the Niners, Donte Whitner had six tackles and Larry Grant had two, while Ted Ginn practiced on a limited basis and might return this week.
The Saints remain winless, losing a home game to Kansas City, 27-24, in OT. Malcolm Jenkins was third on the Saints with eight tackles, including seven solos and a TFL. Will Smith had three solo stops, three assists and three QB hits, while also notching his first sack on the year, but the Saints gave up 273 yards rushing, including 233 to Jamaal Charles, who watched this week from my fantasy bench. 
The Bengals moved to 2-1, with an exciting 38-31 win over Washington. Nate Clements had an active day with nine total tackles and Mike Nugent made all of his kicks once again, nailing a 47-yard FG and five extra points. Doug Worthington was inactive for the Redskins after being promoted from the practice squad earlier in the week.
As mentioned, Arizona moved to 3-0, taking advantage of more Eagle mistakes in their 27-6 home win. You're not going to believe this, but Beanie Wells left the game in the third quarter with an apparent turf toe injury. Before the injury, he did little against the Eagles D, rushing for 18 yards on eight carries, now giving him just 76 yards on 29 carries this year. 
Kurt Coleman led the Eagles again in tackles, coming up with nine from his safety spot, while Brian Rolle added a couple.
Will Allen had a special teams assist in Pittsburgh's last-second 34-31 loss at Oakland.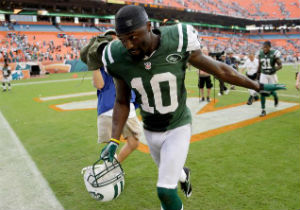 If you were able to stay up for last night's game, you witnessed one of the most bizarre finishes in NFL history. I'm not going to bag on the replacement refs, because they are in a awkward position, but they blew a call on the final play of the game and Seattle pulled out a 14-12 win.
As a football fan, it's crazy to think the NFL can't reach an agreement with the real refs and get these games back to a little normalcy. As a Bears fan, it couldn't have happened to a better team.
Both Buckeyes had an active game for the Packers, with A.J. Hawk and Ryan Pickett leading the way on defense. Hawk paced the Packers with 11 total tackles, while Pickett was credited with nine stops, but only one of them was solo.
As you can see, it was a fairly slow week for the Buckeyes, mimicking the current squad, but one player broke out of his early slump to help his team claw back for a win.
Through the first two games, Santonio Holmes had seven catches for 96 yards and a TD. Though he didn't find the end zone this week, he matched a career high with nine receptions for 147 yards, as the Jets beat the Dolphins in OT, 23-20. Last week's winner, Brian Hartline, had one catch for 41 yards in the loss.
After being shut out last year from winning the weekly honor, Holmes takes home his third Houndie since 2010, helping the Jets keep pace in the AFC East at 2-1.