Four weeks into the season, this Ohio State team's performance has been mostly underwhelming. Aside from a few jaw-dropping Braxton Miller runs and spectacular Devin Smith catches, the highlights have been few and far between.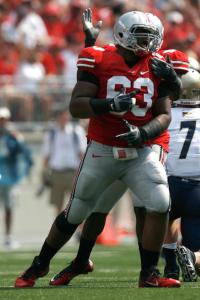 Still, the Buckeyes are 4-0 and ranked in the top 15 of the Associated Press poll as the conference season kicks off this weekend in East Lansing. Awaiting them is a Michigan State team that's ranked 20th in the country and winners of 16 of its past 17 games in Spartan Stadium. 
Oh, and they possess a 250-pound bowling ball in the backfield that also acts as a running back.
"He reminds me of Ron Dayne, even more athletic," Meyer said of Le'Veon Bell. "A guy that's extremely powerful, times up his blocks very well and runs through tackles. You see athleticism that usually people that size don't have.
"If it turns into a 200-yard rushing day where they just lock you into next week, then we're going to lose the game."
The Silver Bullets have been prone to missed tackles and giving up big chunks of yardage this season, two things that would concern most coaches when going up against a running back of Bell's caliber. Meyer took the opposite approach, however.
The offenses Ohio State has played this year have been of the spread variety, trying to dink and dunk their way downfield. It's proved effective, but Michigan State is an old-school, power football team.
"I think our defense is kind of built for this," Meyer said. "It's not built for sideline to sideline."
As of Monday, Ohio State's entire first-team defense will be available for the first time all season. Michael Bennett has battled a groin injury since the final week of fall camp and has not appeared in a game all season. Bradley Roby and CJ Barnett missed Saturday's game because of injuries but should be healthy come Saturday.
If Bennett couldn't play or reaggravated his injury, could the Buckeyes redshirt the sophomore? Not likely.
"We're not thinking redshirting at this point," Meyer said. "I think every indication is he's going to play. If he doesn't, then I'll address that. But if he plays, he plays."
When Ohio State takes the field it will be the first time Meyer has been an underdog at Ohio State (MSU is an early three-point favorite). And it's not just Bell that makes the Spartans go. Far from it, actually.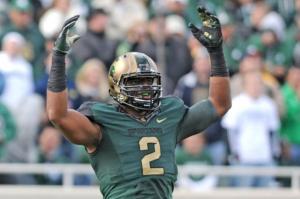 The Michigan State defense is ranked atop the Big Ten in total defense, scoring defense, rush defense and passing efficiency defense.
"I can only compare to what's the strongest conference I have a lot of experience in," Meyer said referencing his years in the SEC at Florida. "I can tell you this defense we're getting ready to play will be in the top couple of that conference. That tells you the quality of players, number one.
"I think we've seen some good defenses in my career, and this is one of the best."
After four weeks, teams have become aware that Miller can beat you with his legs, but his right arm is still a mystery. Meyer said Michigan State will do its best to shut down the run game and make Ohio State throw the ball downfield.
"(They have) a bunch of NFL players on their defensive line," he said. "We have our work cut out for us."
The Buckeyes will have an added ingredient on offense this week. For the first time all season, tailbacks Jordan Hall and Carlos Hyde will play in the same game and be on the field together.  It's a dimension that could change how defenses approach Ohio State.
"Working on that now," Meyer said. "I put together a drawing on the board with both of them in there. I think that's what you want. We want those guys in there."
Miller was given added responsibility last week at the line of scrimmage. After the game, he said he called somewhere in the neighborhood of 20 audibiles. Meyer said he didn't think it was that many but that it was "a bunch."
Entering a hostile environment with 80,000 people could be a recipe for disaster for a quarterback still coming into his own with a new system.
In Ohio Stadium last season, Miller and Joe Bauserman were victimized all day, as the Spartans sacked the quarterback nine times. It wasn't untll the final 10 seconds of the game that Ohio State scored in the 10-7 loss.
"I'm not going to watch the game. I've watched a lot of the cut-ups of the game," Meyer said. "Braxton has come a long way."