Two weeks ago it was safety Orhian Johnson who made the most of his work with the first-string defense. In that game, against Central Florida, Johnson had six tackles, a pass deflection that led to an interception and a fourth-quarter pick that sealed the Buckeyes' win.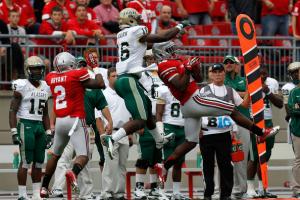 On Saturday, cornerback Doran Grant had an opportunity to positively impact the defense. He did that and more.
In his first career start, the sophomore had seven tackles, including a sack, a fumble recovery, and an interception in Ohio State's 29-15 win over Alabama-Birmingham. Grant also helped limit UAB wide receiver Jackie Williams nearly 50 yards under his 101-yard average.
A highly touted recruit out of Akron St. Vincent-St. Mary, Grant entered Ohio State last season battling a fellow freshman, Bradley Roby, for a starting corner position. Roby won out, had a solid first season and was branded as the next great in a long line of Ohio State cornerbacks.
It looked like Grant would have to bide his time, probably for at least a year, before receiving a chance to play meaningful snaps. Then Roby suffered a shoulder injury against California. Grant relieved him, and midway through last week he learned he'd get his first career start.
"There really wasn't any pressure," Grant said. "Coach (Kerry) Coombs has always prepared me, just in case, for a situation like this, and I think I handled it OK."
The drop off in play – minimal – from Roby to Grant may come as a surprise to fans and other observers. But Urban Meyer, Coombs and Grant's teammates knew what they had in reserve – another starter.
Since the outset of the season, Meyer has harped on the fact that he had three No. 1s at cornerback – Roby, Travis Howard and Grant. It just so happens only two of them could share the field.
"We had a lot of confidence putting him in the game," co-defensive coordinator Everett Withers said of Grant. "He's had good weeks of practice. We just haven't had many opportunities to throw a second-team guy in the game. This week gave us an opportunity to see if we have depth at that position and we feel like we do now."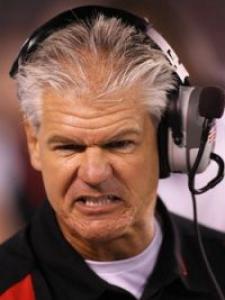 Most athletes carry a sense of nervousness before a monumental event. When you're a college football player for Ohio State, your first career is start is on that list. But Grant didn't carry an inkling of uneasiness as he executed his responsibilities in front of more than 105,000 fans in Ohio Stadium.
It didn't take Grant long to make an impact. In the closing minutes of the first half, with Ohio State up 14-12, UAB had an opportunity to enter the locker room at halftime down two points in a game where it was a 37-point underdog.
But wide receiver Kennar Backman fumbled the football deep in Ohio State territory after Christian Bryant put his helmet on the ball. Grant pounced on it at the 32-yard line, and three plays later Zach Boren stampeded into the end zone. What was once a nine-point Ohio State deficit turned into a nine-point advantage. UAB never got closer than six points in the second half.
"Honestly, I was more excited than nervous," Grant said about starting. "I was a little nervous, but I was more excited to finally feel I was part of the team."
In the fourth quarter, Grant became a contributor to a top-10 unit when he intercepted a pass, the Buckeyes' seventh of the season which places them ninth in the country. Mississippi State leads the nation with nine passes intercepted.
"You have to make plays," Grant said. "You have to earn your keep. You have to earn your playing time and respect from the older guys and your coaches and just do what you have to do."
He was talked highly of before Saturday's game, but the lauding for Grant was based purely on how he performed in practice. Translating that into a game atmosphere is not a given. The fact that Grant was able to do so gives the coaches confidence in the depth at cornerback.
Grant's performance came on a day when there were four new starters from the previous week on an already beleaguered defense. Joining him were Johnson, Storm Klein and Nathan Williams. Johnson replaced CJ Barnett, who sat out because of a sprained ankle, while Klein supplanted Curtis Grant at middle linebacker and a healthy Williams overtook JT Moore on the defensive line.
Health issues – offense, defense and special teams – have been a common concern for Ohio State since the summer. Because of the mixed-and-mashed defensive unit that's been thrown together the first four weeks of the season, the Silver Bullets have been more of a rusted variety. Inconsistency has been a near constant talking point.
The same story played out on Saturday after missed tackles, big chunks of yardage gained by UAB and 403 total yards. The bright spot was no touchdowns given up.
The entire ensemble is yet to be unveiled – defensive lineman Michael Bennett still hasn't even played a game. When fully healthy, the Buckeye defense is expected to be among the upper echelon of not just the Big Ten but also the entire country.
Thanks to Roby, Howard and now Grant, the creation of turnovers in the secondary has been bountiful. Still, even with a breakout game in his first career start, it isn't likely that Grant will grab a whole lot of playing time  – if any – from Roby or Howard, whose three interceptions are one behind the national leader.
Peace of mind, however, can be an asset for a coaching staff that needs to know it can trust its backups. The recent spate of injuries leads one to believe it could be an even more grueling November than usual. That's when bodies in the Big Ten begin taking a toll and breaking down.
The lack of depth at certain positions has been glaring and even led to major miscues on the defensive side of the ball. Meyer sounded somewhat panicked when the subject was brought up in the postgame press conference.
"We have a depth issue here at Ohio State right now, severe," he said. "But it is what it is."
He can at least rest easy that any unknowns at cornerback have been put to rest.
"Hopefully this will build confidence for (Grant) and he'll continue to get better and play better," Withers said.
If given the opportunity, Grant will approach the game with a calmness and work ethic that doesn't waver regardless of his position on the depth chart.
Said Grant: "You need to come in and know your work and go 100 percent every time."