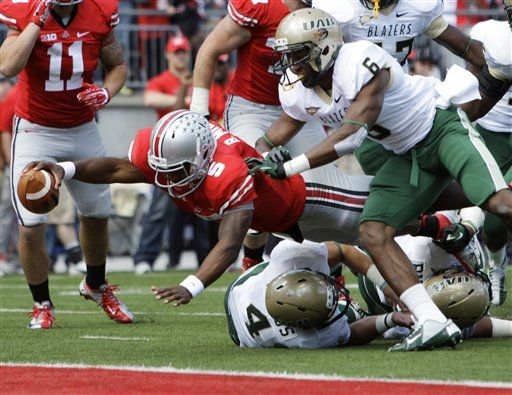 Awake from your Coors Light slumber, rub your eyes and realize yesterday was not a drill. OSU almost lost to UAB. In the end dragons were slayed, but it took a lot more effort than anyone in Buckeye Nation could have ever dreamed (nightmared?). Read on, digest this information then share it with the world. This is your UAB Debriefing.
Water Cooler Prep (Everything You Need to Know...In One Paragraph)
You were a little late to this one because you figured it would be a blowout, but wow were you wrong. Before you'd even tuned in, the mighty UAB Blazers had forced a Buckeye three and out and blocked a punt for a TD. Mediocrity ensued and at the end of one, the Ohio State Buckeyes were down 9-0 to the UAB Blazers at home. Say that again and see if it sounds any better the second time around. No? I didn't think so. The offense appeared to wake up in the second quarter, scoring three touchdowns in a little over five minutes to put the Scarlet and Gray up 21-12 heading into the third. That's when things unraveled. Three OSU punts and one UAB FG later and the Buckeyes were in the middle of a 21-15 dogfight. It took a 71-yard TD drive late in the fourth to get out of this one alive. 29-15, 4-0 and the 400th win in the 'Shoe. On to the next. No one feels good about this.
Heard at the Tailgate (The Talk Before the Game)
"This is finally going to be the game where OSU puts it all together. I can feel it. UAB likes to throw it—can't wait to see us pick it off 2 or 3 times. I'd love to see Braxton get the throwing game going heading into East Lansing."
Heard at the Afterparty (The Deets at the End of the Game)
"Why can't this offense play like they did during the second quarter at all times? It is truly mind-boggling." 
"Is Carlos Hyde coming back next week? Does it even matter?"
"I've never felt less confident about a 4-0 Buckeye team in my life."
"Pass the Bud Light Platinums. I want to forget."
Give That Man a Buckeye Leaf (Player of the Game)
This pretty much says it all.
Doran Grant: First career start, sack, forced fumble, interception and career-high in tackles. #juicy

— Alex Morando (@AlexMorando) September 22, 2012
In Bradley Roby's absence, Doran Grant came to play. A lot of folks will pick Braxton Miller as the player of the game this week (again), but I'm going with DG. The sophomore recorded 7 tackles, 1 sack, 1 forced fumble and a game-ending interception. Shockingly, he was able to do all of this without running his mouth (looking at you Christian Bryant).
Weekly Snot Knocker (Biggest Hit)
One (and maybe the only) bright spot in the first quarter was Christian Bryant's devastating hit on UAB WR Nick Adams across the middle. Adams gained nine yards on the play, but also lost nine teeth so the gain was a wash for him socially.
Did You See That?! (Play of the Game)
Down 12-7 late in the second quarter, the Buckeyes desperately needed something to go their way. With a drive starting at their own 37, Braxton completed a pass to Michael (Spring Game...Can I Live?) Thomas for 6 yards, followed by completions to Philly Brown for 20 and 25 yards respectively. Then Miller decided to do this.
He hit the circle button:
Jockstraps on the field, broken ankles everywhere and another highlight to add to his growing collection.
When You Sank into Your Chair (The Moment Buckeye Football Disgraced Your Family)
After an abysmal three and out to start the game, the Buckeyes lined up in a new punt formation. Just like they drew it up, Zach Boren was asked to block 15 players at once. Unable to slow the bull rush, bad things happened.
Before Ben Buchanan's foot could make contact with the ball, UAB Safety Calvin Jones was on top of him. The punt was consequently smothered, and WR Nick Adams walked into the end zone untouched. 
This kind of thing is digestible if Ohio State is playing Alabama, not so much when playing Alabama Birmingham. 
Complete Game Coverage
Jim Tressel's Least Favorite Moment(s) of the Game
Moment 1: The Blazers caught the Buckeyes napping on the first play of the second half with an onside kick. UAB easily recovered, sending the Senator into a rage usually reserved for Northwestern. The embattled former coach immediately stopped payment on his annual donation to the OSU athletic department, choosing instead to double his contribution to the Boy Scouts of America. In the check's memo line he wrote "Work Ethic" in impeccable cursive. 
Moment 2: After a crucial third down stop early in the fourth quarter of a 21-15 game, Christian Bryant felt the need to talk like a big man and taunt the Conference USA foe the Buckeyes were crushing almost losing to.
Tressel had taken a break from his Band of Brothers marathon to tune in just as the 15 yards were being walked off. He immediately flipped the channel and started muttering something about the Greatest Generation.
What You Texted Your Friend at the End of Each Quarter
First Quarter: (Did not receive a text) Instead, friend called to lament over the Tressel years.
Second Quarter: "3 TDs in 5 minutes and 29 secs?! Where has this been all game/year?"
Third Quarter: "#FaucetOffense It's on, it's off. It's hot, it's cold. Also, did they really work on tackling?"
Fourth Quarter: "Le'Veon Bell, ever heard of him? You will after he breaks 176,458 tackles next week."
It Was Over When
 Doran Grant intercepted UAB Freshman Austin Brown's pass at the Blazer 46, putting this terrible contest to bed and prompting tweets like this:
Doran Grant gets the INT & this time, no dumb penalty to negate it! Nail, meet coffin! #OSUvsUAB #GoBucks #Buckeyes #BlockONation

— BlockONation™ (@BlockONation) September 22, 2012
and this
The only downfall of Doran Grant is that he went to the same high school as LeBron James.

— Tim Shoemaker (@TimShoemaker) September 22, 2012
Bonus Tweets (Let's End on a positive)
Just looking at some tape from Brax today ... he does some things running the football that defy logic.

— BEAU BISHOP (@BeauBishop) September 22, 2012
My favorite team can't tackle a Conference USA bottom feeder, but the fact that Michigan is 2-2 makes everything okay.

— Eleven Warriors (@11W) September 23, 2012
This has been your UAB Debriefing...end transmission.