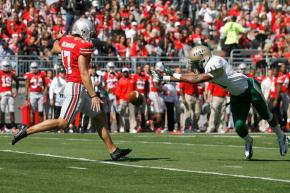 | | | | | | |
| --- | --- | --- | --- | --- | --- |
| | 0 | 21 | 0 | 8 | 29 |
| | 6 | 6 | 0 | 3 | 15 |
If the goal was to show Michigan State the least amount of pizzazz as possible, Ohio State accomplished the mission. Saturday's contest against Alabama-Birmingham was supposed to be the first cakewalk of the season. For the Buckeyes, it was more like walking the plank.
Favored by 37.5 points, Ohio State didn't even score that many points in its 29-15 win over winless UAB. Four games into the season, Ohio State has achieved a 4-0 record. But each game has exposed flaws. With a trip to East Lansing, Mich., on tap, the Buckeyes are in need of a severe boost.
Missed tackles, missed assignments and inopportune penalties were a trend for a second consecutive week.
"There are no excuses," linebacker Etienne Sabino said. "We can't have dumb penalties and missed tackles if we want to get off the field in three downs."
Ohio State played poorly for long stretches of the game in every facet – offense, defense and special teams. A week after giving up several big plays to California, the Silver Bullet defense had a repeat performance, surrendering 14 plays of 10-plus yards to UAB.
"It's glaringly obvious we've got to get a lot better or we won't win next week," head coach Urban Meyer said. "I really had confidence this was going to be an Ohio State-looking team, and it wasn't."
Ohio State kept UAB out of the end zone, but that didn't hide the fact that the Blazers racked up 403 yards. Entering the game, UAB's offense was ranked near the bottom of the country in every offensive stat, which may be why all four UAB scores came on special teams.
"I think we seem like a very passive team," Meyer said. "We're on defense, we give up little screens, little bubbles. They didn't score a touchdown on our defense but, we gave up a lot of yardage."
Passing
|   | Cmp/Att | Pct | Yds | TD | Int | Rat |
| --- | --- | --- | --- | --- | --- | --- |
| Braxton Miller | 12/20 | 60.0 | 143 | 0 | 0 | 120.1 |
Rushing
|   | Att | Yds | Avg | Lng | TD | Fum |
| --- | --- | --- | --- | --- | --- | --- |
| Jordan Hall | 17 | 104 | 6.1 | 14 | 0 | 0 |
| Braxton Miller | 11 | 64 | 5.8 | 19 | 2 | 0 |
| Rod Smith | 6 | 25 | 4.2 | 12 | 1 | 0 |
| Zach Boren | 2 | 7 | 3.5 | 5 | 1 | 0 |
| Corey Brown | 1 | 4 | 4.0 | 4 | 0 | 0 |
Receiving
|   | Rec | Yds | Avg | Lng | TD | Fum |
| --- | --- | --- | --- | --- | --- | --- |
| Corey Brown | 4 | 68 | 17.0 | 25 | 0 | 0 |
| Devin Smith | 4 | 39 | 9.8 | 14 | 0 | 0 |
| Jordan Hall | 2 | 21 | 10.5 | 14 | 0 | 0 |
| Jeff Heuerman | 1 | 10 | 10.0 | 10 | 0 | 0 |
| Michael Thomas | 1 | 5 | 5.0 | 5 | 0 | 0 |
It wasn't much prettier on offense. During the week, quarterback Braxton Miller and wide receiver Devin Smith vowed the offense would finally put together four solid quarters. If anything, the Buckeyes may have had their worst offensive performance. UAB's defense sat in the bottom 10 of the country but limited Ohio State's high-powered attack to a season-low 347 yards.
"Our explosive plays are obviously nonexistent for much of the game," Meyer said.
It took Ohio State 23.5 minutes to score its first points. By then, it was already trailing 9-0. The Buckeyes were held scoreless for another 20-plus minute stretch that included all or parts of the second, third and fourth quarters. On the season, Ohio State has scored 20 points in the first quarter and 28 in the third.
"We're not coming out with enough energy," Miller said. "Somebody's got to get our energy to rise. Our mindset isn't where it needs to be at the start of the game."
Miller, who's developed into a Heisman Trophy candidate, finished with 64 yards rushing and two touchdowns. Jordan Hall, in his second game back after a foot injury, looked much more like his old self, leading the Buckeyes in the rushing department with 105 yards on 17 carries. He becomes the first running back – Miller has done it twice – this season to rush for 100 or more yards. Rod Smith had 31 all-purpose and a touchdown.
Miller was 12 of 20 passing for 143 yards. His longest completion was 25 yards and he was sacked twice. His top-two targets – Corey "Philly" Brown and Devin Smith – combined for eight catches and 106 yards. Jake Stoneburner was left empty-handed.
The 105,019 fans in attendance found out quickly that the game wouldn't be the usual September non-conference laugh-fest.
The Blazers jumped out to a quick lead when three players converged untouched on Ohio State punter Ben Buchanan and came away with a blocked punt. Nick Adams scooped the ball up and ran 20 yards for the touchdown. And just like that, less than six minutes into the game, UAB led 6-0. Orhian Johnson blocked the extra point.
It was 9-0 after a 47-yard field goal from Ty Long in the opening minutes of the second quarter.
Surprisingly, Miller's first rush didn't come until more than 20 minutes into the game. But he made the most out of it, dashing through the UAB defense for 14 yards and a first down.
"That's the way the game unfolded," Meyer said about Miller's lack of carries. "We were very conscious of it. I'm exhausted talking about it, how many hits he takes and all that. He's going to play quarterback in a spread offense and we're going to do what we're going to go do to win a game. We're not good enough to start worrying about it. He's one of our best players, if not our best player on offense. He's got to play better, too. We've all got to play better."
Ohio State didn't get on the scoreboard until 6:31 left in the first half, but it would open the floodgates – until halftime struck. The Buckeyes needed 10 plays in 75 yards to get their first touchdown. It came on a one-yard plunge by enigmatic tailback Rod Smith. It was the second touchdown of the sophomore's career and the first since his first career game.
UAB answered with a field goal, and it was historic. Ty Long connected from 54 yards out, representing the longest kick in school history and the third-longest in Ohio Stadium.
The next minute – or 48 seconds – is when the game turned on its axis. Instead of going into the locker room at halftime up 12-7, UAB self-destructed and had a nine-point deficit to overcome.
The Braxton Miller magic made an appearance. It took him all of five plays to lead Ohio State to pay dirt. The score came on a 12-yard run by Miller, making multiple UAB defenders miss in trademark Braxton fashion.
Complete Game Coverage
That put the Blazers down two points, well within reach with 30 minutes left. But the next miscue was too much for them to make up. Tight end Kennard Backman caught a ball in the right flat and was near a first down when Doran Grant, who started in place of the injured Bradley Roby, jarred the ball loose with his helmet. Grant pounced on the ball, and Zach Boren ran into the end zone three plays later.
A rousing halftime speech in the Ohio State locker room was expected, and it may have occurred, but the Buckeyes certainly didn't respond to it. UAB surprised them with an on-side kick, but failed to take advantage. It didn't matter.
Ohio State got zero first downs in the third quarter last week against Cal. It nearly happened again this week. Ten plays, 43 yards. The defense held UAB scoreless, holding the nine-point lead.
UAB cut it to a one-possession game, however, less than two minutes into the fourth quarter on Long's third field goal of the day. After forcing Ohio State to punt, the Buckeyes had UAB 3rd-and-5, but Christian Bryant got a 15-yard unsportsmanlike taunting penalty.
"I didn't say or do anything," Bryant said after the game.
It kept the drive alive until Long missed his first field goal of the day, sending a 47-yard kick wide left. It ended a 12-kick streak of converted field goal attempts.
A Braxton Miller touchdown and two-point conversion with 5:03 left put Ohio State up 29-15. Grant intercepted a pass on the next UAB possession and the Blazers never threatened again.
UAB freshman quarterback Austin Brown completed 21 of 25 passes after entering the game in the second quarter. He threw for 196 yards with one interception. Running back Darrin Reaves led UAB's rushing and receiving efforts with 114 total yards (72 rushing, 42 receiving). 
"You're always happy to win a college football game, so we're very pleased about that," offensive lineman Jack Mewhort said. "At the same time, we know we have a lot of improving to do, there's no doubt about that. We enjoy it tonight and then go back to work tomorrow, just like every week."