It has been "so far, so good" for the Ohio State offensive line in 2012, but that doesn't mean things will always be that way while Urban Meyer is head coach in Columbus.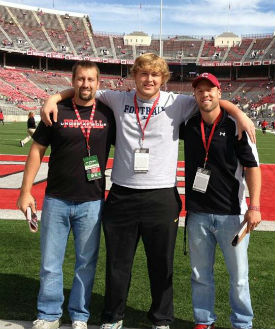 The staff knows that they are lacking depth at the position and have made it a priority to recruit talented offensive linemen to fill those voids since arriving on campus in November 2011.
The 2012 class brought in some big time talent and the 2013 class is shaping up to be a nice complement to that, but the recruiting class of 2014 has some great players up front both in Ohio and around the nation, and is looking to be a big year for Ed Warinner when it comes to reloading his unit.
One of the players the Buckeyes have on their radar is Steven Moss of Fredericksburg (VA) Chancellor.
At 6-5/280, Moss has great size and while he currently plays right tackle on his high school team, he is open to playing guard at the next level. 247 Sports currently has him rated as a guard, grading him a 90 and ranking him the tenth best at the position in the country.
Moss has been in contact with the OSU staff and was able to arrange a visit to Columbus last weekend to check out the Bucks in action against the California Golden Bears.
We caught up with the top prospect to hear how his visit went, how his recruitment is going, what is going on with his junior season, and more. Join us after the jump to hear from one of the top offensive linemen in the class of 2014, Steven Moss.
You went out to Columbus this weekend to see Ohio State in action. How was the trip?
My coach is a big Ohio State fan and took me out there. I really liked the trip. Braxton Miller was a monster and the atmosphere was cool. The student section was jumping up and down and they were hyped. The stadium was pretty big too.
What did you do while on your visit?
We drove up late Friday after our game so didn't do much until Saturday. We went through the whole pregame routine with the team, including the team walk and then Skull Session, before going into the stadium to watch the game. It was definitely interesting to see everything the school had to offer as I hadn't looked much into Ohio State before visiting last weekend.
Now that you've been out to Columbus, what are your feelings on the Buckeyes?
I really liked it there and I like the program. The atmosphere was great and really hyped up. Right now I have no favorites, but I enjoyed the trip.
What coaches did you speak to while at OSU?
I spoke to Coach Warinner and Coach Vrabel. Coach Warinner thanked me for coming out and talked about my season with me. He told me to stay in touch and that they want to see my highlight reel of this year's games when I put it together and said if they like what they see I could get an offer.
Speaking of your recruitment, what offers do you currently hold?
I have offers from 13 schools. They are Boston College, Clemson, East Carolina, Illinois, Maryland, North Carolina, North Carolina State, South Carolina, Syracuse, Virginia, Virginia Tech, West Virginia, and Old Dominion.
What schools that haven't offered are showing serious interest?
Other than Ohio State the schools talking to me a lot are Alabama, Michigan, Oregon, Mississippi State, Auburn, Florida State, and some others. There's really so many schools in touch with me right now it's hard to keep track of.
Have you taken any other visits this year? What other trips do you have planned?
Yes, that was my third straight visit. I was at Maryland for their opener against William and Mary and then at Virginia when they played Penn State. I will go to the UNC game this week against East Carolina and will get down to Alabama, South Carolina, and Virginia Tech this season. There may be some other visits, but those are undecided right now.
How is your junior season going so far?
It's going well. We're 2-1 as a team so that's solid. I have done well and beat my best two opponents so far when I faced them. I had 7 pancakes playing against Wyatt Teller (2013) and 10 pancakes playing against Vinny Mihota (2014). They are both committed to Virginia Tech.
Do you have a timetable of when you would like to commit?
I am going to start to narrow down my list this spring. I am not sure when I will actually make a commitment, but I will definitely cut my list this spring.
What are you looking for in the school of your choice?
First, I am looking at the schools' academics and seeing what programs they have that I am interested in. After that I want to play for a team that has success, is on the rise to the top, and has a good history.
SOPHOMORE HIGHLIGHTS: