Preparation leads to success.
It's a famous quote that has hundreds of versions uttered by presidents, businessmen and famous coaches. It is also that rare statement that cannot be argued. The logic and evidence is too sublime.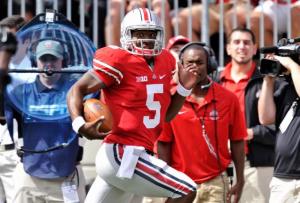 So when the Ohio State football staff meets today to discuss game planning for Saturday's opponent, Alabama-Birmingham, coaches will talk strategy and formulate a plan based off what UAB has shown in its first two games. But whether the Blazers stick to the previous script or deviate is an entirely different matter.
Through three games this season, that's what the Ohio State offense has dealt with. When you have one of the most dynamic players on your team and he has the ball in his hands on every single play, changes tend to be in order.
"I've seen defenses in the last three weeks that I never dreamt of," co-offensive coordinator/quarterbacks coach Tom Herman said. "It's an interesting quandary to be in when you have such a dynamic runner back there that defensive coverages tend to be completely skewed opposed to what you've grown to know."
The various formations are all geared toward stopping Braxton Miller's legs from churning. So far, the rate of success is trending downward.
Ohio State is 3-0, and Miller has excelled. In the Buckeyes' 56-10 season-opening win over Miami (Ohio), he rushed for an Ohio State quarterback-record 161 yards. Week 2's victory over Central Florida saw Miller run for 141 yards before California finally held the fleet-footed quarterback under the century mark.
"All three defenses we've faced have been unique," Meyer said. "We didn't practice what they played because we didn't know. They've done a very good job. You can tell Cal Berkley not one snap – think about this – not one snap was what they showed the previous year or previous two games. So that tells you what they've been doing all off-season working on this one game."
The situation is likely to happen with UAB and against other underdogs or inferior athletic teams the Buckeyes face the rest of the season. When teams have nothing to lose or are already at an extreme disadvantage, trickeration and the unknown become the great equalizer.
The third quarter against Cal is when the deluge of uncertainty took hold of the Buckeyes. They ran 14 plays and gained 25 yards and zero first downs. A 20-7 halftime lead was also sliced in two. Ohio State entered the fourth quarter leading 20-14, but a touchdown less than three minutes into the final stanza put the Buckeyes behind.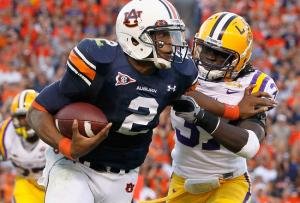 "Teams now are trying to get eight and nine guys in the box to be sound against (Miller) pulling the ball down and running," Herman said. "So the variety of coverages we've seen on first and second down is absolutely mind-boggling."
As teams like Michigan State, Nebraska, Wisconsin and Michigan pop up on the schedule, the likelihood of dealing with prolonged stretches of mysterious defenses falls considerably. But those teams have better overall units and players than the non-conference slate.
"It's harder as the season progresses for a team to do that because they can't just say, 'We're working on Ohio State' because they have some previous games," Meyer said. "So after (the UAB) game, we'll see usually what we see, and that is what teams play, because you can't change defenses in the middle of the year normally."
That could play in Miller and the Ohio State offense's favor. There are few things Meyer does better than game plan. Give him information to scour over and he is usually dependable in drawing up a winner.
Even when Cal held Miller to 75 yards rushing, the super sophomore broke off a 55-yard jaunt down the Buckeye sideline for a touchdown. It turned out to be the most complete game of his career, and he was named Big Ten offensive player of the week. Miller had a career-high 249 yards passing and career-high four touchdown passes. And it was his running ability that contributed to Devin Smith being wide open for the game-winning touchdown.
Now three weeks into the season, Miller's name is not disappearing when Heisman talk erupts. After the Miami game, Meyer was astounded that his quarterback would even be in the discussion. But as October approaches and leaves begin falling off of trees, Miller's name is going nowhere. At least if his level of play continues.
Miller has the same skillset of the past two Heisman Trophy winners, Robert Griffin III and Cam Newton – a fast quarterback who can pile up rushing yards but also someone who can throw the football. He's the 10th-most prolific runner in the country, 12th in total offense and 36th in passing efficiency. At this rate, his final rushing and passing numbers would surpass those of Newton, whose 2010 season was one of the greatest in college football history. 
It may be crunch time in the campaign season, and this is Ohio after all, but Meyer still isn't buying into the Heisman hype – not yet anyway.
"I don't think he's played well enough," he said. "I think at the appropriate time I will (mention him). I don't believe he is (a candidate) now. He hasn't played well enough yet."
That doesn't mean Miller hasn't impressed his coach, because he has. Miller has already amassed more than half the passing yards he had in 12 games last season through the first three of 2012. His completion percentage is also on the rise, at 61 percent up from 54 percent in 2011. Miller threw 13 touchdown passes all of last season. He has seven in three games this season.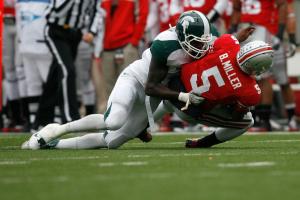 Instead of relying solely on his athletic ability, Miller is turning to his tools as a quarterback. In high school, much like Terrelle Pryor, Miller was able to outrun everyone and use his athletic prowess to continually get himself out of trouble. In college football, that isn't always the best route to take from Point A to Point B. On most Saturdays, he's still the best athlete on the field, but he trusts himself and his teammates to defeat the competition.
"I am pleased with his progress," Meyer said. "He was a much different player than he was a year ago, and that's just coming from (running backs coach) Stan Drayton who was on the staff a year ago, because I didn't know. Braxton Miller showed up at training camp (last season) and wasn't in that conversation about playing. Ability-wise, he should have been. So that tells you he wasn't a great practice player. That's where I think he's improved the most."
It's in the passing game where those visions of 2011 are far removed in less than a month's worth of games. Fourteen receptions led the team last season. Corey "Philly" Brown has 16, Devin Smith has 13 and Jake Stoneburner is halfway to that total with seven. And all of these numbers are with Miller being the primary "running back." With a healthy Jordan Hall and/or Carlos Hyde in the backfield, the probability of success on offense grows exponentially – the passing game ranks 76th after the disastrous 115th showing last year.
Miller's improvements throwing the football – accuracy, demeanor, creativity – combined with the maturation of his receiving corps sets Ohio State on a path to offensive supremacy. That is the goal. Meyer has said time and again he won't be happy until the Buckeyes are putting the best offense in the nation on the field.
"The best thing that's happened so far in the first few weeks is we've identified a go-get-it guy on the outside that we did not have a year ago," Meyer said. "I was worried about it. I didn't see that develop until these first three games, and that's Devin Smith. Him and (Brown) have now proven to me that we can start to be a little more aggressive down the field. That's what I saw Saturday. A couple of those plays were dynamic. Also, Jake Stoneburner.
"The fact that we're completing some deep balls – I know it's not enough – but we're completing some deep balls, and some real deep balls. Those two throws he made were grown-man throws, as I like to call them. The two to Devin Smith were about as good of a throw as any quarterback in the country can make, and that is marked improvement."
The Buckeye offense will face their stiffest test in two weeks when they travel to East Lansing, Mich., to take on the Michigan State Spartans in both schools' Big Ten opener. Michigan State is currently 13th in the nation in total defense under the guidance of former Ohio State defensive coordinator Mark Dantonio.
Last year, in Miller's second career start, the Spartan defense abused him and the Buckeyes. Michigan State had nine total sacks and sent Miller to the bench after a horrible day passing and running. He was 5-of-10 passing and threw zero touchdowns and one interception. Those looked like all-star numbers compared to the rushing stats: nine carries, negative-27 yards. Miller's longest rush was a robust three-yarder.
Ohio State had 178 total yards – 35 rushing yards on 39 attempts – in the 10-7 loss and didn't score until the game's final 10 seconds.
But Sept. 29 won't feature the 2011 Ohio State offense. The Spartans will have to corral the 2012 unit, the older, wiser Braxton Miller and a game plan composed by Herman and Meyer.
Said Herman: "When we're good, we're pretty dang good."