(Note: As was the case with Central Florida, Ohio State has never played UAB, and so there will be no game flashback this week. We hope you will enjoy this player flashback. The game flashbacks will return next week.)
Ohio State has had 78 consensus All-American players in its illustrious football history, but every now and then one of them sneaks under the radar and is forgotten by the march of time. In the case of Jan White, part of the reason is that he played a position that required him to mostly block and only occasionally see the football. This was not always the plan, and it is a tribute to his team spirit and selflessness that it turned out that way.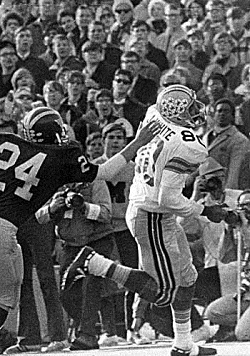 Jan White grew up and played high school football in Harrisburg, PA, where his teams never lost a game. He was an all-state wide receiver and was chosen to play in the prestigious Big 33 football game, which pitted stars from Ohio high school teams against their Pennsylvania counterparts. Ohio won that year, but it turned out to be the last time he would play against Ohio.
White was recruited by many schools, and he was intrigued by the sunny weather and strong tradition of USC. However, his heart was always in the Midwest, and his family ties kept him close to home. When Woody Hayes came calling, White signed on, partially because it seemed the old coach had more interest in his parents than in him, and also because when speaking to his high school student body, Hayes mostly talked academics and not football.
As it turned out, White became part of one of the greatest recruiting classes ever at Ohio State. In 1961, Ohio State had beaten Michigan and earned an invitation to the Rose Bowl, but university administrators had turned it down because they felt there was too much emphasis on athletics and not enough on academics. As a result, Ohio State suffered in recruiting in the state of Ohio for several years afterward.
In response, Hayes began to concentrate on out-of-state recruiting, and White was one of the athletes he targeted. White was a speed burner, and he was a perfect complement to the power running game that Hayes favored. An increased emphasis on the passing game would help bring Ohio State football more "up to date", just as the more national recruiting focus would do.
In 1967, freshmen were still not allowed to play varsity football by NCAA rules (that would change in 1972). But fans and sportswriters were acutely aware of the talent Hayes had brought in with the class of '67, and so they all eagerly awaited the 1968 season to see exactly what the "Super Sophs" (as they were called) could do against top-level competition. They would not be disappointed.
The 1968 team upset #1 ranked Purdue in their third game of the season, which opened eyes all over the country as the Buckeyes moved up the rankings. Fellow sophomore Bruce Jankowski had been QB Rex Kern's preferred receiver up to this point, but White was about to get his chance. In game four against Northwestern, a potential "let-down" game after the huge victory, White would make his mark in a big way. 
Heading into the season, OSU coaches had moved White from wide receiver to tight end. This was necessitated by injuries and was made possible by the performance of Jankowski at receiver. White was needed more inside, but at first he hesitated. He did not feel like he could mix it up with the big players on the line and felt small as massive tackles Rufus Mayes and Steve Foley towered over him. But he was a team player and in the end he trusted the coaches, especially his position coach (and former AD) Hugh Hindman.
Against Northwestern, White caught his first touchdown pass, a 72-yard play in which he caught a short pass and turned upfield to outrun the entire defense. Spurred by that play, the Buckeyes overcame a shaky start and rolled to a 45-21 victory. They would win them all that year, including a 50-14 pounding of #4 Michigan and a 27-16 win over USC in the Rose Bowl to take home the National Championship. The "Super Sophs" had done it all in their first season of eligibility; surely there was much more glory to come in the next two years, they thought. 
The 1969 team was certainly a talented bunch. They began the season ranked #1 and opened with a 62-0 domination of TCU. They would not slow down until the end, on their way to an 8-1 season in which they would win the Big Ten championship and finish ranked #4. But it was that one loss that left an indelible mark, not only on the sophomore class but on Hayes as a coach and on the great rivalry with Michigan. The underdog Wolverines defeated the heavily-favored Buckeyes in Ann Arbor under new head coach Bo Schembechler, 24-12, thus winning a piece of the Big Ten title and the coveted Rose Bowl berth.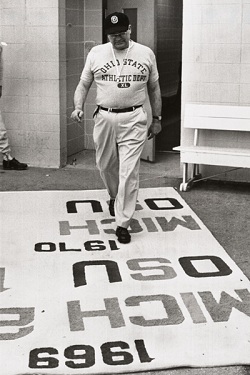 The 1969 team boasted 5 All-Americans and 11 All-Big Ten players. Even with the loss, they outscored their opponents by an astounding 383-93 margin. But ending the season with a loss (only one conference team was allowed to go to a bowl game in those days), a loss to the archrival, and being beaten by a coach who was a former protege rankled Hayes to no end. The next season, he would have a huge area rug placed in the locker room with the losing score featured prominently so that the team would never forget how much it hurt to lose, and how much the coach wanted to beat "That School Up North" the next time.
In 1970, despite having a veteran QB and experienced receivers, Hayes placed renewed emphasis on the power running game. Woody was never more himself than in this season, and he pounded his physically-inferior opponents with steady doses of fullback John Brockington and halfbacks Leo Hayden and Larry Zelina. White would go on to lead the team in receiving, but he caught only 17 passes on the season. 
Ohio State again rolled through their schedule, demolishing opponents left and right until the final game. This time, Hayes would get the best of Schembechler, as Hayden rushed for 117 yards in the 20-9 Buckeye victory. Both teams had been undefeated and untied going into the game, with Michigan ranked #4 and OSU #5. But there was no question who was better on this day, as the Buckeyes held UM to only 37 yards rushing.
OSU would finish the season on a down note, as they lost the Rose Bowl to Stanford, 27-17. Ironically, Stanford relied heavily on the passing game and Ohio State's physical advantage was thus partially neutralized. After the season, White was named All-American at tight end, a position he initially did not want to play. OSU had 6 All-Americans in all, and the team was actually named "National Champion" by the National Football Foundation (they finished #5 in the AP poll). 
White was selected 30th overall in the NFL draft of 1971 by the Buffalo Bills. He played two seasons for the Bills before retiring. He now lives near Xenia, OH and works as a Court Administrator with the Greene County juvenile court system, and occasionally gives motivational speeches for young people. In 2000, he was named to the Ohio State Football All-Century team at tight end. Not bad for a guy who had to be talked into playing there.