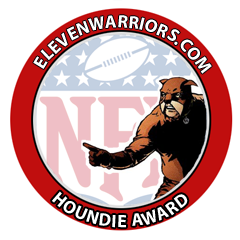 At one point in time, this award was known as the Buckeye NFLer of the Week. Thanks to a typo and the ensuing LOLsession from the commentariat, it was renamed as the Houndie. Same intent, but now with a better name.
After a slow start to the 2012 season, it was a much better week for the Buckeyes in the NFL, feeding off the energy of a 3-0 start by the current version of the Buckeyes.
I don't know about you, but I'm not a big fan of this new weekly Thursday night football. First, I'm still bitter because my Bears were crushed in Lambeau and Matt Forte is out for a while, but I could only read about it, as the NFL Network was wiped from my channel selection a month ago without warning.
Second, it takes these guys all week to recover from Sunday's game, so the level of play on Thursday, more often than not, will be fairly lackluster. Hopefully, without the NFL Network reaching cable subscribers' homes, ratings will be low and this will be a one-year failure.  
If you were lucky enough to actually watch the game, you saw the Packers' D dominate en route to their 23-10 win. Clay Matthews stole the show with three and half sacks, but A.J. Hawk and Ryan Pickett also contributed with identical stat lines: five solo stops, two assists, one TFL and one QB hit. Dane Sanzenbacher was once again inactive for the Bears.
In the Battle for Ohio, the two Cleveland offensive rookies showed some flashes and gave Browns fans a glimmer of hope, but the Bengals made a few more big plays to come away with the 34-27 home win. Nate Clements had an active day with eight total tackles for Cincy, while Mike Nugent made all six of his kicks, including FGs from 37 and 39 yards.
Another DB that had a busy day was 11W Favorite Antoine Winfield, who recorded eight total tackles, including six solo stops. The 14-year veteran had one of those tackles go for a loss, while also knocking away a pass. On offense, Michael Jenkins was Christian Ponder's second favorite target with five catches for 43 yards in Minnesota's last-second 23-20 loss at Indy.
Beanie and the Cardinals went in to Foxboro and shocked the world, containing Tom Brady and flying back west with a 20-18 victory. Still battling a sore knee, Beanie toted the rock 14 times for 44 yards and was Arizona's second leading receiver with 24 yards on a single catch.
Though his stats weren't all that impressive, Beanie still outperformed second-year RB Ryan Williams, who finished with 23 total yards on 12 touches and a fumble late to give NE a chance to win the game.
In perhaps the best game of the day, Philadelphia came back to claim their second straight one-point win, this time taking down Baltimore, 24-23 at home. Kurt Coleman had another active day for the Eagles, securing seven total tackles, as Philly held Joe Flacco and the Ravens to just 325 total yards. Brian Rolle, who lost his starting job in the fall, didn't record any stats.
Over in Charlotte, the Panthers pulled off a minor upset, taking down New Orleans, 35-27, to capture their first win of the young season. As expected facing Drew Brees, Chris Gamble had a more active day, registering four solo tackles, three assists and a PD.
On the other side, both Malcolm Jenkins and Will Smith shook off their first week jitters to produce a better showing. Malcolm Jenkins led New Orleans with 10 total tackles, including eight solo stops, while Will Smith had seven total tackles.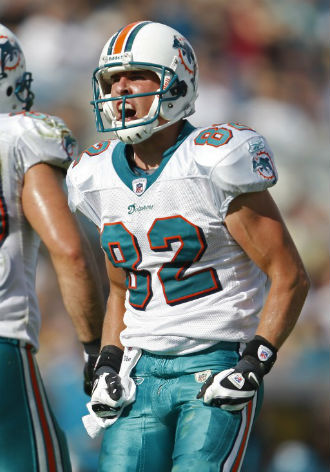 Down in Jacksonville, Mike Brewster is listed as the starting RG for the Jaguars, who are going to struggle this year, as they fell to Houston, 27-7. DeVier Posey was inactive once again for the Texans.
As I said last week, former Bear Jeff Fisher is going to have a huge impact down in St. Louis, as this week they stopped RGIII and the Redskins, 31-28. James Laurinaitis led the way for the Rams with 10 tackles, including eight solos and a TFL.
Over in Pittsburgh, Dick Labeau and the Steelers flexed their defensive muscle, shutting down the NY Jets after allowing an opening drive TD.
Santonio Holmes was on pace to have a big game in his return to the Steel City, catching two balls for 25 yards and a 14-yard TD on that opening drive, but was held to just one catch for three yards over the final 51 minutes of play, despite being targeted 11 times by Sanchez.
Mike Adams didn't get a chance to redeem himself after a bad first week, but Cam Heyward notched his second career sack as time expired in Pittsburgh's 27-10 win.
In Sunday night's prime time affair, Ted Ginn is still out with his injury, while Alex Boone started once again for the Niners, as they moved to 2-0 with a 27-19 home win over the Detroit Lions.
Donte Whitner had three solo stops, as the 49ers' D held Matt Stafford to 230 yards passing, while keeping him out of the end zone until 1:29 left in the game. 
While there were some team leading performances on the defensive side of things, this week's winner takes home his first Houndie, as he set career highs in both receptions and yards. 
Brian Hartline hauled in nine catches for 111 yards, surpassing his previous highs of five catches and 98 yards, in Miami's 35-13 win over Oakland. Hartline was targeted a team-high 12 times from rookie QB Ryan Tannehill and now seems to be fully recovered from a quad injury that has limited him since minicamp.
Hopefully this is a bounce back season for Hartline, as he has a golden opportunity with the departure of Brandon Marshall and a new QB at the helm. He was a disappointment last year, catching two or fewer balls in 9 of the Dolphins' 16 games.
Perhaps he had some extra "juice" as his nemesis, Terrelle Pryor, watched from the opposing sideline, but if Hartline can keep this up throughout the season, he'll have played his way into a nice, new contract.