It was one of those days when fans left Ohio Stadium more relieved than happy. Ohio State was a 17-point favorite, yet the Buckeyes needed a defensive breakdown late in the fourth quarter to beat the pesky California Golden Bears.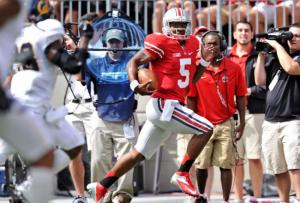 There was plenty of blame to go around to the Ohio State offense and defense, but Cal should also be credited. They had a game plan and executed it. The Bears dominated for large portions of the game, especially in the second half.
Offensively, the third quarter was complete ineptness from the Buckeyes, while the other side of the ball wasn't much better. Missed tackles, something that plagued Ohio State a season ago, returned in abundance on Saturday.
With Alabama-Birmingham coming to town next week, the Buckeyes should enter the showdown at Michigan State 4-0 with a dream of an undefeated season in tact. But that wasn't exactly where head coach Urban Meyer's mind was at 4:30 p.m. on Saturday.
"The best thing about 3-0 is a chance to go 4-0. And that's about it. We've enjoyed a win against a very quality opponent."
Meyer talked about the speech John Simon gave after the game and then raved about him like he's done since he was hired. But one line really stuck and sent the room into laughter.
"If we have another child I want to name him Urban John Simon Meyer."
Jordan Hall did not play the first two weeks due to a foot injury, but that didn't stop Meyer from giving him every snap on running back. Bri'onte Dunn, who was listed as the starter, and Rod Smith were never even legitimate options in the backfield Saturday.
"When that game got tight, you want your dudes in there, your guys," Meyer said.
Bottom line: Meyer had more trust that Hall could get the job done. He's a veteran and a captain. Dunn and Smith are still young and inexperienced.
After Cal provided a blueprint, Meyer believes most opponents the rest of the season will make Miller beat them with his arm in one-on-one coverage. It can go one of two ways, both results being obvious: good or bad.
"Having an athletic quarterback to get you out of trouble sometimes gets you into trouble," Meyer said. "We're going to have to throw the ball, become efficient throwing. Since Braxton became our quarterback, he's gotten better, but we've got a long way to go."
Ohio State gave up 512 yards of offense, the most in Ohio Stadium since Cincinnati piled up 525 in 1999.
"It's time to play Ohio State defense," Meyer said, "and that wasn't Ohio State defense at all."
Co-defensive coordinator and linebackers coach Luke Fickell expanded on the defense's troubles.
"We're not sound. We didn't tackle really well and obviously gave up way too many big plays."
The third quarter was one of the worst offensive quarters Ohio State has suffered through in quite some time. Offensive coordinator Tom Herman attempted to shed some light on why the offense was so shaky.
"When we're good, we're pretty dang good. But we're not good consistently enough right now. Being young and being new in the offense, being new is starting to wear thin a little bit in terms of reasons for that."
Simon isn't flashy and deflects a lot of praise, so he didn't shed too much light on what was detailed in his postgame speech to the team.
"It was a tough game for us. I was a little dinged up, so to be able to go out there with the team it meant the world to me. I just wanted to express that to the guys. We're all a family. It's just something I felt like I had to do. 

"I felt like I had to be in the game. Everything we've gone through - the winter, spring and summer, plus all our workouts and everything those guys have put into the program - is tough. To not be able to go out there with them, I don't think I would have been able to do it."
Linebacker and fellow captain Etienne Sabino gave a glimpse into what the locker room's mood was when Simon addressed the team and where his mindset was afterward.
"It's emotional when you have a guy like John who gives everything for this team. He puts the team in front of himself when maybe sometimes he should put himself in front of the team. It really makes you look back at yourself. 'Are you giving everything you have for this team? Does it mean that much to you?'"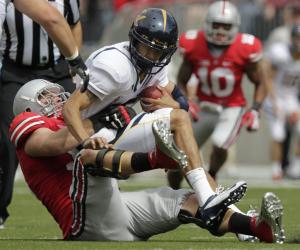 Jack Mewhort also commented on the postgame scene.
"John is the type of dude who is typically stoned-faced and stoic, but he leads by example. Today he just broke down and opened up after the game and it was really cool to see that from someone like him, a leader, captain and guy we all admire. It is something I know I'll never forget."
Because of the lack of pressure on the quarterback the first two weeks, Ohio State dialed up a number of blitzes against Cal, and it worked. The Buckeyes sacked quarterback Zach Maynard six times. But the Bears exploited the blitz frequently, throwing swing passes for large chunks of yards.
"If we want to get pressure, we have to take some chances every now and then," Simon said. "Sometimes it pays off, sometimes it doesn't. For us today it paid off more often than not."
Braxton Miller on he and wide receiver Devin Smith, the recipient of the game-winning 72-yard touchdown pass.
"We seized the moment."
Cal's offense continually turned out big plays, much to the chagrin of the OSU defense. After missing Week 2 with complications from microfracture surgery, Nathan Williams was out there much of the day against call, this time wearing a knee brace.
"Cal mixed it up and gave us a lot of looks," Williams said. "We executed as well as we could have, but we do have to improve a lot. Our defense is disappointed in our effort. We're going to try to get it corrected. It won't happen again next week."
The Bears' run game, in particular, gave Ohio State fits. Brendan Bigelow had 160 yards on four carries and Isi Sofele ran for 86 yards on 21 carries.
"The running game is what killed us," Williams said. "We started to get a little bit comfortable at the beginning of the game. We need to get that fixed so it doesn't happen to us again. I don't think fatigue was an issue. Our defense is always ready."
Linebacker Ryan Shazier, who led the team with 13 tackles, wasn't shy about the defensive failings and why they arose.
"That hurts my heart," Shazier said. "We pride ourselves on stopping the run. We can't be having that happen. (There were) too many people missing tackles. We get lazy when we think we have the win. We've got to come out better next time."
Miller and Jake Stoneburner hooked up for a touchdown pass in the fourth quarter, and it conjured up images of Tim Tebow's Florida jump pass. 
"We've been working on that play since Coach Meyer got here," Stoneburner said. "He said he was going to use it this week. It's obviously a great play and it came at the perfect time."
After Ohio State's go-ahead touchdown late in the game, Cal still had a chance. That is, until Christian Bryant slammed the door shut with an interception.
"(Bradley) Roby communicated to me before the play they were going to run the seam route and Ryan (Shazier) did a great job of re-routing their receiver and forcing the quarterback to overthrow it."
Complete Game Coverage
After being dismissed from the team in July, senior linebacker Storm Klein was reinstated in August but suspended the first two games. He saw considerable action yesterday, and was relieved to be back in the mix.
"It felt great to be back with the guys. Coming into the stadium today was really special for me. I wasn't sure I'd ever be able to do it again. To come in again was really touching."
Cal head coach Jeff Tedford said the second-half barrage of points boiled down to one thing: execution.
"We just kept executing and using the playbook. That's why we went for it on 4th-and-1. In the fourth quarter we were looking to tie the football game and just go ahead because we were playing fairly well and doing a good job running the clock."
A decision that may haunt Tedford for years was going for a long field goal late in the fourth quarter after Vince D'Amato had already missed two kicks earlier in the game. Cal had been moving the ball effectively for much of the game, but opted not to go for it on 4th-and-1.
"When its 28-28 on the scoreboard and there are four minutes left to play, we are going to go for (points)," Tedford said. "We wanted to put some points on the board."