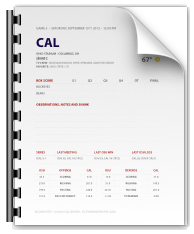 Bucknotes are your pocket guide for the game. Print them off and amaze your friends with your knowledge and insight.
Jeff Tedford brings his unranked California Golden Bears to Columbus looking for a win that will help prevent this season from being his last. His team limps in at 1-1 and must travel to USC next week, marking the first time in program history the Bears will play back-to-back road games against top-12 teams in the AP poll.
Ohio State has a 5-1 advantage in the series, but it's been 40 years since the two teams have played. Cal's lone win was a 28-0 blanking of the Buckeyes in the 1921 Rose Bowl. That win came during a run of four-straight national championships recognized by Cal (1920-23).
This is the second game in a row in which the Ohio State defensive line will square off against brothers on an offensive line. This week it's the Rigsbees, senior Tyler and freshman Jordan, at left tackle and left guard, respectively. We're getting another Buckeye in the booth, too, with Chris Spielman calling the game for ABC.
Oh, Cal has a freshman punter. Freak Show, you know what to do.
BONUS! Bucknotes now feature player statistics.