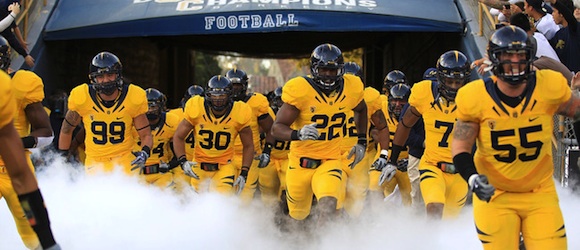 The Big Ten had a poor showing against the Pac-12 in Week Two, going 0-3 against that conference out west. Though Wisconsin, Nebraska and Illinois were all faced with the challenge of traveling cross country, the Pac-12, at least early on, appears to be on an upswing.
This Saturday, Ohio State hosts a Pac-12 team that travels to take on the Big Ten on its own turf, in the California Golden Bears. Cal has shown some disappointing struggles thus far, and hopes to turn things around as a difficult schedule looms ahead.
We welcome Dan Greenspan, publisher of CalSportsDigest.com, to share with us his insights on Cal, the state of the Pac-12, and this Saturday's showdown. 
Cal is 1-1 so far this season, with a loss at home to Nevada and a win over Southern Utah. What have we learned about this Cal team in the first two weeks, and how does that fare against preseason expectations?
There was an undercurrent that perhaps California was being overlooked in the Pac-12 North coming into the season, armed with an experienced offense core, emerging talent in the defensive front seven, and an advantageous home schedule that brings Oregon, Stanford, Washington to the renovated Memorial Stadium. Those notions were quickly shot down, as the Golden Bears were again massacred by the Pistol offense, this time at the hands of Nevada in the opener. Then they staggered through three quarters against Southern Utah, before a 30-point fourth-quarter burst finally put the Thunderbirds away.
The glaring lesson from these first two weeks is that Cal has a very narrow margin from error. They have wasted the first quarter, committed too many penalties, and can't get off the field on third down. Without dramatic improvement against a schedule that looks far more difficult than it did at the start of the season, this team will not reach a bowl game, raising serious questions about head coach Jeff Tedford's status going forward.
For any fan that isn't too familiar with Cal, what are three quick things you would tell them about the 2012 Golden Bears to get them up to speed on this team?
-After struggling last season, the Cal offensive line hasn't been much better in 2012 and will be without right tackle Matt Summers-Gavin (knee) for the second straight week. That means redshirt junior Bill Tyndall will make his first road start in front of 100,000-plus fans, tasked with protecting quarterback Zach Maynard's blindside.
-Tedford gave all five freshmen receivers from this last signing class a chance at immediate playing time in fall camp, with Chris Harper and Bryce Treggs rising to the top. Treggs, rated as a five-star recruit by Scout.com, was penciled in for game action as soon as he put pen to paper, but it is the less-heralded Harper that actually leads the team in receptions and receiving yards, proving to be dynamic on screens and quick-hitting routes.
-Despite having a veteran secondary, opponents have completed 56-of-77 passes (72.7 percent) with Cal playing a surprising amount of zone. Given the running threat Ohio State quarterback Braxton Miller obviously poses, it will be worth watching to see how defensive coordinator Clancy Pendergast chooses to deploy his back seven.
Can you give us a couple key players, on each side of the ball, that Ohio State fans should look out for this weekend?
WR Keenan Allen (Junior, No. 21) – Allen will own every significant Cal receiving record by the end of this his junior season, and looks like a certain first-round draft pick next spring. He is a true game-breaker, averaging 22.17 yards per punt return this year, ranking fourth in the nation.
RB Isi Sofele (Redshirt Senior, No. 20) – A 1,300-yard rusher last season, Sofele had only five carries against Nevada. With a heavier workload last week, the Cal running game sparked as the diminutive Sofele had 104 yards and a score.  He is also very adept in the passing game, but must be effective to create balance and keep the pressure off Maynard.
OLB Brennan Scarlett (Sophomore, No. 17) and Chris McCain (Sophomore, No. 40) – With the dual-threat Miller getting more comfortable in the spread option, it's all about containment. Cal will look to get pressure off the edge, but can't be so aggressive that Miller can break into the open field. Pendergast compared Scarlett's athleticism and build to a young Willie McGinest last week. Coming off a shoulder injury against Southern Utah, McCain practiced this week and should be good to go.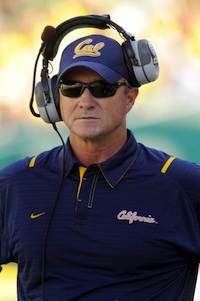 What are a couple things that Cal absolutely has to do on Saturday in order to beat the Buckeyes?
Besides the obvious things that come into play on the road, notably winning the turnover margin, the defense has to get off the field on third down. Cal has allowed Nevada and Southern Utah to convert 52.5 percent of the 40 third-downs it has faced, which ranks 111th nationally. Ohio State is such a step up in talent that another game of allowing 50-plus percent when given a chance to get off the field would almost certainly result in a rout for the home team.
On the other side of the ball, the offense must stay on schedule and avoid negative plays. Tedford's offense really thrives on balance, especially with how erratic Maynard can be. Sofele and senior C.J. Anderson will need 30-plus carries combined to have a chance.
If you were the Buckeyes, and game-planning for the Bears, what weaknesses would you look to exploit the most?
Can Meyer install the Pistol in a week? In that same vein, rely on Miller's electricity to confuse a defense that hasn't exactly been disciplined against option offenses in recent years.
On defense, I would absolutely dare Maynard and receivers not named Allen to beat the Buckeyes. Seriously, put eight in the box, double Allen, and see if Maynard has the discipline to make the necessary throws. Last season, Maynard averaged 37.2 passes in Cal's five road losses, completing 54.8 percent of those throws with four touchdowns against seven interceptions.
The Big Ten had a poor showing against Pac-12 teams last week, going 0-3. How much of a role do you think home field advantage played for the Pac-12, and do you think the reverse trip will have an impact on Cal? What do you think last week says about the state of the conference and where it's headed?
The early kickoff shouldn't be a factor, as Cal now practices in the morning. Noise and atmosphere could be an issue, however, with right tackle Bill Tyndall making his first road start trying to protect Maynard's blindside and Harper and Treggs in such prominent roles.
Watching condensed hour-long versions of the three Big Ten/Pac-12 games on the Pac-12 Network this week, what jumped out at me was how utterly dominant Arizona State, UCLA, and Oregon State really were. These weren't flukes. Illinois was completely outclassed, Taylor Martinez's supposed-maturation as a passer disappeared in the second half when the Bruins stopped blitzing and dropped back into coverage, and Wisconsin had no offense.
It showed the importance of having a well-defined identity. Todd Graham has brought discipline to what had been a dysfunctional team in the desert, while Jim L Mora wants to be aggressive. Mike Riley rediscovered the tough-nosed play in the trenches that brought the Beavers to the brink of a Rose Bowl a few years back.
Identity is something that was lacking in the Pac-12 for far too long. Commissioner Larry Scott is pushing a forward-thinking vision for the entire conference, as demonstrated with his plan for not one but seven cable networks. His leadership and a collection of top-tier coaches will push Pac-12 football to incredible new heights.
Cal went 7-6 last year, including a loss to rival Stanford, and a loss to Texas in the Holiday Bowl. What are your expectations for the rest of this season, and what would you consider a successful season for the Golden Bears this year?
I had predicted that the Bears would finish 7-5 in the regular season, but counted Nevada as a win and assumed they would take the three games against the Sun Devils, Bruins, and Beavers. Putting Ohio State, USC, and Oregon into the likely-loss column, that means Cal must now go 5-2 against the rest of its schedule simply to make a bowl game for the ninth time in Tedford's 11 seasons. 
Getting back to the postseason and reclaiming the Axe from archrival Stanford would represent a solid campaign considering the struggles Cal has shown in early September.
Do you have a game prediction for this Saturday?
Despite a few big plays from Allen, Maynard continues to be mediocre on the road against quality teams and commits a couple turnovers in the second half that allows the Buckeyes to pull away for the win.
Ohio State 31, Cal 13
---
Many thanks to Dan Greenspan of CalSportsDigest.com for sharing his insights with us. You can read more from Dan about the Cal Golden Bears and the Pac-12 by checking out the links below:
Twitter: @DanGreenspan