A football player's career is often defined by a singular performance, one snapshot in time that sticks in the memory for one reason or another. It could be the greatness of the performance, or the magnitude of the achievement. It could also be the magnitude of the situation in which the great performance occurs. For Ohio State players, the situation is almost always a bowl or championship game, or else a game against That School Up North.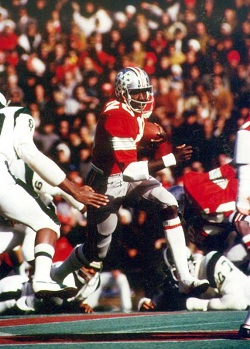 For that reason, we tend to forget about what happens in the early games, unless the game is truly titanic, like Ohio State's 2005 night game against Texas. Yet, sometimes the early games serve as a sort of foreshadowing of things to come, or great performances to come. In the case of two Ohio State players on the 1972 team, Rick Middleton and Greg Hare, an early season game against California was one of those signposts that indicated something greater down the road.
The 1971 season had been a disappointing one for the Buckeyes. They started out 6-1, with the lone loss being a non-conference game against Colorado. But then they lost consecutive home games to Michigan State and Northwestern, followed by a gut-wrenching 10-7 loss at Michigan.
In that game, OSU had one last chance and was driving in Michigan territory with less than 2 minutes left when Michigan DB Thom Darden intercepted a Don Lamka pass at the Wolverine 32 (go to 8:30 on the video linked above). Coach Woody Hayes thought interference should have been called on Darden, and he tore up a sideline marker in protest. It was a fitting end to the season.
The 1972 season would be different from all previous seasons in that freshmen would be allowed to play varsity football for the first time. Prior to that season, they were ineligible and thus were relegated to freshmen or "reserve" teams that sometimes staged scrimmages against other schools' freshmen teams. In this OSU freshman class, there were several players who could possibly contribute to the team, but there was one player in particular who would have a major impact on the team.
Archie Griffin came to the Buckeyes from nearby Eastmoor High School in Columbus, having made quite a name for himself in the high school football ranks. As a senior at Eastmoor, he rushed for 1,787 yards and 29 touchdowns. Griffin was small at 5'9" and less than 200 pounds, but he was very quick and had surprising power for his size. Above all, he had a maturity beyond his years, and that would serve him well through the ups and downs of the season and his career.
Griffin would not start immediately, but started the season behind juniors Elmer Lippert and Morris Bradshaw. Joining them in the backfield were senior fullback Randy Keith and junior quarterback Greg Hare. Hare was a typical Woody Hayes QB, more prone to running than passing. He ran the option play effectively and was an able replacement for the departing Lamka. Sitting with Griffin on the bench was sophomore fullback Harold "Champ" Henson, but as with Griffin he would not be there for long before making his mark on the college game.
The defense was anchored by junior linebackers Randy Gradishar and Vic Koegel, joined now by Middleton in his junior season. In the secondary, two sophomores who would go on to bright NFL futures joined the starting line-up: Neal Colzie, who would help the Oakland Raiders to a Super Bowl victory in 1977, and Doug Plank, who would spend 8 seasons as a stalwart in the secondary for the Chicago Bears. Plank wore #46 for the Bears, and his defensive coordinator, Buddy Ryan, was so enamored with him and his physical playing style that he named his famous "46 defense" after him.
The team began the season by shutting out Iowa, 21-0. In typical Hayes fashion, OSU pounded them with the running game, especially the fullbacks. Henson shared time with Keith and the two combined for 160 yards on 35 carries. Late in the game, Griffin came into the game as Hayes sought to get his reserves some playing time. Unfortunately, the freshman tailback fumbled, a cardinal sin in Hayes' offense, and so he went back to the bench for the remainder of the game. He would atone for that mistake, and do much more than that, in game 2.
After a bye week, the North Carolina Tarheels came to town for the second game of the season. The offense seemed to have a bit of rust after the week off, and UNC took an early 7-0 lead. To shake things up a bit, Hayes inserted Griffin again to see what he could do. As it turned out, it was a good move. The freshman carried 27 times for a new school record 239 yards to lead the Buckeyes to a 29-14 win. It was a sensational debut, but more work would need to be done as the team took to the road for their third game.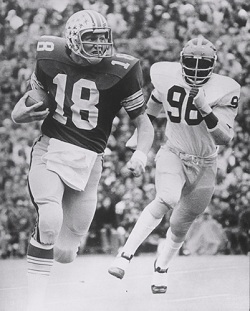 As Kyle has pointed out, road games on the West Coast are difficult for teams coming from the Midwest. Ohio State's first trip to the Rose Bowl in 1921 resulted in a resounding 28-0 loss to the California Bears. However, the team had beaten that same Cal team four straight times since then, including a 35-3 pasting in Columbus the previous season. As a result, the 1972 team was confident heading out to Berkeley for their first road game.
The trip seemed to affect the team though, as they got off to another slow start. The offense was sluggish again and the Bears took a 9-3 lead into the locker room for halftime. However, they came out with a vengeance in the second half. Middleton intercepted two passes deep in Cal territory and the Buckeyes converted both of them into touchdowns as Henson crashed into the end zone. Another Henson TD capped off a 4-play 75-yard drive.
In addition to the running success, OSU took to the air as they rarely did under Hayes, converting big plays down the field. As a result, Hare passed for 151 yards even though he only completed 8 passes. He passed 9 yards to Mike Bartoszek to provide the Buckeyes their final margin as they rolled to a 35-18 win. The heroics by Middleton and Hare were a sign of things to come, although their more well-known performances were more of what you would expect from a Hayes-coached OSU team.
In the home finale against #3 ranked Michigan, Hare guided the Buckeyes to a thrilling 14-11 win. His 35-yard option keeper early in the 3rd quarter set up Archie Griffin's famous 30-yard touchdown run to put Ohio State up 14-3. Later, Middleton and the defense would atone for a Hare interception by making a goal-line stand, one of two on the day, to preserve OSU's lead. As a result, Middleton and Gradishar were named co-players of the game by the ABC broadcast team.
Ohio State earned a trip to the Rose Bowl with the win over Michigan, but they were pounded by eventual national champion USC, 45-17. The Buckeyes finished the season 10-2 and ranked #9, while Michigan ended up at #6. Griffin would rush for 867 yards on the season, on his way to a record-breaking 5,589 for his career. Gradishar would go on to win All-American honors and would eventually have an outstanding NFL career with the Denver Broncos. Middleton was drafted by the New Orleans Saints in the first round, but after four years he gave up football and eventually became a high school coach and teacher back in Central Ohio at Olentangy High School.