Ohio State has a problem. In just the third game of the season, the third-string running back, a true freshman, has already been thrust into the leading role. Bri'onte Dunn finds himself in that position because injuries galore have hampered the Buckeyes.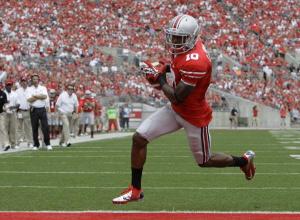 If someone else goes down, Corey "Philly" Brown may start lobbying the coaches for carries. Or more so that he already does. Brown came to Ohio State as a sought-after recruit from the suburbs of Philadelphia – hence the nickname – where he was a two-time 1,000-yard rusher.
Things changed when he arrived in Columbus. There would be no backfield running and no patrolling the secondary. Instead, Brown was inserted into the wide receiving corps. 
"I actually thought I was going to come here for corner," Brown said. "But when I got here they had me in the receivers room. I was sad. I'll be honest. But I realized I was too skinny (to be a running back)."
It has proven to be the correct decision by former head coach Jim Tressel and the previous coaching staff. One season removed from an embarrassing team-high tying 14 receptions, Brown has distinguished himself as the team's No. 1 receiver and the obvious big-play threat Urban Meyer has coveted.
The skills have always been there for Brown to be a gamebreaker, but the opportunity really didn't arise until Jordan Hall went down with a foot injury prior to the start of the season.
"We are thinking outside the box a little bit to get him more involved," Meyer said of Brown.
In the season-opening win over Miami (Ohio), Brown had seven catches. It was a good debut, especially in light of the lack of production at receiver a season ago. Then he had six catches in Week 2 and 81 total yards. That performance led to an offensive player of the game award and praise from Meyer.
"(He) graded out 95 percent, which is extremely high for a wide receiver, and he's right now our best playmaker on offense," Meyer said.
Through two games, Brown already has 13 receptions for 135 yards and a touchdown. He also has two rushes for 33 yards. His 168 total yards of offense is second on the team to quarterback Braxton Miller's otherworldly output.
In the offseason, Miller and his receivers worked together daily, building a strong rapport in the process. When fall camp rolled along, the wideouts made a statement. They entered camp with a bull's eye the size of Texas on their backs after Meyer insulted them with comments that were a harsh truth during the spring.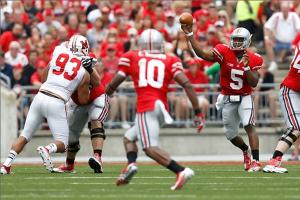 Brown and his cohorts took a lunch pail approach, coming to work each day with little flair, but working hard, handling their business and making a statement. 
"I feel like now we have more of that cocky confidence that you need to be a good player," Brown said. "Obviously, we've grown to have more confidence. Coach (Tom) Herman is calling more plays our way and building our confidence. Working in the offseason, we could feel ourselves get better and better."
The winter and spring also was used as a time of reflection for Brown. After being recruited by a number of prominent schools, he chose Ohio State to make an impact and be involved in a program that was experiencing yearly success. But Brown's first two seasons in Columbus were mired by controversy, and 2011's losing record and lackluster statistics wore on him. Now he believes he has grown as a person, leading to more production.
"I really think it's the system and growth and maturity," Brown said. "I had to take a long look at myself in the mirror. Obviously, my first two seasons here weren't very good. So I took a long look in the mirror and said, 'If this is what I want to do for the rest of my life I have to get going.' It is about growing up, being a leader and putting in the work to be a good receiver."
With a year's experience as a starter, Brown is more comfortable in his role as an on-field voice. He's also developed a bond with Miller. Learning each other's tendencies has led to more cohesion once they step on to the field.
It's a characteristic that all great quarterback-to-wide receiver partnerships acquire. Montana and Rice, Aikman and Irvin, Manning and Harrison.
"The terminology is completely different," Brown said "Having a whole year playing with Braxton, we are on the same page. He'll tell me what to do on a certain play with our own personal signals. We're rolling pretty good now, and we just want to keep it going.
"Braxton and I talk on the field. After the plays, I don't care about the play clock. We're talking the whole time. If you're watching, you can see. He's telling me what he saw, I'm telling him what I saw. We tell each other what we want to do different, so next time we are on the same page. It's helping us grow."
The absence of Hall and Carlos Hyde could lead to more creativity from the coaching staff, and Brown is just fine with that. His two rushes, a swing pass and a reverse, came after Hyde's injury in Saturday's 31-16 win over Central Florida.
"I hope that they use me in that way," Brown said about catching passes in the backfield. "I'm excited to take that role on if they're serious about it. I really hope they do that.
"I always want to run the ball. I joke around with the running backs that I could play running back. For it to happen would be real good."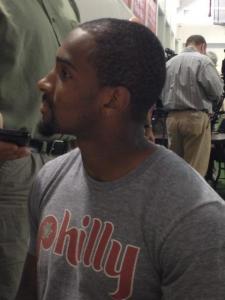 Because of his size – 6-foot, 186 pounds – Brown isn't a run-between-the-tackles type of runner. Getting the ball in space and getting around the edge is more his style.
"I am playing a lot of different positions right now," he said. "I am still trying to learn and step in until Jordan gets back."
After hearing running backs coach Stan Drayton assess the situation in the backfield, it sounds like the Buckeyes will try to take advantage of mismatches. That's a central theme of Meyer's philosophy: get guys in space against a defender who's at a disadvantage, whether it's a running back against a linebacker or receiver matched up against one defensive back.
"Sometimes you just try to gather info about the defense, Drayton said. "It's not always about (Brown) getting the ball. But you motion a guy like that into the backfield and the defense makes adjustments that we can gather information for upcoming plays.
"The fact that he's being very productive for us allows us to do more things creatively, formationally, to be able to help us out."
In two games so far, Miller has carried the ball considerably more than he and Meyer would like. The trust and reliability Miller's built with receivers could go a long way in changing that. Running the quarterback 20 some-odd times won't work against Michigan State, Wisconsin and Michigan like it does against Miami, UCF and Alabama-Birmingham. And according to Brown, that will change.
"We've done a lot of passing so far, but I don't think we've come close to how much passing we'll do in a single game once we get going," he said.
Now, about that nickname. Coaches, players, fans and the media have all grasped on to the Philly moniker. But the man himself is not fond of it, despite his Twitter handle (@PhillyBrown10) and the fact he was wearing a shirt with "Philly" across the chest and a buckeye leaf on the "P."
"All the other Corey Browns were taken," he said. "It was Twitter's decision."
Interestingly, that's how the Philly nickname came about. Tressel started using it to differentiate him from the defensive back with the same name. The "other" Corey Brown hails from the western part of the state, so he is Pittsburgh.
But alas, Corey "Philly" Brown said, "I'm Corey Brown."
Meyer and Miller don't care what they have to call him, as long as he keeps catching passes and producing yards.