It's an age-old activity. Load up the car in summertime and head west. Families scattered about the East Coast and Midwest take part in the journey each vacation season. The same goes for those with Western roots. Land east of the Mississippi is as mysterious as the Mayan culture.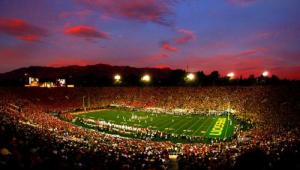 The California Golden Bears will get a taste of Midwestern flavor this weekend when they travel to Columbus.
The same allure has been instilled in Midwesterners since adolescence. Throughout Ohio, young boys have gathered around the television set on New Year's Day for generations to catch a glimpse of sun-splashed Pasadena, Calif., and the Rose Bowl. In recent memory, however, neither the Rose Bowl nor the land occupied by Pac-12 universities has been kind to the Big Ten.
The conference (excluding Nebraska pre-2011) is 6-32-1 in Pac-12 stadiums since 1990. Last Saturday, one of the worst regular-season days in league history, included three losses on the road to Pac-12 schools. Two of those teams – Nebraska and Wisconsin – were ranked in the top 16.
"You're dealing with time change, you're dealing with a whole different environment," Iowa head coach Kirk Ferentz said last week. "It's tough going on the road no matter where you go. It's a little different if you get a chance to spend a week there. That's not usually the case with an in-season game."
The highly-ranked Hawkeyes lost at Arizona in 2010.
Dating to the 2000 regular season, the Big Ten is 1-8 in the Rose Bowl Game. The lone win was Ohio State's triumph over Oregon on New Year's Day 2010.
It's not just the conference's lightweights who have taken it on the chin; the flagship programs have also struggled. Michigan has lost at UCLA, Washington and Oregon, and Wisconsin is 0-fer the state of Oregon. Miraculously, one of the Big Ten's victories is Indiana's win at Autzen Stadium over Oregon in 2004. 
Before his Badgers lost to Oregon State on Saturday, head coach Bret Bielema said coaches and players have to make an effort to make the best of road games. You're going to play them regardless, so you may as well "wrap your arms around them, embrace them, hug them up and make the best of them."
The Buckeyes are 2-3 on the road against the Pac-12 since 1990. They split a series at Washington and lost at UCLA and USC. The other win came at Arizona. Ohio State has won four neutral site games in California during that same time span: the 1993 Holiday Bowl versus Brigham Young, the 1994 Pigskin Classic versus Fresno State, the 1997 Rose Bowl versus Arizona State and the aforementioned 2010 Rose Bowl. The Buckeyes took ownership of the state of Arizona (Mountain Time Zone) in the 2000s, but it came to an abrupt end as the decade came to a close.
The losses aren't just limited to teams from the Big Ten; the Pac-12 has also struggled in the Eastern Time Zone. The trend also extends to the NFL, where teams traveling multiple time zones are at a distinct disadvantage.
The Pac-12 is 17-33-1 (excluding Colorado and Utah pre-2011) on the road against Big Ten schools since 1990. In that same time period, the Buckeyes own a 9-2 record in Ohio Stadium versus Pac-12 schools. The record improves to 13-2 when all teams from the Pacific Time Zone are included. USC is the only West Coast school to win at Ohio State, and they did so twice.
Incredibly, Saturday's opponent, Cal, is 5-1 in the Jeff Tedford era (starting in 2002) in games that start before Noon Pacific. Saturday's game will begin at 9 a.m. on the West Coast. Since 1990, the Bears have also bucked the time-zone trend, tallying a 3-2 record in Big Ten stadiums.
Teams have done their best to help alleviate the jet lag and change with players' body clocks.
Last season, when the San Francisco 49ers had consecutive games in Cincinnati and Philadelphia, head coach Jim Harbaugh decided the best course of action was to stay in Youngstown the week between the two games. The 49ers went 2-0 on that road trip.
Nebraska departs for road games at 11:30 a.m. on Fridays but changed its plans for last week's game at UCLA, moving up the departure time two hours.
Ohio State has traveled on Thursdays, most recently in 2006 at Texas, 2007 at Washington and 2008 at USC. The change to semesters, however, will not make that possible in the future.
That's the same approach Cal will take.
"We are going on Thursday, which is unusual for us, but I'm not as concerned as I used to be about this because we've been practicing for two years in the morning," Tedford said on Tuesday. "This morning we were on the field at 8 o'clock, so the kids are used to getting up early every day.
"We've had two noon games so far, so there have been two early wakeups. Every single day we're up between 6 and 6:30 a.m. and we are on the field between 8:10 and 8:30. I think the early morning body chemistry thing will be fine, but we are going on Thursday to get the body clock set on Friday, hopefully."
The Buckeyes would gladly welcome a group of sleepwalking – or hibernating – Bears to the Horseshoe.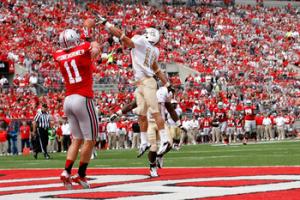 I KNOW WHAT YOU DID LAST SUMMER
It was a long summer for Jake Stoneburner. There was plenty of time to sit and think about his career possibly being over.
In June, he and offensive lineman Jack Mewhort were arrested in Shawnee Hill, Ohio, the week of the Memorial Tournament after urinating on a building and fleeing once police pursued them.
It resulted in an indefinite suspension and loss of scholarship. For Stoneburner, it was a humbling experience.
"I learned how your actions, no matter how big or how little, affect the entire team," he said. "Basically it's a team thing, and I made a mistake and everyone had to pay for it."
The incident came as a surprise because Stoneburner and Mewhort had never been in trouble, and the pair was regarded as leaders of the offense by head coach Urban Meyer.
After an undisclosed set of responsibilities was assigned and completed, Stoneburner and Mewhort were permitted to return to the team when fall camp commenced.
"It was business as usual once practice started," Stoneburner said. "It was just back to football and worrying about football."
No player's role changed more - save for Zach Boren – when Meyer was hired. At Florida, Meyer was not shy about utilizing his tight end as a playmaker. Aaron Hernandez was a key ingredient on Florida's 2008 national championship team. The next season he won the Mackey Award and was named an All-American.
Stoneburner, 6-foot-5 and 245 pounds, has flashed his potential throughout his career at Ohio State, but for whatever reason the coaches opted to use him sparingly. In 2011, he had his most productive season, catching 37 passes for 445 yards and nine touchdowns. But even then it seemed like Stoneburner could have had a greater impact.
That vision may finally come to fruition in Stoneburner's final season as a Buckeye. In fall camp, he was moved to wide receiver because of the wide range of skills he possesses, and in Saturday's 31-16 victory over Central Florida, Stoneburner caught his first touchdown pass of the season.
"It's been a while," he said of reaching the end zone. "A tough summer, and to finally get out there and score, it's a great feeling. It really feels great being in the end zone again."
The score came when Braxton Miller was flushed from the pocket. Scrambling to his right, he found Stoneburner a step beyond the nearest defender. Miller lobbed the ball to his tall receiver with the touch of a masseuse.
"I've learned every time Braxton scrambles to just go deep," Stoneburner said. "He has a tendency to throw it deep to guys that can get back there, and I just happened to find an open void. He saw me and made a great touch pass."
Stoneburner has lined up at a handful of positions this fall – tight end, wide receiver, H-back. Even he regards his true position as a bit of a mystery.
"They have me listed as starting wide receiver, but I play tight end, play a little fullback," Stoneburner said. "I play probably a majority of the time at receiver. They just want to use me in different ways. I'm fine with that.
"You just have to make sure you know a lot because I have to know three or four different positions. Sometimes when I'm tired, I get some mental lapses. Besides that, I love it. It gives me the ability to be out there and make some plays."
In Meyer's up-tempo offense, everything revolves around the playmakers.
BRAXTON, BRAXTON, BRAXTON
Meyer has been gushing about Miller since he accepted his position of head coach in November. He has not shied away from those views since he started coaching the sophomore quarterback. If anything, Meyer's feelings are even stronger.
He's said Miller is the most dynamic quarterback he's ever coached, even though that list already includes a No. 1 overall draft pick and Heisman Trophy winner.
But Miller has done his best to prove Meyer right. He set the Ohio State single-game quarterback rushing record in the season opener with 161 yards and followed it up by tying the record for rushing touchdowns by a quarterback with three.
"He is a hell of a football player now," Meyer said on Monday. "If you really studied the game with the copies we have, he delivers punishment, he goes hard. He's a hell of a football player.  Better than even everybody in this country thinks right now. That's how good I think Braxton Miller is."
Miller leads the Big Ten in rushing and is fourth in the nation, averaging 151 yards per game. So far, though, Miller also has carried the ball 44 times – and that number doesn't include sacks and knockdowns by the defense – far more than he and Meyer would like. On Tuesday, Meyer said 12-15 rushes per game was the target for Miller. It's similar to the stats of Josh Harris, Alex Smith and Tim Tebow. In Meyer's second season at Bowling Green, Harris averaged 15 rushes, as sophomore's Smith ran 12 times a game and Tebow 16.
With the running back situation as foggy as ever, the carries could keep coming for the vulnerable quarterback. It's a situation Michigan has dealt with for three seasons with Denard Robinson. Miller was injured last season at Nebraska and battled injuries throughout his high school career. 
"We have got to be smart, and he got tattooed a little bit," Meyer said of the big hits Miller has taken. "But we've all got to take care of him. That's kind of the message I'm giving in the team meeting to the offense tomorrow: take care of him. But it's a good problem to have."
Part of the problem lies with Miller. In any system, the quarterback carries a great deal of responsibility, but it's magnified in Meyer's offense due to the high volume of zone reads. At times, Miller has made the wrong read. In the UCF game, there were also several broken plays.
The running prowess of Miller is stated and obvious. It's the passing game that still needs work. But the signs are encouraging. In 2009, Terrelle Pryor's sophomore season, with the receiving corps of DeVier Posey and Dane Sanzebacher and running back Brandon Saine catching out of the backfield, Pryor finished with 2,094 passing yards, 18 touchdowns and 11 interceptions. He completed 56.6 percent of his passes and had a quarterback rating of 128.9.
Through two games this season, with an unproven set of wide receivers, Miller has thrown for 362 yards, three touchdowns and one interception while completing two-third of his passes. He has a passer rating of 146.5.
Pryor's yards per completion rate was 7.1. Miller's is a shade higher at 7.4.
"He gets good, really, really good," Meyer said of Miller. "Then he does something (that makes you say) what was that. But it's the normal maturation of a quarterback. He knows it. He sees it. Everybody can see it.  We kind of did a play action pass, and boom, he threw it into the ground. He's got great release, good arm strength.
"So we are just trying to push that maturation as fast as we can. And other times, he's just beautiful in the pocket. He's really very good at what we do. We just have to probably do more of it. Now that we are developing our receivers, I can see a little bit more of that. Those guys, there are some guys making a few plays for us."