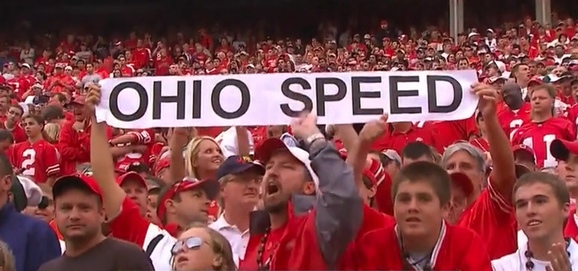 It's long been fashionable to think of today's matchup as a potential nail-biter. The Buckeyes get the Knights in the Horseshoe, but UCF is a talented and well-coached team that is a trendy pick to finish as the nation's best non-automatic qualifying BCS team.
But last week you saw this and were reminded of the fact that your team has Braxton Miller, while other teams do not and soon your confidence had its own swagger (which in turn had its own swagger) and you were all in on the high double-digit line for the game.
And then George O'Leary did what George O'Leary does best and said, "Hey Buckeye fans, I heard you guys like bulletin board material," and it was on.
The thing about O'Leary's comment—and WTVN's Matt McCoy said it best—is that O'Leary was kind of right. Make no mistake, Ohio Stadium can be one of the loudest places on the planet for big games, but when the UCFs of the world roll into town, it's not exactly rocking for the full 60 minutes.
Now it will be. And the wall of sound will come in glorious technicolor.
As for today's other games, they can best be described as a great big bundle of meh. You do have the first SEC games for foreign exchange programs Missouri (welcoming Georgia) and Texas A&M (welcoming Florida) and boy are the Aggies excited for this one, but Saturday brings us no top-25 matchups.
Looking at early Big Ten games, Penn State is at Virginia, Purdue travels to Notre Dame, and Iowa will try to top Iowa State for this monstrosity. Later on, Wisconsin visits Oregon State, Bo Pelini and the Cornhuskers head west to face Jim Mora's UCLA Bruins, Vandy and Northwestern do battle in Nerd Bowl, and Illinois faces Arizona State in the nightcap. While none of those games really jump out at you, today, like most September Saturdays, is an opportunity for the Big Ten to look good or further the narrative of a conference that has seen better years.
Here's the full slate of today's relevant or otherwise interesting matchups.
| Time | GAME | TV | INTERNET | FAVORITE |
| --- | --- | --- | --- | --- |
| 12:00pm | Miami (FL) at #20 Kansas State | FX |   | KSU (-7) |
| 12:00pm | New Hampshire at Minnesota | BTN | BTN2GO |   |
| 12:00pm | Penn State at Virginia | ABC | WatchESPN | UVA (-9.5) |
| 12:00pm | Auburn at Mississippi State | ESPN | WatchESPN | MISS (-3) |
| 1:00pm | Maine at Boston College (Bollman Tracker) |   | ESPN3 |   |
| 3:00pm | Southern Utah at Cal | Pac-12 Network | Pac-12 Now |   |
| 3:30pm | #2 USC vs Syracuse | ABC/ESPN2 (Map) | WatchESPN | USC (-26) |
| 3:30pm | #9 Michigan State at Central Michigan | ESPNU | WatchESPN | MSU (-20.5) |
| 3:30pm | Air Force at #19 Michigan | ABC/ESPN2 (Map) | WatchESPN | UM (-21) |
| 3:30pm | Purdue at #21 Notre Dame | NBC |   | ND (-14.5) |
| 3:30pm | Indiana at Massachusetts |   | ESPN3 | IU (-14) |
| 3:30pm | Florida at Texas A&M | ESPN | WatchESPN | Toss-Up |
| 3:30pm | Iowa State at Iowa | BTN | BTN2GO | IOWA (-4) |
| 4:00pm | #17 Wisconsin at Oregon State | FX |   | WISC (-7) |
| 6:30pm | Fresno State at #4 Oregon | Pac-12 Network |   | UO (-34) |
| 7:00pm | Washington at #3 LSU | ESPN | WatchESPN | LSU (-24) |
| 7:30pm | #13 Nebraska at UCLA | FOX |   | NEB (-5.5) |
| 7:45pm | #8 Georgia at Missouri | ESPN2 | WatchESPN | UGA (-2.5) |
| 8:00pm | Vanderbilt at Northwestern | BTN | BTN2GO | VAN (-3.5) |
| 10:30pm | #15 Oklahoma State at Arizona | Pac-12 Network | Pac-12 Now | OKST (-10.5) |
| 10:30pm | Illinois at Arizona State | ESPN | WatchESPN | ASU (-4) |