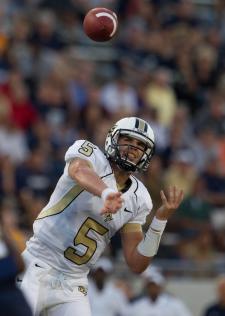 Game 1 of the Urban Meyer era has now passed. Everyone can resume their regularly scheduled Saturday activities.
Or not.
In Columbus, Ohio, fans will be rabid for 11 more weekends. This week marks the first real test for Ohio State. Central Florida has a history of knocking off and hanging with college football's super powers. A sampling of the Knights' recent victims include Alabama and Georgia.
"I like playing non-conference games against tradition schools like Ohio State," UCF head coach George O'Leary said. "They have a great, long history of winning and great tradition as far as the program is concerned. We look to every game with
an opportunity to win it and that's what I told our players at the beginning of the season."
Talking heads from around the country have cleverly nicknamed Saturday's game as the "IneligiBowl," mocking both schools' recent NCAA troubles. It's the second such game Ohio State has played in after last season's contest at Miami.
In July, UCF was levied with some of the harshest sanctions the NCAA can impose. The committee on infractions censured both the football and men's basketball programs for a lack of institutional control, impermissible recruiting activities and providing extra benefits. As a result, UCF was placed on five years of probation, given a postseason ban in each sport and had massive scholarship reductions.
The bowl ban, however, has been appealed, and the university believes it has a good chance at winning the appeal.
The Buckeyes know for sure they won't be playing in a bowl game or the Big Ten championship game in Indianapolis. But they did get one dose of good news this week: they are eligible to win the Leaders Division title.
It won't pertain to Saturday's non-conference game, though Meyer continually refers to UCF as Big Ten caliber.
"That's the first I've heard of something like that," Meyer said about the possibility of winning the division. "There is going to be zero conversation about that in our locker room.
"It's not going to make us play harder on Saturday. But I think somewhere in November, yeah, I think that'll be interesting."
In the preseason, Meyer said he might have to figure out ways to motivate his team if they got in a lull about having no bowl game at the end of the season. A caller on his weekly radio show even gave Meyer the idea of referring to the Michigan game as the "Beat Blue Bowl."
An undefeated season is still the stated goal. But if a loss arrives, the season isn't completely shattered because the division title is still a possibility.
"We never really talked about, 'Oh, we can't go to a bowl game this year, that sucks,'" sophomore wide receiver Evan Spencer said. "We were always just trying to go undefeated and show the country that we're the best. Now that we actually get a chance to win a trophy, it's just kind of like a cherry on top."
OPPONENT
O'Leary is familiar to most fans for being the guy who fudged his resume. It was discovered after Notre Dame hired him in 2002, and he was quickly dismissed. While that is true, it's unfortunate that O'Leary is only remembered for an infamously poor decision.
In actuality, he's a fine football coach. In eight seasons at Georgia Tech, O'Leary led the Yellow Jackets to a 52-33 record, five bowl games and one ACC championship. His record at UCF is 51-51, and that includes an 0-11 season in Year 1. Prior to his head coaching days, O'Leary was an accomplished defensive coordinator, a job title he held on Georgia Tech's 1990 national championship team.
Last season, the Knights had an underwhelming 5-7 season, but six of their seven loses came by a touchdown or less. With 16 returning starters, much is expected of UCF in 2012. Meyer talks to former OSU head coach John Cooper, who now works as a Bengals scout, every week about that week's opponent. Cooper told him UCF has five or six NFL-caliber players. Phil Steele made headlines this summer when he revealed the Knights were his 15th-best team in the country.
Get Smart
George O'Leary said that Ohio Stadium is not loud.
George O'Leary thinks that Ohio State fans sit on their hands.
George O'Leary has problems telling the truth.
"If you look at Central Florida under George O'Leary, they have an up and down pattern," Steele told Eleven Warriors in July. "They have a bad year then an up year. They've had one time where they had back-to-back winning seasons. Last year they were 5-7, but two years ago this was a team that dominated Georgia in the Liberty Bowl. They won the game 10-6 and finished No. 21 in the rankings.
"This year's Central Florida team is stronger than that team. They're really a complete team, top to bottom. Its O'Leary's most experienced team, probably the best team he's put on the field. I have them favored to win 10 or 11 games. The only game I have them as a clear underdog is at Ohio State. But they're a very dangerous squad."
If the season opener is any indication, UCF is capable of being as good as Steele predicted. They put up video-game numbers on offense, winning 56-14 at Akron. The Zips may only have two wins to their credit the past two seasons, but the games still have to be played.
UCF running back Latavius Murray ran for 108 yards and a touchdown on 14 carries in a little over one quarter of action against Akron. He also suffered a shoulder injury, though, and will miss the Ohio State game. In his place is Miami Hurricane transfer Storm Johnson. Behind him is Brynn Harvey, who ran for more than 1,000 yards in 2009.
Quarterback Blake Bortles throws accurately, completing more than 68 percent of his passes a season ago, and at receiver there are multiple reliable threats.
"Blake is a pretty poised guy and in some sense that's great and in some other sense it's bad," O'Leary said. "He doesn't get rattled a lot. I think he commands control of the huddle and he commands control of the field. He understands the game plan and the thing I like about Blake right now is that he'll take what the defense gives but he's sure not afraid to take a shot down the field."
The offensive and defensive lines are two strengths of the Knights. Left guard Theo Goins and defensive tackle Jose Jose are among the best at their positions in all of college football.
"Jose Jose is a 340-pound defensive tackle as opposed to 270, so that tells you right there," Meyer said. "So we have to get no-huddle and wear them out. But this is a whole different animal that we're facing. Miami, they're going to make their first downs throwing the ball. This team's going to run the power directly at you and get their first downs. So (UCF is) a much different team and very talented team."
Buckeye Breakdown
The No. 1 difference-maker in the ballgame is Braxton Miller, and it's a fact that hasn't gone unnoticed to UCF. It used a speedy wide receiver to play the part of Miller on the scout team this week.
The run tandem of Miller and Carlos Hyde experienced great success last week, but as previously stated, the Knights defensive front is much more stout than Miami's. UCF has fielded a top-20 rush defense for three consecutive seasons. The only other school to accomplish that feat is Alabama.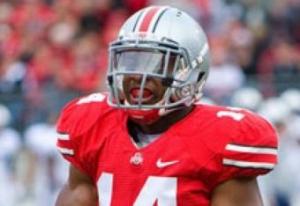 On his call-in show, Meyer said he expects the Knights to use their free safety to creep up and help the run defense, freeing receivers up to have 1-on-1 coverage. That could give Miller the opportunity to show off his passing skills. It's an area he has not been consistent in, and if the Buckeyes do indeed get Devin Smith and Philly Brown isolated against one cornerback, Miller has to be able to make the requisite throws.
"I think he's an exceptional quarterback that, basically, is everything they talk about at Ohio State," O'Leary said of Miller. "He's a very good player that has a great surrounding cast around him - it's just not him. He has great athleticism at wide receiver. He has a big running back and you can't always tackle those fellas. We're going to have our work cut out especially with the no-huddle and fast-tempo stuff they're doing."
All indications are the defense will be without the services of Michael Bennett again, opening the door for J.T. Moore. He is a  bit undersized and hasn't played outstanding by any means, but this is the perfect type of opponent for Moore to get his feet wet against. With Nathan Williams being so sore this week, there's a chance the senior could be limited to 20 or fewer plays.
Because of the pass-heavy offense Miami ran last week, linebacker Curtis Grant saw limited playing time. That won't be the case this week. He performed well in the spring and fall, but Grant is still a bit of unknown due to how little he has played at linebacker. He's virtually played zero significant minutes. With a need to get more pressure on the quarterback, Grant, his fellow linebackers and the defensive line will be the players called upon.
The secondary had a few mishaps early against Miami but calmed down and intercepted two passes. UCF may be a run-first team, but they use that as a window to the passing game. Bortles has the arm to test Ohio State's corners.
"They're a good defense," Goins said. "We just got to step up our efforts and do what we have to do to try and win the game."
Prediction
Throughout the week, Meyer has done his best to diminish the loss of Murray. He is partly right: the Knights have two more competent running backs, but Murray's first game proved he is a gamebreaker. It's asking an awful lot for an already two-touchdown underdog to then win without their starting running back.
At the same time, Meyer was correct in his assessment of the Buckeyes. They are an average football team that has plenty of flaws. Many of those issues are almost certainly going to be corrected. But if Ohio State takes UCF lightly and the Knights play a great game, they could walk out of Ohio Stadium with the season's biggest upset. It also could propel UCF to an undefeated season.
"It's a dangerous spot for (Ohio State), that's for sure," Steele said. "Look at last year when a 5-7 Central Florida team went into BYU. Yes, they lost the game, but they had a 399-260 edge in total yards. They had a couple blown opportunities. They've proven they can go in and play with the better teams on their schedule.
"When you have a veteran team that's in the same system they've been running for years against one who's implanting new systems, it makes it a little dangerous. I do think the Buckeyes are the stronger team, and they should be able to get the job done at home. But it's not going to be an easy game."
For head coaches, the biggest improvement is from Year 1 to Year 2. O'Leary proved that in a big way when he went from 0-11 in his first season at UCF to 8-5 and Conference USA champions in the second season. Meyer's Year 2 heroics are well-documented. Players make their biggest improvement from Game 1 to Game 2. Meyer and the Buckeyes harped on that theme throughout the week. 
The Knights are a solid team, but winning in Ohio Stadium is too much of an uphill climb. Keeping Miller at bay will be a tall order, while the OSU D-Line will be poised to make their presence known and felt.
Ohio State 37, Central Florida 16