"Oh, gosh."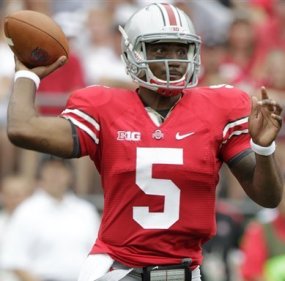 That was Urban Meyer's reaction on Monday when he heard Braxton Miller's name injected into the September Heisman hype. The discussion is inevitable and as much a tradition of college football as "Script Ohio" and "The Victors."
And when you're a quarterback and Meyer is your head coach, success is almost guaranteed to follow.
At Bowling Green it was Josh Harris who led a program that had been mired in futility for nearly a decade to eight- and nine-win seasons. In the first installment of the Meyer spread offense, Harris finished his college career with multiple school and NCAA records.
He scored the most rushing touchdowns in BGSU history and threw for the third-most passing yards and passing touchdowns. Harris was also only one of two Division I quarterbacks – Antwaan Randle-El the other – to run and throw for 40 touchdowns in his career. Meyer disciple Tim Tebow has since joined that list.
Prior to Meyer's arrival at Utah, Alex Smith was an unknown, rarely used backup quarterback. Two seasons later, Smith was a Heisman Trophy finalist, the signal-caller for an undefeated team and the No. 1 overall selection in the NFL Draft. He went 21-1 as a starter and led the first BCS-busting season in 2004, when Utah finished off a 12-0 season by defeating Pitt in the Fiesta Bowl.
Then Meyer took his spread offense to the Southeastern Conference. Legions of pundits said there was no chance of succeeding in the brutal world of the SEC. Meyer didn't just succeed, he experienced one of the greatest stretches in the conference's history.
After Florida fans suffered through the Ron Zook era, Chris Leak led the Gators to a national championship in 2006, Meyer's second year. The 2007 season brought Tebow the Heisman, and then he won Florida another national title in 2008. He finished his four years with one of the most storied careers in the 143-year history of college football.
Miller is next in line, and Meyer believes he could be better than all those who came before him.
In his first game in Meyer's high-octane offense, he set the Ohio State quarterback rushing record with 161 yards on 17 carries in a 56-10 dismantling of Miami (Ohio). Not a bad debut. But he also shied away from Heisman talk, saying it's about winning and improving each week as a team.
So what does Miller have in store for an encore?
For one, not 17 carries. Neither Meyer nor his quarterback wants to see that again. He wasn't sore on Sunday, but for Ohio State's offense to be at its best, Miller knows that 18-20 passes and a handful of rushes are best.
"We ran Braxton too many times," Meyer said after the game. "We'd like to do in the 10 to 12 (carry) range."
Said Miller: "It should be less. I think it'll be better for my body if I ran a bit less."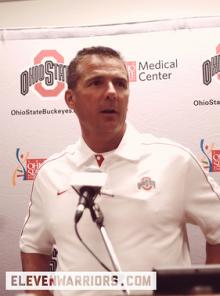 Despite his gaudy statistics – 368 total yards, two passing touchdowns and one rushing score – Miller, sounding like an unsatisfied coach, managed to find the negatives in his day. 
"I can do better," he said. "I think I was going too fast and was making my reads too fast instead of being calm."
There were other miscues that showed on up film. Meyer noticed that Miller opted not to hand the ball to running back Carlos Hyde and wide receiver Philly Brown on several option plays in the backfield.
"There were a couple of reads where…he pulled (the ball) a couple of times when he should have gave it," Meyer said. "But that's one thing about this style of offense, every play the quarterback has to make a read.  Some offenses you take the snap, hand the ball to the tailback and hope things work out well. We don't have too many of those plays. He has to make a read on every play, so he's going to make a few mistakes."
Miller acknowledged that on Wednesday, saying he needs to improve on reading defenses at the line of scrimmage. After hearing he and Meyer both speak on the issue, it's clear it was a popular topic between player and coach this week.
It's not that Miller doesn't trust his ball carriers, he just knows the ability he has to make defenders miss, like on his 65-yard touchdown jaunt when he broke out the stutter-step.
"The (defender) got outside of me, so I gave it a little flip and took it up the field," Miller said. Asked if that was one of his good decisions, he said, "Yeah," with a laugh.
Aside from whether Miller pitches the ball or not, there is another concern for Meyer: ball security.
"He's…not near as bad as I saw a year ago," Meyer said. "But we worked hard to keep his hands on the ball and lock his elbows. Those are concerns of a young quarterback."
Cramping also made an appearance on Saturday. By then, however, the margin of victory was not a factor. It also was a hot, humid day where any strenuous activity, hydrated or not, leaves one susceptible to leg and calf cramps. Still, it's not something Meyer wants to make a habit out of, especially in a close game. Miller had to miss multiple plays during the episode.
"It's been addressed," Meyer said. "We have people that that's their job full-time."
He added a caveat, though, albeit with a hint of sarcasm, saying he hopes Miller experiences more cramps because that means he is gaining yards.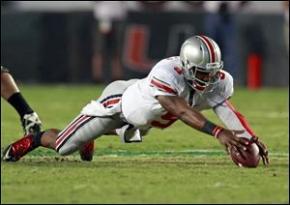 Miller may have run a variation of this offense in high school, but he and Meyer are still in the feeling out stages. Despite Miller's talents on the field and the coaching genius of Meyer, transitions are difficult for all involved.
For Meyer, it's the fourth such move of his career. But at each new job, he's improved the bottom line – wins – dramatically. Leak experienced the growing pains in 2005, Meyer's first year at Florida, but during that 9-3 season, Leak matured and grasped on to the new offense. So much so that he led Florida to the national championship the next year, the exclamation point being 41 points hung on the Buckeyes in the title game.
"This Ohio State team is going through a somewhat similar transition, because you have a beloved coach who recruited you and went through that whole deal with you and is now gone," Leak told Eleven Warriors.
"Now you're going through a transition to a new coach and that always takes time. Within a relationship, it takes time for trust and communication to develop. Urban Meyer's track record at Bowling Green, Utah, Florida and, now, Ohio State, that second season is when all the guys get it. It takes time for that transition period to manifest itself."
Already, though, Miller has taken hold of the new offense as well as he can. His record-setting performance against Miami is proof of that. The strides he's made from a freshman to the spring and now to his play as a sophomore has left Meyer impressed.
"I wasn't here last year, but I can compare him to March when we had him and the January workouts," Meyer said. "He's a much more mature player. His progression has been pretty positive."
The success has been far reaching in Year 2 under Meyer because he is able to find wrinkles in his offense that can exploit defenses' weaknesses. In the Mid-American Conference, he knew a quarterback as athletic as Harris would be hard to contain. At Utah, he utilized an assembly line of talent from quarterback to running back to wide receiver. He won the biggest at Florida, but that was also the hardest place to get to the mountaintop. Among his many decisions to gain the upper hand, Meyer put Percy Harvin in space and let him create mismatches because it was a necessity to winning in the SEC. 
The preparation and adjustments to Miller's skill set are already under way, as is the strategy to find strengths on the Ohio State offense and weaknesses in future opponents.
"When I look at the game, I think Braxton looked very comfortable in the spread offense," Leak said. "There are just some things as a quarterback when you're going through a new offense, in order to make it your own, you have to learn what you do well and don't do well. Those are the growing pains you have to go through early in the season.
"Once they get more and more into the Big Ten schedule they'll start figuring things out that work best for them and work best around Braxton's abilities. One thing Urban Meyer does, his offenses are player-driven. He's going to do the things that his players do best. That's one of the reasons why his players play with so much confidence. They go into games knowing they're going to attack opponents with their strengths and what they do best on the football field."
Interestingly, when asked which former quarterback Miller most closely resembled, Meyer's answer was Leak.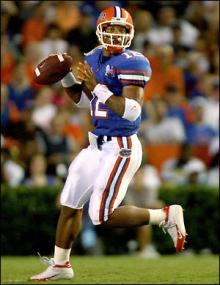 "Very good passer, not a very good leader," Meyer said of the pre-2005 Leak. "Became a good leader, won a national championship."
Buckeye fans are hoping Miller follows in those footsteps.
"(Meyer's) all about the mentality that you bring to the field and that mental toughness that you need to have to be successful in football," Leak said. "It's all about mental toughness. One thing Urban Meyer wants on his team are guys that are tough, love football and accountable for each other."
After practice on Wednesday, Miller said mental toughness and preparation was something he needed to improve on.
Quarterbacks need an arm and legs in Meyer's system. Everyone knew Miller had the legs, though they probably didn't predict he would set a rushing record Saturday. It's his passing, however, that has everyone intrigued. Miller was wildly inconsistent a year ago, and his sophomore season didn't start out much better. A one for seven performance in the first quarter left much to be desired.
"He's definitely going to have to get better with his accuracy throwing the football," Leak said. "Teams are going to start loading up the box against him because he's such a great runner and great athlete. With him having the ability to throw on the run and throw accurately from the pocket, it will do nothing but help him and help the offense stay balanced and keep defenses honest."
Game 2 against Central Florida presents a much stiffer challenge. But they say the biggest improvement of the season comes from the first to second game. If that's the case for Miller, he may be in the Heisman discussion until December.