News of Ohio State's eligibility for the Big Ten Leaders Division championship dominated Wednesday's post-practice interviews. Head coach Urban Meyer and the players weren't even aware of the news until the media alerted them. The consensus was, they'll worry about it when Michigan State week arrives.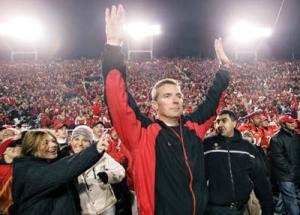 Key notes about the upcoming week: After re-injuring his groin for a second time, Michael Bennett is doubtful. Jordan Hall has continued jogging but won't be available this week. Meyer did say the running back is close to returning, and Nathan Williams is sore. The staff is doing its best not to aggravate any healing in his knee.
Until the Big Ten season starts, Meyer said there will be zero discussion in the locker room about Leaders Division title.
OSU is a not very good, an average 1-0 football team, according to Meyer. He said Central Florida presents a big challenge.
Urban talks to John Cooper, who works as an NFL scout, every week about that week's opponent. Coop said UCF has five or six NFL-caliber players.
Meyer said despite the loss of Latavius Murray, UCF has two other good running backs. He raved about Miami transfer Storm Johnson. Coming out of high school, Johnson was the Atlanta Journal-Constitution player of the year.
On Central Florida, Meyer said the defensive line is the Knights' best unit and could compete in the Big Ten.

 
Meyer said OSU's offensive line and linebackers are the two units that need to improve the most.
The O-Line was below average at times, Meyer said, and the linebackers and D-Line need to do a better job at pressuring the quarterback.
Bloody Tuesday was "hot and awful," in the words of Meyer. He said guys were dehydrated and some lost eight to nine pounds.
Braxton Miller left the game multiple times with leg cramps Saturday. Meyer said that situation has been addressed.
Meyer laughed, though, and said it's good if he's cramping because that means he's running.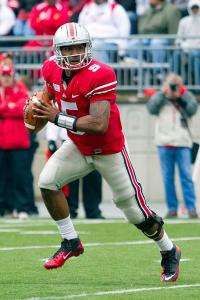 Meyer said it's easy to recruit at Ohio State during the season because of publicity like the ESPN all-access show and games on TV.
Two to three hours per week is dedicated to calling recruits on the phone.
Jamal Marcus, Ricquan Southward and Kevin Niehoff lost their black stripes today.
Braxton Miller said the biggest improvement he needs to make is in mental preparation. He also said he was too anxious with throws.
Miller said he also needs to continue improving on making reads at the line scrimmage and in the passing game.
On Heisman talk, Miller said it's a team sport and he's focused on working hard and winning games.
Despite running the ball 17 times and taking some big hits, Miller said he wasn't sore at all Sunday, but he does realize he needs to run less, both to save his body and help the offense.
On calming Meyer down during the first quarter, Miller said he wanted Urban to be confident in his quarterback and the team.
Miller said the Leaders Division title is not on the team's mind. Instead, they are thinking about UCF. It's one game at a time.
Miller said the UCF defense is full of quality athletes and their cornerbacks are good in coverage.
On the new (and smaller) football implemented, Miller said it is slippery at times, but it's all good.
Evan Spencer said the team has not talked about the Leaders Division, but said the goal was to always go 12-0, so nothing changes.
Spencer said the fact that the team can actually win a trophy now is the cherry on top.
On his acrobatic 44-yard catch before the half, Spencer said it instilled confidence in him.
When the ball was in the air, Spencer said to himself that even though it was a difficult catch, he had to make it.
Travis Howard said Ohio State is expecting a lot of running, short passes and slant and dragging routes.