Earlier this summer we polled the community here at Eleven Warriors on what we were doing well, what we could get better at, and what we absolutely were bombing. We read over all of the notes, made some changes, and felt pretty good about the strides we made in 2011.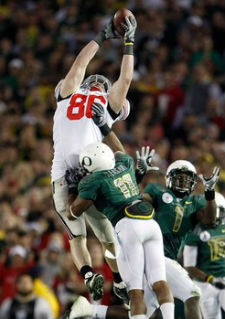 This past July, we once again asked for your feedback and want to thank you for your constructive criticism. The 11W staff got some great insights into how we can continue to bring you the best free site covering the Buckeyes on the interwebs and are working feverishly behind the scenes to make sure some of those things happen.
One of the first of those changes (in addition to our awesome new store) is the start of a new series, titled "Where Are They Now?".
You told us you wanted to hear what former Buckeyes were currently doing now that their careers in Columbus are over. Each week I will try to catch up with an old player and bring you the goods on what he is currently doing with his life so that you can re-connect with some of the stars of the past.
This week, we break you in easy with someone you should all be familiar with, former Buckeye tight end Jake Ballard. Join us after the jump to catch up on Jake's story from Rose Bowl hero to undrafted free agent to NFL surprise to the challenges he now faces ahead.
Proving He Belonged
Coming to Ohio State as a four star prospect, many thought Jake Ballard would flourish as the ideal blocking and receiving threat in the Buckeyes' offense.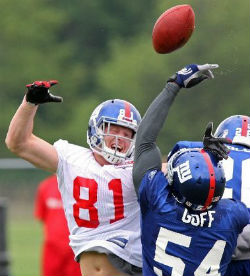 They sure got the blocking part right, as Ballard was ultimately used as a sixth offensive lineman during his time in Columbus, racking up just 34 catches for 377 yards and 3 touchdowns total in his four years donning the scarlet and gray.
Because of the way Jim Tressel and Jim Bollman utilized him in the passing game (other than this ridiculous catch), many teams in the NFL were not able to truly evaluate him in that area of the game. Considering the league is trending to a passing heavy one, and the tight end is such a valuable part of today's pro schemes, all 32 squads passed on Ballard come draft day in 2010 and he was forced to prove his worth as an undrafted free agent.
Tom Coughlin of the New York Giants is a big fan of Ohio State and how they develop their players both on and off the field and decided to give Ballard a shot at making his team. The 6-6/275 tight end worked his tail off that summer and his hard work paid off, as he, along with fellow Buckeye Jim Cordle, made the practice squad following a stellar pre-season.
Ballard continued to work hard throughout the season, prepping the active roster for their upcoming games, and that once again paid off too, as the rookie was activated for a big time November game against the Eagles at the end of the season, and promoted once again later in December.
While no stats were recorded in 2010, Ballard gained momentum by being promoted to the active roster and set up a legitimate run to make an NFL team for the full season in 2011.
the Arrival
The Giants liked what they were seeing out of the former Buckeye and decided to bring Ballard back for 2011 with a two-year deal, even cutting incumbent starter, Kevin Boss.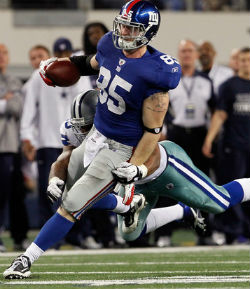 The door was open for Ballard to seize the starting job, and that's just what he did, leaving many other than Tom Coughlin questioning the Giants' latest move.
With Hakeem Nicks and Mario Manningham out wide (and later Victor Cruz), along with Ahmad Bradshaw and Brandon Jacobs in the backfield, many defenses tended to not pay much attention to Ballard in the Giants' offense, figuring he would mostly be a blocking threat.
Little did they know Eli Manning had other plans for the Springboro, Ohio, native and a little used tight end from Ohio State was about to become one of the top trending names in New York City.
Throughout the season, one in which he played 14 games (missing 2 due to injury), Ballard racked up 38 receptions for 604 yards and 4 touchdowns. He had become one of Manning's favorite and most reliable targets, continually getting praise for doing his job each and every play, and even making some big time catches along the way.
The Giants' season didn't go as planned, but the team was 8-7 going into Week 17 against their rivals, the Dallas Cowboys, with the winner of the game taking the division crown and going to the playoffs. The G-Men of course won the game and made an improbable march through the playoffs to create a Super Bowl rematch from a few years back against the New England Patriots.
Ballard had already burned the Pats once in the regular season so they were sure to make him a priority to stop for their defense. They did a pretty good job in the first half, holding him to 2 catches for 10 yards, but Ballard was shut down in the second half for reasons other than the New England defenders.
During game play, the big tight end suffered a knee injury he was hoping was just a bad sprain, but as the contest progressed, Ballard knew something wasn't right. After trying to run it out on the sidelines, Ballard's knee gave out and he collapsed as the entire nation was watching. The diagnosis was a torn ACL in his left knee, meaning not only would his game be over (the Giants won), but his 2012-2013 season, which looked to yield a big pay day before the injury, may be over as well.
The Challenge Ahead
After suffering the injury in the Super Bowl, Ballard spent much of his time this past off-season rehabbing back in Ohio, as well as at the Giants' medical facilities. As each day passed, it became more apparent that he would not be playing much, if any, of the upcoming season, but the team remained committed to helping him with the rehab process and sticking with him for his return in the 2013 season. That is, until they made a big mistake.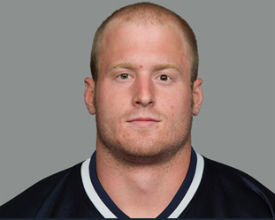 In situations like Ballard's, it is not uncommon for teams in the NFL to waive players expected to be injured for the entire season in order to create roster space before training camp, only to have said player clear waivers and be re-signed to the team and designated to the PUP (Physically Unable to Perform) List or IR (Injured Reserve). The Giants thought that was the plan with Ballard, who was ready to sign a lease on a new place in the New York area, and when the team waived him they fully expected to sign him once he cleared.
Thirty teams took a pass on the Giants' starting tight end from the previous season, but when the final team had the chance to claim Ballard, Bill Belichick and the Patriots didn't let the opportunity to snatch up a quality player go by. New England claimed Ballard in a move that many pegged as payback for New York's Super Bowl victory, but nonetheless Jake was on his way to Massachusetts, as he had no choice in joining his new team.
Not only is Ballard on the New England squad for the remaining year of his contract, but the Pats also have exclusive rights to him on a one-year deal at the veteran's minimum for next season, due to him becoming an exclusive rights free agent because the team is paying him throughout this whole year despite his injury. If Belichick wants to sign Ballard following this season, he once again has no choice in the matter and would face a decision of either signing with the team for the veteran's minimum (or more if offered) or sitting out the entire '13-'14 campaign, meaning he potentially could not be an unrestricted free agent until the '14-'15 season. 
Ballard has taken the situation well and while he wanted to be in New York and loves his teammates there, he continues to make the most of his opportunity. He is still rehabbing with the Patriots' training staff and is working hard to try to make a comeback this season. He will start the year on the PUP list, meaning he is definitely out for the first six games, but the team will monitor his health following that point and determine whether to put him on IR, meaning he'd be out the whole year, or activate him and play him alongside Rob Gronkowski and Aaron Hernandez, if his health calls for it, in what would be the deepest and most talented tight end unit in the league.
Ballard certainly has an uphill battle ahead of him when it comes to his future NFL career, but like in Columbus and in New York, he's up for any challenge that comes his way.