For nine months, excitement centered on the Ohio State offense, most especially in regards to dual-threat quarterback Braxton Miller. The potential in an Urban Meyer-coached offense was enough to make fans foam at the mouth.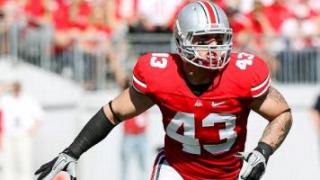 A recruiting coup by Meyer, who not only saved the Buckeyes' Class of 2012 but made it a consensus top-five group, amped up the fan base, as well. Defensive linemen Noah Spence, Adolphus Washington and Tommy Schutt each made the final two-deep after fall camps that earned superlatives from Meyer and co-defensive coordinators Luke Fickell and Everett Withers. The trio was also part of an exclusive group of freshmen to shed their black helmet stripes.
But when the Ohio State defense was on the field Saturday, all eyes were on a senior named Nathan Williams. A year after last seeing game action, Williams not only returned to the field, he stayed for an extended period.
In late-July and mid-August, Meyer said Williams was ahead of schedule in his rehabilitation from microfracture surgery. At the same time, though, Meyer said it was important not to rush him along and carelessly force another injury. So it came as a surprise to many when Meyer said last Monday that the goal was to get Williams into the Miami game.
He was cleared to play that same Monday after passing several tests from the medical staff and coaches.
Twenty plays later, Williams was reintroduced to college football.
"It's like a dream come true all over again for me, getting another chance to be in this stadium and play," Williams said. "I wake up every morning looking forward to going to work. I'm not going to take it for granted.
"It's an unparalleled feeling that I'm feeling right now. It was a tremendous feeling to have, and hopefully, I can enjoy it 11 more times this year."
Shifting from defensive end to linebacker, Williams finished with two tackles and a near sack of Miami quarterback Zac Dysert, who somehow broke free from his grip, in the Buckeyes' 56-10 victory.
"I expected to get that sack," Williams said. "I'm happy, and it's a crazy, emotional feeling I have right now, but at the same time, I have a responsibility like everyone else and my responsibility was to take him down, and I didn't."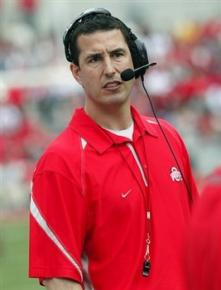 Williams admitted to thinking about his knee while he was playing, which is to be expected. Still not 100 percent, he didn't have his 2010 burst of speed. There was the missed sack opportunity on Dysert and a few plays where Williams was uncharacteristic in that the opposition held him at bay with ease.
Expectations should be tempered. Reverting to his old form is probable, but for Williams, who expected to be sore, patience is of the essence.
"I felt like I played 50 (plays)," he said. "I just want to feel like normal again. I've still got a couple steps to gain, but overall, I'm pretty happy with the way I played."
Normal for Williams is 46 tackles, 12 for loss, and five sacks. That's what he mustered during an impressive 2010 campaign. Without him last season, the Ohio State defense limped along for an entire season, exposed at linebacker and the Leo position.
With suspect linebacker play and no adequate replacement for Williams's skills at dropping back into coverage, the Buckeyes lost seven games, tied for the most in school history, and tallied a losing record in the Big Ten and overall.
Now John Simon, who occupied the Leo spot last season, can play exclusively as a defensive end, a position where he is among the nation's best. Williams, meanwhile, can tutor freshman Noah Spence, who is bound to have growing pains despite his vast potential.
"I know the defense like the back of my hand," Williams said. "So I'm able to do certain things and disguise certain blitzes to free up other guys."
Said Fickell: "There are some young guys who don't really know who he is, and all of a sudden, they see his passion for the game of football on a Saturday afternoon."
That Williams played delivered little shock value after Meyer delivered the positive prognosis earlier in the week, though cornerback Bradley Roby said he was surprised and "happy." But the amount of playing time was not expected. Even Meyer was alarmed.
"He played more snaps than I thought he would," Meyer said. "It must have made him feel good. He had a big smile on his face. It knocked the rust off of him. He hasn't practiced a whole lot."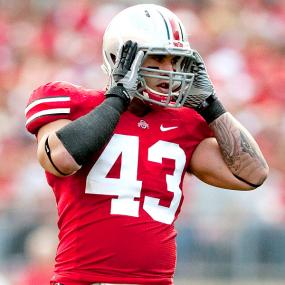 Fickell and defensive line coach Mike Vrabel evaluated Williams throughout the week and again during warmups. Eight to 10 plays were the target, but Williams' activity and high motor once he entered the game changed the plan, as did Michael Bennett's injured groin.
"We knew he was going to go," Fickell said of Williams. "You see what kind of competitor he is. From what I saw, he looked pretty good."
Meyer, however, tempered the accolades, saying, "I'll let you know how he played at next week's press conference," with a laugh.
All jokes aside, Meyer has developed a sense of admiration for Williams because of his work ethic during an extensive rehab process and the positive impact he brings to the field and the locker room.
After running on to the Ohio Stadium turf and making their way to the west sideline, Meyer and Williams shared an embrace before kickoff. Two born and bred Buckeyes who didn't know if they'd ever be a part of another game in the Horseshoe were about to begin their next journey together.
"I love Nate," Meyer said. "I love the fact that he is a warrior, that he loves Ohio State and that he's doing the best he can. I like the fact that Coach Fickell and Coach Vrabel had enough confidence to get him in the game."
The team has also shown its appreciation for Williams. In fall camp when he took part in his first drill, the defense paused to give him a standing ovation. Throughout the past year, teammates have been at his side often, offering encouragement.
Coaches and players alike made it no secret how valuable Williams is, saying his absence a season ago greatly hampered the defense, a unit Meyer referred to as "not an Ohio State defense."
"I'm happy the coaches believe in me," Williams said. "These players have stuck by my side, and Buckeye Nation has stuck by my side. I appreciate everyone for that.
"My heart's beating (fast) right now. It hasn't stopped since I started today. It's great to get something (back) that's been taken away from you. The countless hours of rehabbing and trying to get back with these guys, it means a lot." 
After one game, the Buckeyes have the No. 42 defense in the country. It's a number that has to improve if Ohio State has visions of a 12-0 season.
With Williams in the fold, there won't be a shortage for a desire to improve and display a perfect product for the final 11 Saturdays.