Tomorrow, tomorrow, I love you tomorrow. It's only a day away. No really, we're less than 26 hours away.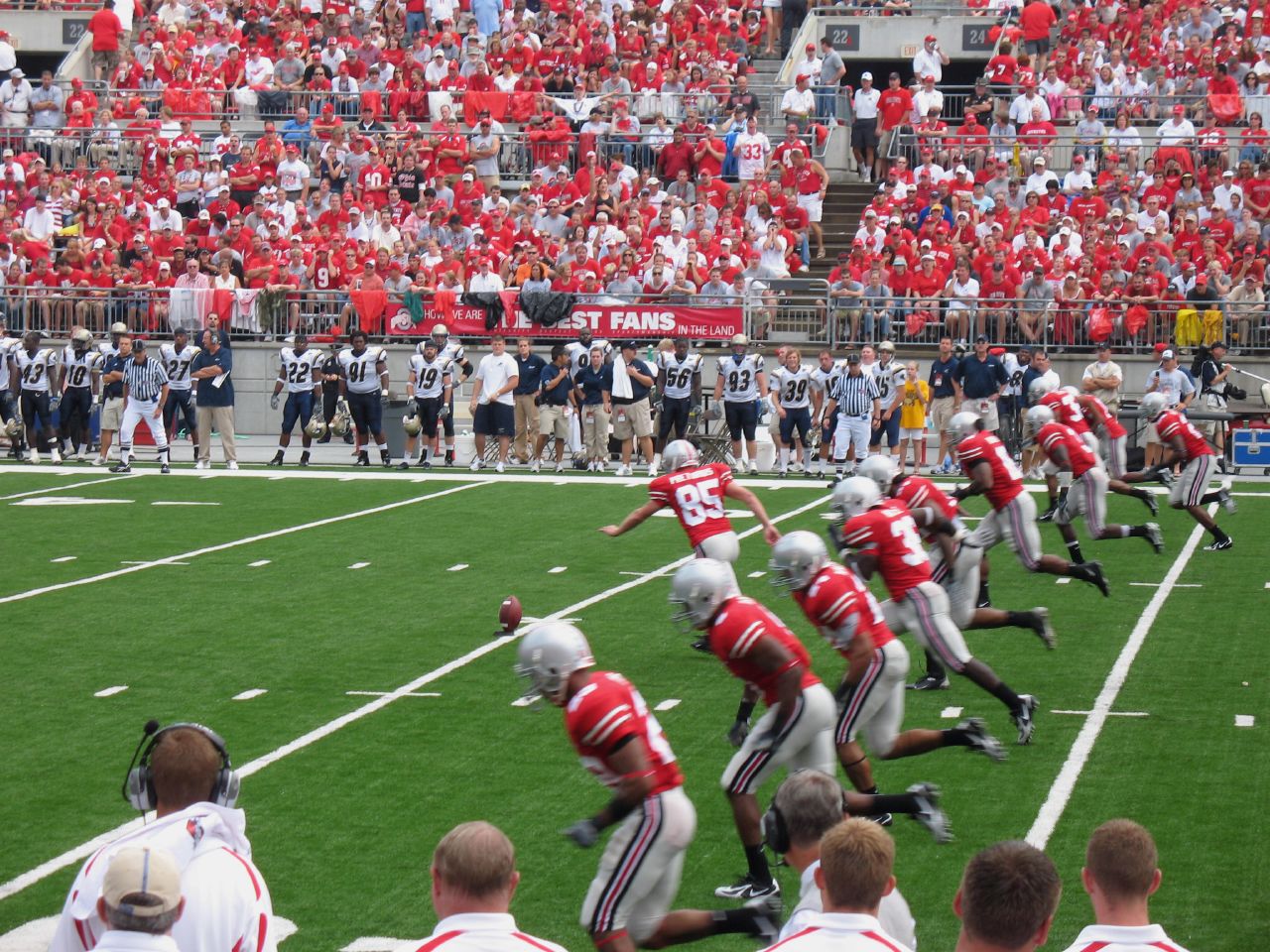 Tomorrow we embark on yet another glorious journey that is the Ohio State football season and it all starts with the Miami (OH) RedHawks. We all know a little post-hurricane rain won't stop Buckeye fans from going 105,000 strong.
With gameday upon us in just a few hours from now (or hours ago for those hardcore tailgaters), it's time to bring back the 11W Friday Round Table and it's an honor to play host (or honour as they say in Michigan and Canada). 
I pulled together a few of our staffers for this week's RedHawk edition and would like to thank Ramzy, Elika, Chris, and Jeff for their participation.
Ohio State football is finally back at the 'Shoe tomorrow at noon vs. Miami-OH. It's a new era and a new season. What are your expectations for the Buckeyes in their first game under Urban Meyer and staff?
Ramzy: I expect to watch Ohio State run an offense that is as enjoyable and entertaining to watch as it is for players to operate. I expect a defense that is on par with the best-in-class units we've enjoyed for most of the past decade. I expect Ohio State to gain a lead but not pack it in with a whole half left to play. I have prom night expectations and am not expecting prom night disappointment.
Jeff: I expect Urban and company to come out swinging on both sides of the ball early and often. I genuinely believe Meyer has a deep respect for the things Jim Tressel was able to accomplish at OSU, but I also believe he wants to do everything in his power to show this is indeed a new era. I think you're already starting to hear some of that differentiation in press conferences (i.e., Coach Warinner stating in the Monday presser that the Buckeyes are going to try to take the game to people and be the aggressor on offense) and I don't think it's just coach speak. This offense (and defense) are going to be a lot more aggressive than any we've seen in the past decade.
Chris: Like everyone else, I expect Ohio State to line up and run a big boy offense where they actually attempt to put the defense on its heels. I expect the tempo of the offense, despite what fans have already read, to still blow everyone away.  Defensively, I expect a huge uptick in intensity but with the same game plan we've seen work successfully for years. Overall, I expect Ohio State to try and dominate its opponent for four quarters. Damn, that was fun to type and actually mean it.
It's the first play from scrimmage for the Buckeyes: what play (or play type) do they run and for how many yards (i.e. Braxton Miller option pass to Michael Thomas for 15 yards, etc.)?
Elika: DAVE! (I kid, I kid!)
Chris: I'm thinking maybe a triple option reverse that finally settles into the statue of liberty…or else Dave. Seriously, who knows. If I have to guess, I'll say it'll be a throw out of the shotgun to either a (gasp) tight end or (double gasp) Devin Smith on a slant for a 1st down.
Jeff: I'm really tempted to say they'll take a shot deep down field on the first play, but I'm going to rein myself in a bit. I believe the staff will want to give Braxton a little confidence on the initial snap, so who better to go to than your sure-handed veteran flex WR/TE Jake Stoneburner? The first play will be a quick slant across the middle to Stoneburner for a 12-yard gain. BONUS ANSWER!!! The next play will be a shot down field!
Ramzy: Braxton Miller to a wide-open TE (probably Heuerman) in the flat, just so 105,000 people can all scream "he's been open for 12 years!"
Miami Senior QB Zac Dysert is actually one of the top QBs in the nation, ranking 14th in passing yards last season throwing for 3,513 yards and 23 TD. He is even considered to be one of the better QBs going into the 2013 NFL Draft. What must the Buckeye defense do in order to keep him quiet? Which Buckeye defensive back will the RedHawks try to pick on throughout the day?
Ramzy: PARTIALLY TRICK QUESTION: Miami had the worst rushing game in the country last year, so of course Dysert threw for a ton. With any pocket passer the trick is to insert fear into his pocket game. Hit him hard and see how he armpunts. He won't be playing pitch and catch in Yager Stadium.
Elika: If they've watched any film from 2011, I'm sure they're looking forward to their trip to Howard Island. (But hopefully the improvements he's made in the off-season don't suddenly disappear on Saturday.)
Chris: I can't say I'm worried about Dysert. He's a talent, to be sure, but with that rushing attack, I'm almost surprised he didn't throw for more yards last year. Considering their lack of balance, "keeping him quiet" will be difficult but I obviously expect the Buckeye defensive line will be most responsible for limiting his effectiveness. When they aren't getting hurries/sacks, they'll still have forced the RedHawk OC to dial up nothing but short passes in front of a back seven sitting on the short stuff. I'm not sure who they'll "pick on" but if it was me, I'd try to exploit any matchup with Sabino or Bryant in coverage.
Jeff: The Buckeyes have got to bring pressure all day long. If reports coming out of camp are true, the D-line is the deepest and most conditioned it has been in years. They simply can't give Dysert enough time to throw. Unfortunately, I'm still not sold on the ability of Buckeye defensive backs to shut down receivers and Miami has got a good one in Nick Harwell, who racked up over 1,400 receiving yards last season. Pressure Dysert all day. If he's running for his life he'll never see Harwell.
Miami may have a good passing game, but they had one of the worst running games rated 120th overall in rushing yards last season. Whose name do you envision OSU PA announcer Bob Kennedy calling the most throughout the game: "(Name) on the tackle for a loss of 4 yards.".
Ramzy: Ryan Shazier, or as Paul Keels will probably call him, "a Buckeye" or "number ten Corey Brown...check that, Ryan Shazier, the sophomore from [reads the rest of his media guide entry]."
Jeff: I hope it's Johnny Simon. With the offseason accolades he's been racking up, it would be great to see him get off to an amazing start.
Chris: I'll take either Shazier or Barnett to lead the team in tackles for game one.
There were many rumors preseason that Urban Meyer asked to add a third digit to the scoreboard. While scoring 100 points in a football game is an extremely unlikely feat, how many points do you think the Buckeyes could legitimately score against this Miami defense that won only four games last season? How many points would meet your expectations?
Jeff: I think the Bucks could drop a cool 50+ on the Redhawks. If all goes as planned, the second-team offense will be in as early as the third quarter. While I'd love to see 50, I think anything in the 30s would meet my expectations. Just let it be anything other than a replay of the Navy opener from a few years back, amirite?
Chris: If Braxton played the whole game, close to 60 might be realistic but I think it's more likely this team scores between 38-45. While I look forward to breaking the spirit of opponents when the situation allows, for game one, I'm more concerned about Urban playing as many kids as possible to give guys experience and see which guys might be better in games than practice.
Ramzy: I see them hitting the forties. He's a great coach, but it's going to take a couple of games for this offense to stretch its legs. Fewer than 40 points against Miami would be frustrating.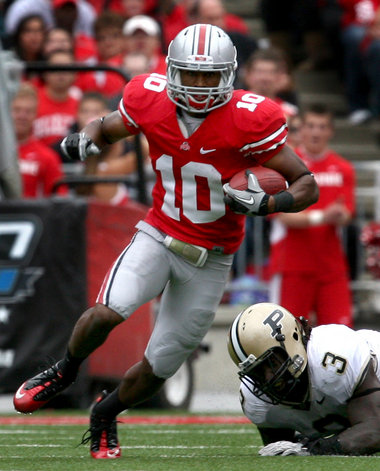 Week one is usually a great indicator of what's to come. Which wide receiver do you expect to break out and be that true number-one/go-to guy like the Buckeyes have had in the past (e.g., Teddy Ginn, Brian Robiskie and Devier Posey)? If there isn't one, what duo do you see emerging as Braxton's go-to targets?
Ramzy: I hope Devin Smith can be as much of a ball hog on Saturday as he was a camera whore during the ESPN All Access series.
Jeff: The coaches have already called Philly Brown the No. 1 coming out of camp, but I hope the coaching staff gives Mike Thomas ample opportunity to shine on Saturday. How exciting would it be to have a true freshman assert himself as a go-to on a unit that is still trying to find its way? Lead 'em, young pup.
Chris: I don't think this team will have a #1 target that separates himself in yards this year. I think Urban/Braxton will really spread it around especially in the non-conference to try and understand who actually made a jump from last year. As true wide receivers, I think Smith and Stoney will be the guys to lead in average yards per catch but I think both Hall and Philly will end up with more catches than both of those guys.
If things work out the way they should and Ohio State has a big first half lead, what is your perfect Braxton Miller first half stat-line?
Ramzy: 15-15 for 200 & 3 TDs. Incompletions aren't allowed.
Chris: I'd like to see him throw it about 15 times, complete at least 70% and rack up a couple TD tosses with zero interceptions or sacks.
Jeff: As long as they're up, my perfect Miller first half stat line would look a lot like this: 0 injuries.
Elika: What Ramzy said. But if I'm not REALLY answering for full-blown perfection here... 14-17, 125 passing yards, 2 TDs and 50 rushing yards.
Urban Meyer has hinted that both Braxton Miller and Kenny Guiton could see the field at the same time. What can you imagine the Buckeyes running with both quarterbacks on the field? Would it make you nervous to see Miller taking hand-offs?
Elika: I wouldn't bet money on seeing Meyer taking any risks with Braxton Miller this week. (But, then again, I didn't expect to see Braxton in the circle drill in the spring.)
Ramzy: All I can think is that Miller would be a decoy and Kenny G would stare down the giant hole that should be in Miami's defense all afternoon. Hard to imagine Ohio State dangling Miller out there to take unnecessary hits.
Chris: I can't figure out if I actually believe Urban will do this or not. If it were to happen, I think it makes most sense for Guiton to be the QB with Meyer trying to get Miller the ball in space off a throw versus a handoff. At the same time, this could all be blather and/or Meyer using the formation as nothing more than a decoy to exploit the opposite side of the field.
Jeff: While this is an exciting prospect to float to reporters in the offseason, I ultimately don't think Meyer will actually go through with it. If he did, I think it would be Guiton, not Miller, taking the hand-off.
Ohio State usually allots around 5,000 tickets to away fans (depending on the game). Of the 5,000 Miami-OH fans who purchased tickets, how many will be decked out in Ohio State gear at the game?
Chris: It'll be hard to tell since most of them will probably still have a Polo sweater loosely tied around their neck as if they're about to board the yacht – blocking any visibility to non-horse logos.
Jeff: I think approximately half will be clad in the good guys' colors. Luckily it all looks scarlet to the players on the field. Don't Miami fans only wear North Faces anyway?
Elika: Miami-OH has fans?
Ramzy: None. There's no danger to wearing Miami gear in Columbus. It might get you a beer.
In all likelihood, many true freshmen will get to see the field vs. Miami-OH. Which freshman will have the most outstanding performance?
Ramzy: Ten. Looking for Adolphus Washington and Noah Spence to each familiarize Zac Dysert with those little rubber pellets in the Ohio Stadium turf. Miami will be throwing the entire second half and the fourth quarter will be ripe with sack opportunities.
Chris: Counting special teams, I'm sure a ton of true freshmen will get a chance to play, especially once OSU takes a big lead. I'm more excited to see exactly who stands out. Like many, I expect to see Noah Spence explode onto the scene as the team's top freshman. It also wouldn't surprise me to see Michael Thomas reel in a TD toss. Besides those two, I really want to see Taylor Decker perform as I think he absolutely has to step up for this team down the road.
Elika: All I'm saying is... if Noah Spence snaps Zac Dysert in half, I'm gonna jump out of my seat and yell "URBAN MEYER WARNED YOU, SON!" Then I'll probably do a little crotch-chop, and a little dance. Yes, it'll be that un-ladylike and obnoxious. I'm also really hoping to see Bri'onte Dunn on the field a decent amount, and I'm expecting good things from him if we do.
Jeff: Adolphus Washington sounds like a kid ready to make himself a household name. Meyer wants to keep his defensive line fresh, so I think we'll see a lot of the blue-chippers on Saturday. His name has come up again and again as a player who has impressed in camp, so I can't wait to see how he handles his first game in Columbus.
Bonus: If you're on campus for the game, where will you be to watch the Michigan vs. Alabama game at 8pm?
Ramzy: The Out-R-Inn back bar, because old gameday-after-dark habits are hard to break.
Elika: If I WAS on campus... I'd likely be at Little Bar, in a Buckeye football and beer induced state of tipsiness. Instead I'll probably be at Lagasse's in Vegas, in a Buckeye football and beer induced state of tipsiness.
Jeff: Unfortunately I won't be there, only in spirit. But, the night game seems like the perfect opportunity for OSU to keep the party going in the Shoe while also showing off that fancy new screen and sound system. Why not have Ohio's biggest watch party, OSU? Why not?
And the answer of the day:
Chris: Screw 'em both. Part of me wishes the game was blacked out.