Urban Meyer has used the term "caged tiger" repeatedly when describing how his starting quarterback, Braxton Miller, feels in fall practice with a black jersey on.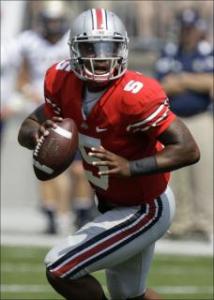 It is also an apt description for Miller's entire freshman season. He led the team in rushing with 715 yards, but even then his full complement of skills weren't showcased in the Buckeyes' antiquated offense.
Not until late in the season did Miller finally become comfortable. By then it was too late for Ohio State to salvage a season that began spinning out of control before Miller even arrived in Columbus as a ballyhooed freshman, the nation's top dual-threat quarterback recruit.
A year later, now running a system similar to the one that made him an Ohio high school legend, Miller finally feels at home.
"I just feel like myself," he said.
"I'm just a little bit older, more mature and more of a leader. It's a different type of offense, so it's going to be a whole lot of different things happening."
Since Miller committed to Ohio State, the only school he realistically considered, fans have clamored for the dynamic passer and runner that led Huber Heights Wayne to the brink of a state championship.
The plan all along was for Miller to ascend to the starting job this season, in 2012. There was a slight detour, however, and he was thrown into a three-ring circus once career backup Joe Bauserman's play diminished after starting the season's first three games.
Meyer has been familiar with Miller since his high school days and was in Ohio Stadium for Miller's debut in last season's opener versus Akron while working for ESPN. And the then-broadcaster didn't hide his feelings, saying Miller would have been starting on his team. But he also issued stern words for the then-true freshman about his body language and actions on the sideline, which included being headset-less.
A completion percentage of 54.1 percent and 1,159 passing yards – the 115th-ranked passing unit in the country – left plenty of room for improvement, that of a 30,000 square-foot empty house. The potential was still evident, and Meyer didn't temper his excitement when he first spoke of Miller at his introductory press conference.
"I just met Braxton, and I wanted to meet Braxton," Meyer said. "That was very important. All due respect to everybody in this room, but that was the highlight of my day. Sitting there shaking hands with that good-looking quarterback with a nice smile and a very humble player. I watched him play throughout the year. I've watched him compete in the big game. And to tell you I'm excited to coach him, I'm not using the correct adjectives. Because there's mixed company around, I'm not going to use the correct adjectives with how excited I am.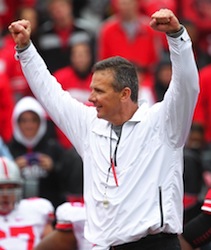 "I think Braxton Miller is a difference maker at quarterback. You can build a team around what I saw."
Immediately, Miller's evolution became Meyer's No. 1 project.
A little more than nine months after those statements, Meyer will hand the keys to his Corvette – the Ohio State offense – to Miller, who is no-longer a 16-year-old that just passed his driver's test. The head coach is trusting his driver to avoid speed bumps and potholes along a 12-game – or mile – stretch that includes many possible pitfalls.
Miller has felt bottled up in August practices, but he also said the limitations put on his scrambling have made him a better quarterback, both throwing the ball and making reads.
Footwork also was an area that brought along bad habits for Miller. Offensive coordinator/quarterbacks coach Tom Herman helped iron some of those kinks out, though they still creep in every now and again. Compared to last season, though, the coaching staff is pleased with Miller's progression.
"He's a lot more confident," Herman said. "You can see a little bounce in his step. He certainly still has a long way to go, but you can tell he's studied in the offseason and worked with his wideouts, and that's paid dividends."
Eighteen to 20 passes is the ideal number of attempts per game, according to Miller, and it matches up with the numbers Tim Tebow put up during Florida's national championship season of 2008. Tebow attempted 21.2 passes per game, but instead of a traditional runner like the Buckeyes have with Carlos Hyde, the Gators relied heavily on Tebow and wide receiver Percy Harvin for rushing yards.
Five to 10 passing plays per game will turn into runs and there will also be designed quarterback runs sprinkled into the offense. Meyer says the Buckeyes power-spread will be balanced, with the running plays possibly having a 60/40 advantage.
The gameplan will likely fluctuate based on the opponent and the defensive sets Ohio State faces. But it is clear Meyer believes Miller will handle the myriad challenges that await him with poise.
"Braxton has come a million miles," Meyer said. "I think he's fairly comfortable. Our goal is to make him not an athlete playing quarterback but a quarterback that's very athletic."
A trait that makes Miller all the more valuable is his leadership, something he struggled with last season. When he enrolled at Ohio State, starting as a true freshman was near zero percent while redshirting seemed likely. Leading an offense full of veterans, many of which were seniors, was a hard task.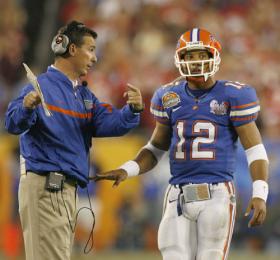 "I was just coming in as a freshman, and it's kind of hard to get the upperclassmen to understand where you're coming from," Miller said.
Said Meyer: "That's not an excuse. It's real. You look at the evolution of Braxton Miller, he came in spring practice to be behind Terrelle Pryor, and all of a sudden, bang, that's gone. So I wouldn't say that's an excuse. That's absolutely real. True freshmen are hard to lead. I've never had a true freshman come in and lead a team. It's really hard to do."
Soft-spoken and barely audible during interviews, Miller has embraced his role as the offensive field general. He's more comfortable in his surroundings on and off the field and has left his growing pains behind. In the huddle, Miller is now more likely to point something out to a receiver or ask a lineman why a defensive end was barreling down on him. 
"Braxton's getting more vocal," wide receiver Philly Brown said. "That was basically his main thing last year. He's a quiet person in general, but on the field this year he's more vocal. He's turning into a leader right in front of everybody's eyes."
The process has been similar to the one Meyer viewed when he took over the Florida program in 2005. Quarterback Chris Leak was the most prolific quarterback in high school history but was coming off two so-so seasons as the Gators' starter.
Under Meyer, Leak developed into a two-time captain and national champion-winning quarterback.
"Chris Leak was a guy that didn't lead very much," Meyer said. "When we got down there, he just finished his sophomore year. He was a very good passer, but not a very good leader. Chris will tell you that. 
"But he became a good leader and won a national championship. So I would say Braxton Miller, this is not throwing Braxton underneath the bus, it's just what I saw.
"There wasn't a whole lot of leadership between him and the receivers. Not a whole lot of relationship there and now it's a much different animal."
Asked how often he and Meyer discuss leadership, Miller said "every day" without hesitation.
On Saturday, Miller will give his new head coach and harshest critic the first glimpse into whether he has what it takes to lead the Buckeyes to greatness.