He's won multiple national championships, led a team to an undefeated season and coached a Heisman Trophy winner. Considered one of best coaches in the country, Urban Meyer has never coached his boyhood rooting interest, however. At high noon on Saturday, that will all change.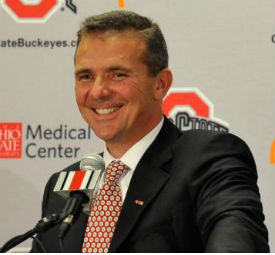 Urban Frank Meyer III will run out of the tunnel in the Southeast corner of Ohio Stadium and finally have the job he's always coveted.
"Obviously to say I'm excited about Saturday, it would be a very shallow statement," Meyer said Monday at his weekly press luncheon. "I think everybody knows that. But I'm honored to be here, honored to be the coach of the Ohio State University football team and to come back home and coach in the great state of Ohio."
Once the whistle blows, coaches get into the zone. Their focus is singular: the action on the field. But for one day Meyer said he could become a bit distracted.
While working for ESPN last season, Meyer worked in the broadcast booth during the Buckeyes' opener versus Akron. It was the first time he had stepped foot in the stadium since he was a graduate assistant at Ohio State in the late-1980s. When the band made its way down the ramp, tears flowed down Meyer's cheeks.
"I'll have a few notes," he said about Saturday. "I carry a little folder with me that I keep my face in the game and not worrying about "Hang On Sloopy." But it's real. I have to do that because I'll be coming out of my shoes a little bit.
"I was four years old or maybe three and a half the first time I saw the Scarlet and Gray play. It's going to be an emotional time. Very much so."
Aside from Meyer's first game as OSU head coach, the main topics of today centered on the depth chart. Winning the battle at right tackle was senior Reid Fragel. And that experience contributed greatly to the converted tight end earning the nod over true freshman Taylor Decker.
"We've had a great battle at the right tackle position all during training camp," offensive line coach Ed Warinner said. "Reid Fragel and Taylor Decker both can be good players for us. Reid is just a little bit ahead. We anticipate Taylor being in the game, contributing and he would be the first guy in the game at right tackle or left tackle. So he's kind of our swing guy.
"But it was a very close race there in terms of there isn't a lot of separation. Reid's a little older and more veteran and a little more ready to go."
Fragel wasn't the only senior to enter game week as a victor in a position battle. Cornerback Travis Howard beat out rising sophomore Doran Grant. A season ago, much was expected from Howard. There were even murmurs of him being the next great corner in a long line of success at Ohio State.
Instead, he produced underwhelming numbers and was seen chasing defenders far too often A new regime meant a new attitude and resolve for Howard. He arrived at fall camp with an intense work ethic and desire to learn under cornerbacks coach Kerry Coombs.
"Travis Howard is a much better player than he was," Meyer said. "(He) really stands out to me as having made monumental (improvements) from my impressions.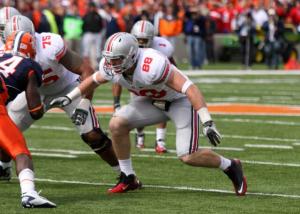 "Travis has really done a nice job. (Coombs and Howard) have a great relationship. Work ethic, work habits and footwork – I see him much improved. I really like coaching him right now. He's a lot of fun to be around."
Seniors dot the Ohio State two-deep; there are eight in all. But it doesn't compare to the full-scale littering of freshmen. The youth movement talked about this fall was not an exaggeration.
Fourteen, yes 14, freshmen are listed among the first- and second-team offense and defense. That doesn't include the three true freshmen that will be a part of the kick coverage unit.
The defensive line has three freshmen backups – Noah Spence, Adolphus Washington and Tommy Schutt – while every linebacker reserve is a freshman – Connor Crowell, David Perkins, Camren Williams and Josh Perry.
Meyer, however, didn't seem too surprised when asked about the infusion of youth. Present-day college football demands immediate return on coaches and players alike.
"I haven't done a study, but that's probably a pretty normal place now," Meyer said about the high volume of freshmen two-deepers. "I kind of think certainly the last six years a place like Ohio State and Florida, you go out and recruit guys that go play. You're not recruiting them to redshirt. Nothing's caught me off guard as far as how many freshmen are involved.
"I know I'll start three on kickoff. Three true freshmen starting on kickoff. But we've done that before. But the good thing is the three are really good players."
Someone not listed on the depth chart was senior defender Nathan Williams. But fear not, Buckeye Nation: Meyer said he should be available Saturday.
It was a year ago that Williams was experiencing a nagging pain in his knee. Not one to give into an annoying ache, Williams strapped up and played against Akron – for a half. The pain became too much to bear and he smartly removed himself.
One year, one microfracture surgery and one medical redshirt later, Williams rises again. Rumblings have indicated he was ahead of schedule, but even to this extent has raised some eyebrows.
 
"Today's a big day for Nate," Meyer said. "He's been up and down, trying his heart out. Tough injury. I would hope to have him for a limited basis in the first game.  But today's a big day for him. We work, rest, work, rest, work, rest. Now we're in a game week and we have to find out what we can do.
"I'm hoping."