It all starts up front. Ever since Rutgers and Princeton played the first college football game in Nov. 1869, that chorus has been recited countless times. College football's front lines continue to be the battle between the offensive and defensive lines. 
Ohio State figures to produce a solid unit on both sides of the ball in 2012. In particular, on offense, every position has been decided, save for right tackle where converted tight end Reid Fragel and true freshman Taylor Decker continue to clash on the practice field.
Despite allowing 54 sacks one season ago, the offensive line has been viewed favorably heading into the regular season. The case can be made for addition by subtraction, considering the Buckeyes have a new offensive line coach and return two starters while only one is playing the same position. But that's a murky conclusion.
A definitive answer may not be readily available, but the storyline for one Buckeye brute centers on redemption. Marcus Hall came to Ohio State in 2009 as a ballyhooed recruit out of OSU-pipeline Cleveland Glenville. He played in several national high school all-star games and proved his worth by starting in the biggest game of the season against Iowa during his freshman season.
After the season, though, everything came to a screeching halt. Instead of taking the natural progression and building off of a strong first year, Hall not only regressed but he took a redshirt season to get his schooling in order.  A series of poor quarters put Hall's eligibility into question and his future with the Ohio State football team on hold.
The one-season sabbatical, a decision Hall and Jim Tressel made together, proved to be the right decision. Hall's priorities have been put in order, with school topping the list.
"That year really straightened me out," Hall said. "I learned to take school serious and how important it was."
When Mike Adams was suspended for the first five games of the 2011 season, Hall stepped in to accommodate his absence. Hall played at right guard, Andrew Norwell occupied the left tackle spot and Jack Mewhort filled in at left guard.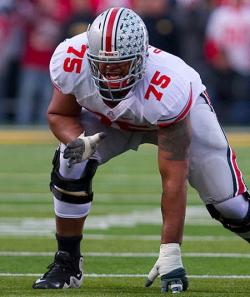 Hall's play may not have been sterling, but it was adequate. Still, it did not earn him a full-time promotion. Adams' return prompted a reshuffling with Norwell moving to left guard, Mewhort to right guard and Adams recouping his position at left tackle.
A demotion did not deter Hall, though. He entered the spring determined to win a starting job, and that's exactly what he did. Having shifted up and down the line throughout his career, offensive line coach Ed Warinner settled on right guard being Hall's position.
"I'm very comfortable (at right guard)," Hall said. "I might even be more comfortable than when I was at tackle. I think I should have been here in the first place."
Re-energized by a new beginning, Hall took the spring by storm, immediately drawing praise from Warinner and separating himself from Antonio Underwood, his main competition.
"The guy who is…a little bit of a pleasant surprise right now is Marcus," Warinner said. "Marcus has always had some abilities. He had some setbacks here in the past, but now he's got a clean slate."
The accolades from coaches continued into the fall, including head coach Urban Meyer referring to the 6-foot-5 Hall as one of the team's most improved players. Compliments from Meyer are held in high regard because you don't know when the next flattering remark will come.
"Oh yeah, that's big," said Hall, about Meyer's kind words. "That is huge. I've been trying impress the coaches and do everything I can to help the team. I worked hard over the summer on my ball skills. Everything with football, I feel like I got way better this year."
The mutual respect between player and coach is evident, but one must earn that level of respect from the head coach. That's what makes the process so rewarding.
"Every coach has a different coaching style," Hall said. "(Coach Meyer) has been more disciplined, but it's all in the system. It's an infallible plain. It won't fail, so you can't go wrong."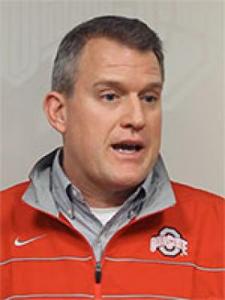 "The Plan to Win," as Meyer refers to it, has gone over well in the locker room. The buy-in rate is nearing stratospheric levels, and Hall's remarks reflect the growing popularity of the Ohio State head coach.
But Warinner has drawn similar admiration from his offensive linemen. The former Kansas offensive coordinator, who led the Jayhawks to an historic 12-1 season and Orange Bowl victory in 2007, has shared a wealth of information with his blockers.
"Coach Warinner is a very knowledgeable football coach," Hall said. "Most coaches I've been around, it takes them time to get back in the film room and watch what we did to tell you what you did wrong. But he is able to tell us right on the field after the play. It's been good being coached by him."
The in-your-face style Warinner exhibits has been ingrained into the players as well. There's been no retreating, only embracing.
"That's definitely a change," Hall said of the yelling. "I know you know Coach Bollman, he can get fired up form time to time, but with Coach Warinner it's 24/7.  His famous saying is, 'My piss is always hot.' Around this place now, you have to be amped up and ready to go."
Indeed. And Hall has been. Meyer and Warinner mention the spring and fall when talking about Hall's bright spots, but the process also includes the winter and summer. It was during that time period when Hall tidied up his then-330-pound frame.
Strength coach Mickey Marotti's objective was to change the body types of nearly every player. But the offensive linemen quickly became an area of focus. The Buckeyes had employed the traditional Midwestern linemen for decades. The stereotype is that they are all slow and overweight. Marotti went about changing that in a hurry.
At his heaviest, Hall weighed in at 335 pounds. When he takes the field Saturday, he'll be a svelte 314 pounds.
"The new coaches came in (in January) and we went to work," Hall said. "You're either good or you're not. You either did it or you got left behind, so you had to get with the program."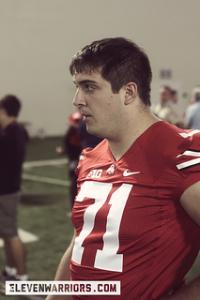 More than 100 of Hall's friends and teammates joined the fray and "got with the program." Fellow offensive lineman Corey Linsley and defensive lineman Johnathan Hankins developed into Hall's workout partners. When Marotti casts you under his spell, safety in numbers is a necessity.
"If you're by yourself, you can't get through it," Hall said. "But if you have someone leaning on you, whether it's a receiver or a D-Lineman, I can depend on them to help me get through the workout."
Players at the skill positions won't be the only ones on the move when Ohio State is on offense. In Meyer's up-tempo spread offense, a lack of speed at any position hampers the overall product.
"It's a lot more running," Hall said about playing on the O-Line is Meyer's system. "A lot of us offensive linemen have lost a lot of weight. I'm in the best shape of my life. This offense is so fast-paced that we get the defense tired all the time in practice.
"Coming off the ball being aggressive, that's what coach likes. We still have our basic assignments. But there are a lot more outside zones and fast-paced stuff, like trying to get to the edges. The run game translates over, but as far as passing, it's a little different (than previous seasons)."
His teammates were by his side to help him push through and get out the other side during stringent workouts, but he earned his starting job all by himself.
On Saturday, a new era of Ohio State football will be ushered in. At the same time, a new chapter of Hall's career will take form.
"It's so rewarding," he said. "I can't even put it into words. It's been a long journey – finally. I wish I would have known it from the beginning, but I feel like I went through it for a reason. Now it's time to go.
"I'm trying to come out strong for the first game and kick some ass out there."