His first camp nearing an end and game week looming, Ohio State head coach Urban Meyer knows what lies ahead: expectations. And they aren't always attainable.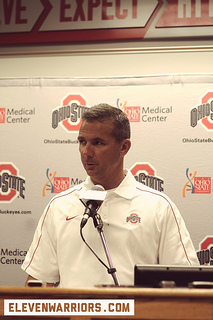 That thought is reinforced for the Buckeyes this season. An Associated Press national championship is possible but not likely due to Ohio State's one-year postseason ban. Before they even take a snap, an entire program – from the coaches on down to the secretaries – is aware that they can't even play for the grandest prize in the sport.
Meyer has already coached with rabid fans breathing down his neck, even after winning two national championships. Plus, he grew up in Ohio idolizing Woody Hayes and Archie Griffin, and then served an apprenticeship under the revered Earle Bruce. If anyone knows about the rigors of coaching at a big-time program – and Ohio State – it is Meyer.
But he has never begun a season with no championship in sight. For 10 seasons, Meyer has started camp with a clear goal in mind and that has been to win the conference championship. An unblemished record won't even earn the Buckeyes the right to play in the Big Ten title game, let alone win it. 
"That is probably my biggest concern," Meyer said. "Without a target at the end of the season, how will they react? I am still trying to measure this team.
"After our last game against our rival, you simply shake their hands, give them a hug and say, 'see you in January.' That is going to be hard to do."
Despite the lack of hardware at the end of the tunnel, don't be mistaken: Ohio State still has plenty to play for. There's a group of seniors who have been through the ultimate high and lows, yet stuck it out. For one season, Nov. 24 in Ohio Stadium may be more anticipated than Jan. 1 in Pasadena, and in major college football winning breeds future success.
It's a formula Meyer is all too familiar with.
"You've got to go win," he said. "Momentum is such a key in recruiting and your program. If you lose it, it's hard to get it back. You don't have four years to go build a program. You've got to go win some games right away. Year 2 is kind of a definitive year."
New coaching staff, new system, no problem. At least that's how the fanbase sees it, and with good reason, even if Ohio State slogged through a 6-7 season one year ago. The pieces are in place for immediate success.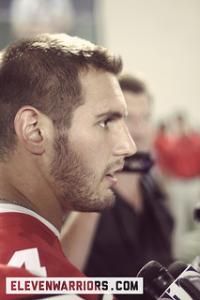 That new coaching staff happens to be among the best in the country, with the head guy already having two national championships – one in particular – bolded and highlighted on his resume. A power-spread offense has been installed and the quarterback making the calls is in the perfect mold for a Meyer signal-caller.
On defense, Meyer is equipped with an outstanding assembly talent on the line. Among them is John Simon, someone who has received admiration and praise from Meyer since he was hired in November. The captain is just one of the many seniors who have led Ohio State through the worst patch in the program's history.
"This is a tremendous senior class," Simon said. "It might seem cliché, but if you go through workouts with these guys, you're not going to let them down. We are playing for each other. As a senior class, we really want to set the foundation for Coach Meyer's program."
That foundation begins up front. It's something every football coach preaches, and Meyer is no different.
"If you want to have a bad football team, have a bad D-line," he said. "You can be average in some other spots and kind of hide them. But it's over if you have a bad defensive line. You have no chance."
The SEC's six consecutive national championships – two won by Meyer's Florida Gators – have largely been won on the backs of stout defensive line play. Derrick Harvey, Jarvis Moss, Glenn Dorsey, Ricky Jean-Francois, Terrence Cody, Marcell Dareus and Nick Fairley all greatly impacted their teams' run to the national championship.
In Meyer's first year at Ohio State – and likely beyond – the defensive line will not be an area of concern, as the Buckeyes are stockpiled with talent. Simon, Johnathan Hankins, Michael Bennett, Garrett Goebel, Noah Spence and Adolphus Washington will assure Ohio State puts fear in opposing quarterbacks and running backs. And that doesn't even include Nathan Williams, who's expected to come back healthy from microfracture surgery.
"If we get Nathan Williams back, I would say (the line could be great)," Meyer said. "If he doesn't, I think we'll still be good, but I just think Nathan brings that much sting to you and experience."
Said Goebel: "We've got a lot of depth, a lot of good freshmen who have all the physical skills and are playing well right now. They've just got to learn the defense a little more and take that next step. It should be a good year."
Behind the line are an enigmatic linebacker corps and a secondary that still hasn't proven in a season that they can produce the numbers of yesteryear. The defensive line, again, can help alleviate some of the pressure presented to both units.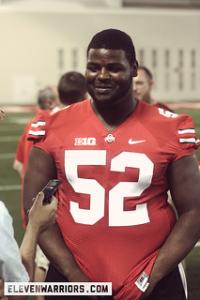 "I feel like if our front starts the game out well and we play well it'll help out the back end and help guys in the secondary," Hankins said. "But it always starts in the trenches with the offensive and defensive line. That's the way the game goes."
Junior safety C.J. Barnett knows the value of his teammates on the line, and he's not afraid to discuss it. To ignore the D-Line's importance would be uninformed. 
"The fight in the trenches is where defense starts," Barnett said. "With Johnny Simon and Big Hank in there, it makes the job easier for everybody else."
An objective in fall camp was to finally get the offense up to speed. Nearing game week, it's finally happened, being most evident in a scrimmage last weekend when Braxton Miller threw for 350 yards. Miller has taken to the up-tempo, spread system. In turn, it has also helped the defense stay conditioned.
Meyer has preached the importance of the offense catching opponents off guard in the second half due to superior conditions and the Silver Bullets wearing down opposing offenses. On both sides of the ball, the expectation is to be fresh late in the fourth quarter. 
"Even our big guys have to run around constantly," Simon said. "They're not getting breaks and not subbing in, so we're definitely going to be one of the best conditioned defensive lines, best conditioned defenses in the country. That'll help us."
As the clock to mark the beginning of the season winds down, Meyer can be reassured by his team's unwavering work ethic and desire to achieve something great. When he arrived in Columbus, Meyer inherited a ragtag group that he felt was two steps behind.
After almost nine months of nothing but intense competition between the Scarlet and Gray, the Buckeyes will be able to impose their will on a real life opponent.
"We aim to be the best in the country," Bennett said.
Miami (Ohio) is just step one in a 12-step process.