Before Urban Meyer was hired as the head coach of Ohio State, and even before the 2011 season began, he was on the minds of many Buckeye fans. Then retired, the Ohio native and coach of two national championship teams at Florida was considered a panacea to an increasingly desperate fanbase unaccustomed to mediocre results on the football field.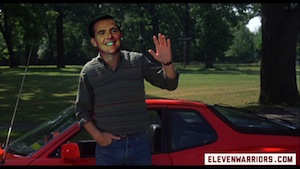 It also seemed like a story line you'd only find in the movies. "A man returns to his roots to restore the reputation of his favorite childhood team, one that he had defeated to earn his first national title, as he looks to prove his past demons are behind him" could pass for a clichéd IMDB synopsis.
In reality, Urban was less than a year from when he resigned from Florida, where his futile quest for perfection had taken its toll on his family life and well-being. But he was still relatively young and a coaching superstar, so of course his name was the first mentioned when anyone brought up the Ohio State job.  
Nevertheless, he appeared at ease in his new gig as a college football analyst, which also afforded him the chance to spend quality time with his wife and three kids. It wouldn't have been a surprise if he had regarded the speculation as nothing more than an ego boost and declined the opportunity to coach again so soon—even if the school offering him would have fulfilled a lifelong dream—and Scarlet and Gray fans would have had to let go of the object of their affection.
As it turns out, though, the unattainable guy was, in fact, attainable. Urban accepted the position and became Ohio State's Jake Ryan1. But unlike in Sixteen Candles or any other "happily ever after" movie, the story doesn't end there. 
For a demanding group like Ohio State fans, snaring someone with Meyer's resume is more than enough to create high expectations, and his first acts as head coach did nothing to temper them. He immediately went about trying to improve the program by assembling a crack2 staff of assistants and turning an unremarkable recruiting class into one of the best in the nation.
Urban's fiery, intense nature was the kind of attitude he wanted his team to adopt. In the offseason, he emphasized hard work and leadership and called on strength coach Mickey Marotti, who he has credited as "the most important hire in the athletic department", to transform his players' bodies into peak condition so they could more easily handle the athleticism needed for the no-huddle look. 
Meanwhile, he put together a leadership committee and raved about guys like John Simon and Zach Boren who always put in the right amount of effort. In a move unfamiliar to those throughout Buckeyeland, Urban did not mince words if he felt anyone wasn't performing at a satisfactory level. He openly worried about finding playmakers and capable receivers for his offense.  
Many wondered how an Urban Meyer offense would fit at Ohio State, where a power run game is as much of an institution as Script Ohio. Recently, offensive coordinator Tom Herman clarified the coaching staff's stance on that:
"We certainly pride ourselves in being able to run the ball downhill. We just happen to do it by incorporating the quarterback in the run game and a few other bells and whistles here and there. But the runs are the same as they were in 1965."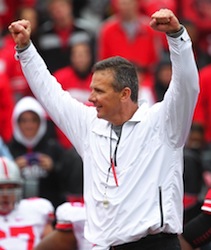 The spring game in April encompassed this blend of Buckeye tradition mixed with Urban's unique signature. He admitted that hearing "Hang on Sloopy" in The Horseshoe was a "touching moment" and while he was uncertain of the exact protocol, he accompanied the team in a rendition of "Carmen Ohio" after the game, keeping Jim Tressel's ritual alive.
But he also kicked off the festivities with his now-famous circle drill, which pumped up the players and got their competitive juices flowing. 
It's a happy medium for a man who both reveres the legacy of Woody Hayes to the point of referring to Michigan as "That Team Up North" and who encourages his players to make everything a contest, even if it's simply to see who can chug a Gatorade the fastest.
As Urban said last week: 
"Do we do things maybe a little bit differently? That's called different, not changing the culture. I'm relying a lot on the past, but I'm also doing it the way we know how to do it."
One of his trademarks that he brought along to Ohio State was helmet stripes for the freshmen. With help from their big brothers, the freshmen's initiation into the program fosters team unity, but it also promotes Urban's "competitive excellence" tenet because the first-year players are battling each other and themselves to become the next guy to earn a stripe removal.
The hope is that the constant internal and external competition during the offseason translates to a relentless, never-say-die mentality on the field. 
Once the 2012 season begins next Saturday, it will represent a convergence of the old and the new. The so-called Urban Era that we've been building up to will officially begin, and it will be evident even before kickoff when the students join the players in "Quick Cals." 
Catch up on everything you need to know ahead of the season kickoff.
And then we'll see what happens when the romanticized coupling of Urban Meyer and Ohio State paves way to reality.
The reason fairy tales end when the two leads pair up is because it's difficult for the actual relationship to live up to the drama of them finally getting together3. To the excitement of many, the Buckeyes will trot out an up-tempo style of football with a more diverse set of plays. But no team plays the game flawlessly. For all their talent, anyone counting on perfection from Ohio State is assured disappointment.
That extends to their head coach, who has promised himself and his family that he will no longer be consumed by every failure, minor or major. Even with a pink paper contract and testaments from those closest to him about how he's changed, there's no guarantee that Urban won't revert back to his self-destructive ways when the season is in full swing.
For now, though, the new season represents a fresh start for both Urban and his team. Maybe his tenure falls short of the astronomical expectations, or maybe it turns out to be a match made in heaven. Soon, fans won't have to rely on hypotheticals, because football is almost here.
Even if it doesn't conform to the idealized versions in their heads, it will at least be real.