Game week is still five days away, but make no mistake about it, preparations for Miami (Ohio) are already under way at the Woody Hayes Athletic Center. Head coach Urban Meyer and the coaching staff used last week as a grunt session, pummeling the players into submission during a stretch of two-a-days.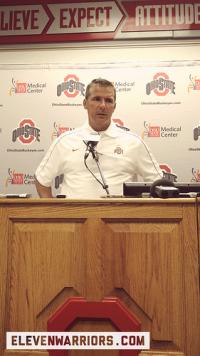 They quickly found out, however, that there is no quit in the 2012 Ohio State Buckeyes. In a make or break week, the Buckeyes were a make, according to Meyer. Though he admitted he wouldn't reveal otherwise, Meyer's tone let you know the real story.
"We're going to try to go win a game now," Meyer said. "(Monday) was all game planning, a lot of scout work. It's much different this week than it was last week. I like where we're at right now. We're certainly not perfect. But our guys are trying and we're doing decent.
"I feel like right now our offense will be fairly competent. I can't say great because I don't see that yet. I see competency. I see the ball being snapped correctly. I see an offensive line protecting and doing the right things."
The taxing practices are now a thing of the past. During the first two weeks of camp, the pretenders retreated to the third- and fourth-string units, while the contributors rose to the occasion, securing time well spent on the field this fall.
Before camp started, Meyer said it was going to be hard-hitting. What ensued over the following two weeks can certainly be defined as rough and tumble. Every aspect of Meyer's programs is well thought out, and the degree of difficulty in regard to practice is no different.
"We want to push them as hard as we possibly can," Meyer said. "How you evaluate that is over the last 10 years, how are you doing in the first four games? I think we're 39-1 (actually 37-3) or something like that in the first four games, and we really have hard camps."
Avoiding injuries was paramount, and the Buckeyes got through without any major losses, excluding Jordan Hall's mishap while picking up dog poop outside his apartment.
"Unbelievable the way we've practiced, we haven't lost a guy," Meyer said.
The next stage focuses on the regular season, and more specifically, the Miami RedHawks.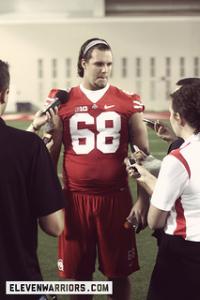 Despite Meyer's wanting to decide all position battles before game preparations begin, the battle at right tackle, between converted tight end Reid Fragel and true freshman Taylor Decker, continues to rage.
"The first-team offensive line is doing a good job," Meyer said, "But at right tackle, we've got to get better. We can't name a starter right now. The two guards (Marcus Hall and Andrew Norwell) are playing well. The center (Corey Linsley) is playing well. The left tackle (Jack Mewhort) is playing well. Right tackle has got to be better. Those guys are trying, but at times one of those guys looks like a freshman, because he is, and the other guys looks like a guy that just moved from tight end."
Asked what the duo needed to improve on, the answer was stern and simple.
"Consistency and toughness," Meyer said. "Just be tougher. It's still fresh in my mind and they got slapped around a little bit (at practice).
"When we get hit in the face, do we give in? I don't know. I guess there's only one way to find out. But so far, they've handled it."
Every position has its share of importance, but quarterback and the rest of the offensive skill positions are held in higher regard in Meyer's spread offense. The quarterback and wide receiver struggles from the spring have been well-documented. But they may have officially turned the corner in a scrimmage on Saturday. 
Braxton Miller completed 27 of 39 passes for 358 yards and two touchdowns against the second-team defense, while Kenny Guiton was on target on 12 of his 17 throws for 147 yards with one touchdown and one interception against the first string.
"The offense had its way," Meyer said. "We threw the ball really well. The (first-string) offense moved the ball really well. Braxton threw for 350 yards. He had a good day. I didn't realize how good it was until after the scrimmage.
"The area where we've improved the most is throwing and catching. Much improved. We couldn't have gone much the other way, but they are much improved. I know we were beating them to death, and they probably deserved it. If you watched film, they weren't very good."
The apple of Meyer's eye is now Philly Brown. He snagged a touchdown pass from Miller in the scrimmage and has emerged as Ohio State's No. 1 wide receiver in fall camp.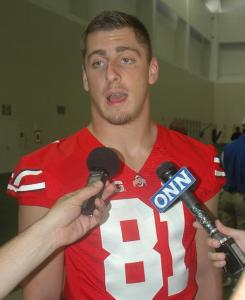 But Brown isn't the only bright spot at a position in need of a spark.
"The receivers have stepped up," Meyer said. "I'm proud of these guys. Devin Smith is doing pretty well. Jake Stoneburner had a good day. Michael Thomas had a little bit of an injury, but he's back full speed. Those guys are doing pretty well.
"I didn't enjoy being around non-competitive guys. They weren't competing in the spring. They're competing now. I enjoy being around guys like that. It means something to them, which is neat to see."
Leading season receivers with 14 catches are a thing of the past for Ohio State. Miller's progression and cohesion with the receiving corps has been the reassurance Meyer needed. The unfamiliarity between quarterback and receiver was a key component to the Buckeyes fielding the 115th-ranked passing game and 107th total offense a season ago.
Stoneburner's move to wide receiver only enhances the position and adds value to the tight ends, despite Stoneburner being rated among the nation's finest. The depth at tight end allows Jeff Heuerman and Nick Vannett the opportunity to prosper.
So far this fall, Vannett, who redshirted last season, has developed into a reliable threat and vaulted up the depth chart. With Heuerman battling hamstring issues, Vannett's chances of starting have improved.
"Nick Vannett is doing well," Meyer said. "He's a guy that wants to be out there. He's one of the most improved guys on the team.
"Heuerman is a little bit better of a point-of-attack blocker. But he also has skill at catching the ball. So right now I can't name a starter because I don't know who it is."
In a little more than one week's time, 11 offensive players and 11 defensive players will trot on to the playing surface at Ohio Stadium, ready to make good on a commitment they were sold on in high school.
Players come to Ohio State to be a part of a grand tradition and be on teams that are remembered for decades. 2012 is a redemption year for the Buckeyes and they have a "Redeem Team" of their own.
A gold medal will not be awaiting them at the finish line, but something even greater is emerging in the distance: pride.