The Ohio State football team knows what the depths look like. After all, they've been to hell and back more than once. It all began in late December 2010 when the program as they knew it changed. In one fell swoop, everything was turned upside down.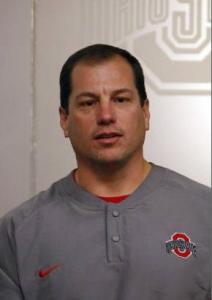 Turmoil became a constant for the 2011 season, the pre-Sugar Bowl press conference acting as a precursor for the future. What followed was an unmemorable season that dissolved with an 0-fer end to November and a mid-tier bowl loss to Florida.
It was hell for a fanbase and assembly of players used to national prominence, Big Ten championships and wins over Michigan. Instead, the Buckeyes received national ridicule, their first losing conference record in more than a decade and the end of a seven-game win streak against That Team Up North.
Enter Urban Meyer. Just two days after the Maize and Blue beat their hated rivals to the South, Ohio State immediately stole back momentum in the rivalry. All was right in Buckeyeland. The players respect and admire (still do) what Luke Fickell did for Ohio State football in 2011. But make no mistake about it, the hiring of Meyer thrilled the locker room.
The retaining of Fickell and hire of Mickey Marotti from Florida were two power moves and strokes of brilliance by Meyer. Marotti was a shadowy figure to many in the world of college football, but they knew he was hailed as a Messiah by former players and a trusted confidant of Meyer's.
"He is the most important hire in the athletic department," Meyer said of Marotti. "I don't want to say that I couldn't do this job without him, but it would be hard."
Ohio State got to know him – quite rudely, actually. On a cold Tuesday in January, 100-plus members of the Buckeye football team entered a hell that was frozen over. Winter conditioning in a Meyer-coached program takes on an entirely new definition. It is more comparable to boot camp than a football game.
In 2001, a day known as "Black Friday" hovered over Bowling Green, Ohio, as Meyer worked his Falcons far past the state of exhaustion. Marotti wasn't a part of that strength staff, but an apprentice was. For two hours, the only time players stopped running was to vomit into trash cans. Dozens quit the team. But those who stayed were rewarded with 17 wins in Meyer's two seasons at BG, this at a program that had not finished with a winning record since 1994. They also developed lasting relationships built on the foundation of hard work.
"He's a guy that I have a lot of respect for and a lot of love for," Josh Harris, Meyer's quarterback at Bowling Green, said. "When he came to (Bowling Green), he came as the wide receivers coach from Notre Dame, so he didn't come in with a prestigious background. What he did do was he set the expectations from day one in that first team meeting. The first thing he said to us was, 'I've got three rules: the first thing is to love the game of football, to love and respect your teammates and to love and respect your university.'
"It really set a precedent for not only how we were going to prepare, but how we were going to perform on Saturdays and how we were going to carry ourselves. The guys that stayed on board, and the guys that bought into the system, they'll never be the same."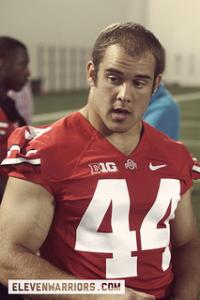 There wasn't a mass exodus from Ohio State, though there were some defections. However, the Buckeyes took the Bowling Green approach and banded together. They approached the 5 a.m. workouts with resolve and came out the other end better because of it. Conditioning improved from January to February; after spring practice, the staff was even more impressed and when fall camp commenced, Marotti could be seen beaming like a proud father.
Marotti is hard-nosed and serious, but he carries a good sense of humor – a laugh or smile never far away. He's one of only 100 strength trainers in the country to hold the title Master of Strength and Conditioning. At Ohio State, Marotti is the assistant athletics director for sport performance. With that comes a hefty paycheck, but for Meyer, Marotti is worth every penny.
"I have been blessed to have had Coach Marotti on my staff for a number of years," Meyer said. "Player issues, motivation - he's everything and we're fortunate to get him to come up here to Ohio State.
"I usually put the strength coach No. 1 (on my staff). Then the offensive line coach and your defensive coordinator. But strength coach is No. 1."
Once the coaches' interaction with players ceased over the summer, Marotti was the man in charge of the Ohio State football program. And he took to the team like a mechanic fine-tuning his prized hotrod. But it was all part of a plan: to have the best offseason in college football history.
Meyer preached that message to the team in January, and it stayed in the backs of their minds throughout the winter and spring and into the summer. Consider that goal accomplished. The success stories on the team are never-ending when it comes to what Marotti was able to do to their bodies.
More muscle, less weight, better conditioned – the list goes on and on.
"They were all tough workouts," senior captain Zach Boren said. "They were all hard. I'm actually going to say that we've had the best offseason in the history of college football. I honestly think we had that because guys are pushing themselves that hard. I've never seen it before."
How hard were the Buckeyes working? The night before Boren and fellow captains John Simon and Etienne Sabino left for Big Ten media days in Chicago they had a night workout and conditioning test.
Simon, a workout freak, could hardly contain himself while talking about Marotti's regimen. He was almost waxing poetic.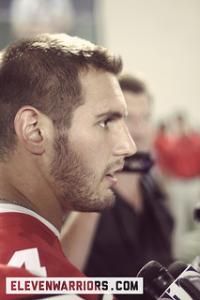 "There might be mornings where it's 5 o'clock and you walk in there," Simon said, "you might be lagging or a little tired, but you walk in and the music is blasting and everybody is screaming, coaches are bumping into you, everybody is riling you up and before you know it, you're hyped for the workout. I get excited just talking about it."
As camp began, Meyer could see the results of the extra summer work. After easing the team into the playbook, last week was designated as a "hell" week. Meyer didn't mince words when he described the ensuing pain the team would feel.
"This will be the hardest week of training camp," he said. "This will make or break us."
Part of Meyer's philosophy is to break down the team and then build them back up. Another goal is to make practices so grueling that games become easy. It's a lesson Meyer learned from Michael Jordan.
The conditioning helps both sides of the ball: the fast-paced offense will be able to strike against a beleaguered defense, and the Silver Bullets will remain fresh deep in to the fourth quarter.
"The better the team, the harder the training camp," Meyer said.
On Friday, a trio of assistant coaches said the Buckeyes met all challenges thrown at them and the head coach concurred Monday.
"They answered the bell," running backs coach Stan Drayton said. "They knew it was going to be a tough week. I really liked the way our team approached the field. They had a purpose in mind."
It's the only way Ohio State knows how to perform – 100 percent effort on every rep. When you've seen the depths of the college football world, a week of strenuous conditioning seems minor in nature.
The Urban Meyer buy-in rate inside the Buckeye locker room is in the A+ range. Since he was hired in November, his message has seeped into his players and taken hold. As the regular season approaches, lessons from January, April, June and July become even more valuable.
Championships are won with defense, but they also formulate in offseasons filled with diligence.
Texas A&M went to Junction City; Ohio State went to Hell.