When news and further details of Tatgate came down on Columbus last winter and spring, many outside the Ohio State family thought a bowl ban would certainly be in order. The Bucks were set to play with a cloud over their head during the upcoming season, not knowing what doom they would face when the NCAA Committee on Infractions came to their decision regarding the program and its violations later in the fall.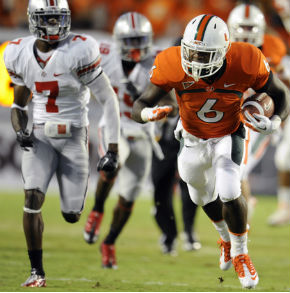 Later that same summer, word broke via Yahoo! Sports' Charles Robinson that another traditional power, Miami (FL), had one-upped the Buckeyes in using booster Nevin Shapiro to lure athletes to Coral Gables and keep them happy during their time in the football program. While no timetable on a NCAA decision was given to Al Golden's team, the road ahead appeared dark for UM as well.
Of course it just so happened that the Buckeyes and Hurricanes were set to square off last September, leaving many to try to title the game appropriately considering each team would have players suspended for the contest due to their off-field transgressions, as well as both schools facing possible penalties from the NCAA. 
After much deliberation and many names being thrown around by the communities of both schools and national/local media, the consensus was that the game would be pegged "The Ineligibowl". As you know by now, Miami won the game by a score of 24-6, in what was not one of Joe Bauserman's finer performances (although those are pretty much limited to just last season's opener), but the name, which was given in advance of any punishments being handed out, certainly held true.
Following the season, we have learned that Ohio State faces scholarship reductions and probation over the next three seasons, as well as a bowl ban for the upcoming 2012 campaign. As for the Hurricanes, they self-imposed a bowl ban last year, but still await word from the NCAA and the future is still not looking bright as more information about the program's unethical conduct continues to surface.
This coming year, the Buckeyes were moving forward with a new coaching staff and the knowledge that there was a light at the end of the tunnel in that they could carry on from cheap one-liners and snarky remarks regarding the actions of departed players.
The NCAA had another plan though, hitting two of Ohio State's 2012 opponents, Central Florida and Penn State, with some big time sanctions, giving the Bucks a blast from the past and setting the stage this year for two more "Ineligibowls".
The first Ineligibowl will take place at noon on September 8 when Central Florida rolls into Columbus for the first-ever meeting between the schools. The Knights were supposed to be putting the Buckeyes on "upset alert, as they return 16 starters from a team that is ranked #15 in Phil Steele's preseason poll, despite going 5-7 last year after losing six of those games by a touchdown or less.
The Knights were supposed to be putting OSU on "upset alert", but the NCAA had other plans for the program and has put a damper on their season before it even started. After an investigation revealed major recruiting violations in both football and basketball, UCF is now facing a one-year postseason ban in both sports, as well as five years probation, scholarship reductions, and individual penalties, including a show-cause, to one of the coaches on its basketball staff.
Unlike Ohio State, who has been re-energized by the Urban Meyer era, as well as the prospect of running the table to play for an AP National Championship, UCF will need to find motivation in having something to play for this upcoming season.
With so much hype surrounding the growing program, head coach George O'Leary still has a talented roster to work with, but it will be difficult to keep his team focused during the 2012 campaign. The game in Ohio Stadium during week two of the season should still be somewhat entertaining, as the Knights have enough talent to hang with the Buckeyes, but with the NCAA cloud hanging over their heads, Central Florida faces more of an uphill battle in the Horseshoe than they did a few months ago.
When it comes to Penn State, you all know the story by now. Former defensive coordinator Jerry Sandusky abused multiple boys both inside and outside of the Penn State facilities during his tenure on the program's staff, an act which was then covered up by the football team's head coach, school's athletic director, university president and vice president, as well as many other high ranking officials at the school. Sandusky was eventually relieved of his duties by the university, but was still allowed to be around the program, including flying with victims to bowl games and watching games from a university luxury box as recently as last season.
By knowingly allowing these criminal acts to go on, the NCAA determined that Penn State had a culture problem where football ruled all else and said that the school displayed the worst act of institutional control in the history of college athletics. The punishments handed down to PSU include a $60 million fine, four-year bowl ban, vacating all wins from 1998-2011, and having scholarship reductions of 10 initially and 20 each year for a four-year period.
Catch up on everything you need to know ahead of the season kickoff.
Ultimately, the NCAA handed down Penn State everything it could just short of a multi-year death penalty, virtually sending the program back from elite status for at least five years and making first-year head coach Bill O'Brien's life very difficult both on the field and on the recruiting trail while the university tries to rebuild a healthy culture both athletically and academically.
The game against Penn State was supposed to be a big one this year, with it being scheduled as a primetime 6 PM kick-off on Saturday, October 27 and pegged as the school's "White Out" game, but with an even bigger NCAA cloud looming over Happy Valley, that does not look to be the case any longer. 
In addition to multiple star players, including RB Silas Redd, leaving the program after violations were announced, the 2012 Nittany Lions will also have to find some sort of focus and motivation to make their season worthwhile. The fans of the school and players who decided to stay and stick things out talk about how this has made them stronger and how they will use this to fuel their fire, but that situation sounds awfully familiar to Ohio State's in 2011, which didn't turn out to be as easy as it sounded for Luke Fickell's group.
Penn State football isn't completely decimated just yet as the full ripple impact of their sanctions hasn't hit, but one thing that is certain is that the PSU team that takes the field in late October won't be the team everyone was expecting to face back in the spring when this game was announced. Of course nothing is guaranteed, but in the second Ineligibowl of the season, Ohio State can be viewed as the favorite in this one rather than facing the difficult challenge of taking down the Nittany Lions in a night game at Beaver Stadium.
While the storylines may not be the same, the hype will certainly be high in both games. The contests against Central Florida and Penn State will be different than originally expected, but all the while still challenging for Ohio State as they march on their quest to reach 12-0. They're just hoping these Ineligibowls turn out a whole lot different than the one against Miami did.