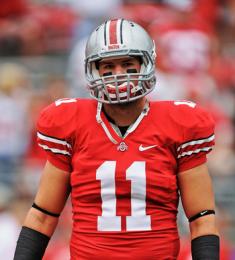 The hierarchy at the tight end position for Ohio State has undergone several significant changes since November. First came Urban Meyer's hiring and a history of utilizing tight ends in his spread offense. Then word surfaced Sunday that Jake Stoneburner, a Mackey Award candidate, had been moved to wide receiver, opening the door for Nick Vannett and Jeff Heuerman.
Stoneburner, who served a summer-long suspension following an arrest in early June, will play a position similar to Aaron Hernandez. The former Florida Gator and current New England Patriot has filled a niche role in both Gainesville and New England. Meyer helped turn him into the nation's top tight end and an All-American.
Under the guidance of Bill Belichick, a close friend of Meyer's, Hernandez has developed into one of Tom Brady's favorite targets and a Pro Bowler. Stoneburner and Hernandez's versatility helped their head coaches transition them to various spots on the field. Depth at tight end also contributed to the process and that's why Meyer decided to split Stoneburner out wide.
"We have two very good tight ends in Jeff Heuerman and Nick Vannett," Meyer said. "So (Stoneburner) is going to be our Hernandez-type guy, the guy that can do some things."
No one has used multiple tight ends better than Belichick. The greatest example of his propensity for producing gaudy offensive statistics came during the 2011 season. Hernandez and Rob Gronkowski set NFL records for yardage, receptions and touchdowns, combining for 169 catches, 2,237 yards and 24 touchdowns.
It's that level of production that Meyer hopes to get out of his skillful tight ends and now receiver, Stoneburner.
In the early stages of the 2011 season, it looked like the tight end position had discovered new-found life in the Ohio State program. For extended periods of time during the Jim Tressel era, the position had become dormant, relegated to being nothing more than an extra offensive lineman.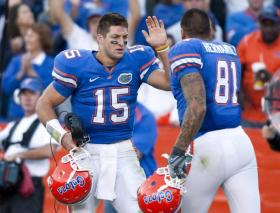 But in the season opener against Akron, Stoneburner hauled in three touchdowns. It signaled a change in philosophy; however, it wasn't the season-long coup Stoneburner and the coaches were hoping for. He did finish the year as a co-leader in receptions with 14, seven of which were touchdowns. 
Now Stoneburner returns to the position that led to a litany of college scholarship offers. It was at Dublin Coffman where Stoneburner honed his wide receiver skills. His career numbers are eye-opening – 168 receptions, 2,751 yards and 28 touchdowns – but it was his record-setting senior season that really attracted coaches' attention: 74 receptions for 1,267 yards and 15 touchdowns.
It earned Stoneburner all-state honors and numerous other accolades, including a spot in the U.S. Army All-America game and the Big 33. He also finished runner-up for Ohio's Gatorade player of the year award.
"He meets with the receivers," Meyer said about the status of Stoneburner. "He'll practice at times (with tight ends) because we'll use him as a surface tight end."
The former tight end has also spent time in the backfield as a hybrid ball carrier, another Belichickian move by Meyer. But it may not stick.
"We'll see how it goes," Meyer said. "It's not exactly what you want. But it's probably going to be a lot different looking than it looked at the other place."
Ironically, it was Stoneburner, like Vannett, who was overwhelmed with joy when Meyer was named head coach. He called it a "dream come true" to play in an offense that used the tight end as a "focal point." Now he's the second tight end to depart the position, joining Reid Fragel who's attempting to be the starting right tackle.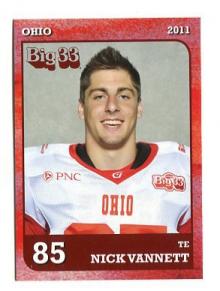 With Stoneburner's move to receiver, joining Philly Brown, Devin Smith, Evan Spencer and Michael Thomas, Meyer's confidence in the unit that he chided daily in the spring has climbed. 
"I'm obviously much more optimistic about them than I was three months ago," he said.
A deeper, mature and more seasoned receiving corps should help alleviate any reservations in quarterback Braxton Miller. Having a senior leader in the wide receivers' meeting room and on the field should greatly enhance the cohesion of the entire unit.
"He's been a great addition," Brown said. "He's got a great work ethic and really wants to be great. It's really been a lift for the receivers."
Mixing and mashing pieces together, whether they are on offense or defense, has been a hallmark of Meyer's career. He seemingly makes every right move with personnel. He's trying to replicate that success rate at Ohio State, specifically with Stoneburner, Vannett and Heuerman.
Athletic ability factors into the decision, but the 115th-ranked offense is also part of the equation. But the new staff, Meyer and offensive coordinator Tom Herman included, have turned the page on 2011.
"Last year we were a power offense," Stoneburner said. "Now we're reading a defensive end or zone block, so it's not as physical up front."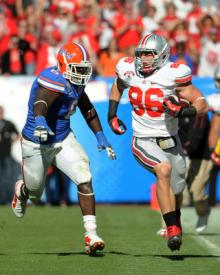 Stoneburner's move should cause mismatches galore. He was already one of the best open-field pass-catchers in the conference. Now Stoneburner will have a height advantage over every player he goes up against. In turn, it could free up Miller to run more if defenses are busy keying on wide receivers, a tight end and running back.
The wild card is Vannett, someone who was thought to be buried on the depth chart behind Stoneburner and Heuerman. Four months later, he is battling for the starting job. Vannett had four catches in the spring game, but it was an otherwise nondescript camp for the redshirt freshman.
"Nick Vannett is one of the most improved players," Meyer said. "He's going to be right in the middle of this thing, and I didn't see that at all in the spring. If you noticed, I didn't even bring his name up because he really was not a very functional guy in the spring. I love giving credit where credit is due and that guy got really busy about studying the playbook and learning the game."
Vannett knew the first impression he made was not ideal. But he recognized that he had the ability to perform in Meyer's offense and that it was tailored to his strengths. Vannett saw what Hernandez did at Florida which excited him about his future.
After a redshirt season and uninspiring spring, Vannett spent hours on his weakness: the playbook. He scoured it daily, study every formation and minute details involving the tight end. The late night reading has paid off in the form of more playing time.
"It's great," Vannett said. "(Jeff and I) can get the job done. They'll do a lot of sets where Jake and a tight end are in the game at the same time, which should really open up the passing game."
Twelve years later, the Ohio State offense has joined the 21st century.