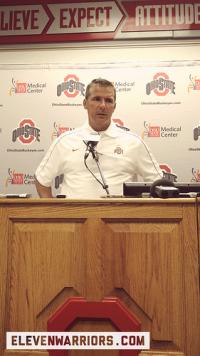 Numbers tell many stories. Sometimes people try to manipulate them in their favor. But the truth is numbers never lie.
Entering the regular season, many numbers help define the Ohio State football team:
1 – returning offensive line starter playing the same position
0 – postseason games Ohio State will participate in
19 – freshmen, sophomores or first- and second-year players listed on the Buckeyes' two-deep
Needless to say, youth and inexperience are common themes. But head coach Urban Meyer and his staff aren't moping or feeling sorry for themselves. Instead, they are intrigued by the fresh faces.
So far Meyer has done nothing but rave about the youngsters. Despite the relative youth, the talent level is immense, and the two go hand in hand at several key positions: quarterback, wide receiver, linebacker, defensive line and cornerback, to name a few.
"The best players are going to play," Meyer said. "From what I've seen so far, there'll be a bunch, maybe not a bunch, but a good chunk of freshmen who will play in the first game."
The ascension of so many freshmen is surprising due to Meyer's viewpoint on using the fall for game preparation, while the spring is the time for position battles. But the talent level of Meyer's first OSU recruiting class has challenged him on that philosophy.
"I didn't want people taking the mentality in spring practice that if I don't get it done, I'll get it done in August," Meyer said. "Now that certainly might happen, it usually doesn't, but when you say flexible, yeah, the best players are going to play. If someone beats someone out, go get it."
When he got his first head coaching job at Bowling Green in 2001, Meyer started putting a stripe down the middle of the freshmen's helmets. When they're removed, they officially become a member of the team. The stripe program was instituted to help battle hazing. Some sort of initiation was still needed, though.
The Ohio State freshmen have silver helmets with a black stripe, similar to the Oakland Raiders. Through the first week of practice, only two freshmen have lost their stripe: De'Van Bogard and Noah Spence. Meyer said the coaches and players have taken to the black stripe philosophy.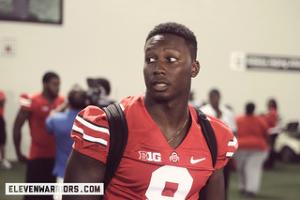 "It's a rite of passage," he said.
Meyer said the ceremony for removing stripes even verges on emotional.
"It feels like I'm a part of the team now," Spence said. "But I have to keep working hard to show that I earned it."
There are no set guidelines on how to earn the right to remove your stripe. But it centers on the core tenets of Meyer's team values: on-field performance, being a leader and being a good teammate, among others.
For the rookies who still bear a black stripe on their helmet, the anticipation for removing the blemish is wrought with excitement. Offensive lineman Taylor Decker said the first thing he does after each practice is ask Meyer if he's done enough to deserve a stripe removal.
"That's a really big deal," linebacker David Perkins said. "I take that so serious. That will be the first milestone for me. You're not officially a Buckeye until that stripe comes off."
Said Decker: "When you come to Ohio State as a freshman, you should come in and compete and try and be on the field. You aren't here to be on the scout team; you're here to play."
Each freshman is paired with a "big brother," an upperclassman of the same position who helps them become acclimated to life as a major college football player. Whether it's football, school or life related, the big brother is always available for questions and answers.  
"We talk and have one-on-one time," Perkins said of him and his big brother, Etienne Sabino. "Whenever I have questions I ask him or Ryan (Shazier). They're there for us if we need anything."
Though they play on opposite sides of the line of scrimmage, defensive end John Simon and wide receiver Michael Thomas have struck up a friendship. It has continued in the weight room, where Thomas shadowed Simon throughout the spring, developing a work ethic that Meyer calls the best of any freshman.
"I think it's a great thing," Thomas said of the mentoring program. "Everything Coach Meyer has done here has been great. Everything is here for us to gain. We have all the tools in the toolbox to benefit from."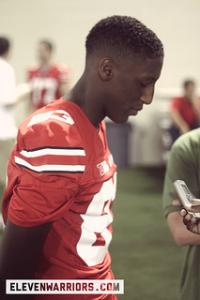 The "Big Brother" program helps foster a team-first attitude and brings positions together, which in turn bonds all 100-plus players. Leadership and helping out teammates has been a sticking point for Meyer since he took over Bowling Green.
The ability to bringing an entire group of 18- to 22-year-olds together goes a long way when adversity strikes. Every coach in the country has first-hand knowledge of it. But it isn't always easy to mesh the differing personalities. So far, in his first 10 seasons as coach, Meyer has been more successful than most at doing so. If he sees a big brother not communicating with his younger brother, he's going to say something.
"I'm going to reach out to them," Meyer said. "I'm going to remind them that one day they were a freshman who needed some help, so help the kid out, because every freshman goes through the homesickness thing and wondering how they're going to make it through."
Some positions are in short supply of big brothers, none more than wide receiver which has one senior scholarship player. And that is converted tight end Jake Stoneburner. Philly Brown is a junior, but the rest of the two-deep – Devin Smith, Evan Spencer, Thomas – is littered with underclassmen.
Wide receiver is the most crucial position on the field for the Buckeyes. Their troubles from last season and the spring are well documented. It's opened up a hole – literally – that Thomas is attempting to fill. An impressive spring culminated with a 12-catch performance in the spring game.
Thomas said he went out relaxed and just played. That's easier said than done once the season starts and he has his 'Welcome to college football' moment. Still, he isn't backing down from any challenge.
"A lot of us came here to play," Thomas said "We didn't come here to sit back and watch."
The guy throwing them the ball is also an underclassman. Braxton Miller will need to play like a veteran and a leader if he hopes to build on his 10 starts as a true freshman a season ago. It was a rocky year for Miller, who was at the helm of Ohio State's four consecutive losses to end of the season.
Spence and fellow freshman Adolphus Washington have received praise since the outset of camp. Meyer even gave an "Oh, my" when speaking about Washington on Sunday. 
The duo won't be starting anytime soon, unless a major event transpires. But depth is a good problem to have. Meyer calls the Ohio State defensive line SEC-esque. The return of Nathan Williams will provide a boost, but Spence and Washington will receive playing time.
"I knew they had a lot of natural ability this summer, and they're strong and fast, but it's hard to transition to college football," sophomore defensive lineman Michael Bennett said. "They've done a great job so far and you can tell they're going to help us out on that field."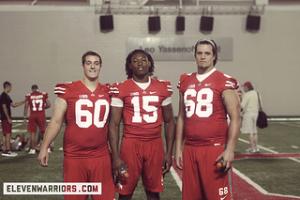 At media day Sunday, there was yet another freshman that Meyer singled out on defense. He called linebacker David Perkins' play in Saturday's scrimmage "great" and described him as a "fly and hit someone guy." Perkins, Meyer said, will play this fall because he's too good at the things Meyer likes. He joins Jamal Marcus as the freshmen linebackers the coaching staff has raved about the first week of camp.
"We have a lot of (freshmen) here that all work hard," Perkins said. "Before any of us got here we were training to be good and come on campus and make an impression. But when we got here and actually strapped up and laced up, I don't think any of us expected to play the way we do.
"We all train to play well, but you can't imagine playing as well as we've been playing. We still have stuff we need to work on, but we're high competition and high effort guys. That's what sets us apart. We come in here and compete."
Position coach Luke Fickell describes it as the 'it' factor. The coaches want to seek out the guys that have that quality and desire to be great.
"Hey, they don't know exactly what they're doing, but those are the guys you really have to concentrate on and give them some opportunities," Fickell said.
Unlike the offensive freshmen who must immediately be able to recall even the minutest details of the spread offense, the defensive rookies still don't have every element of their playbook memorized. At this point, though, it's not something that is upsetting to the coaches. The sheer energy and physicality displayed on the field is good enough.
"With some of the young faces, we don't ask them to get involved with a whole lot of deep thinking," Meyer said. "There's a kid named Jamal Marcus; he doesn't know which way up is right now, but he knows how to get from Point A to Point B, and he'll run over anything in his way to get to Point B. There's a good chance we'll find a way to get him on the field.
"I'm looking right now for more of the physical, relentless effort. You can't learn the whole defense right now. It will have to be bits and pieces, and we're not going to waste time with guys that aren't going to play. So we have to identify the Point A to Point B people right now."
And with that, a stripe will be removed.