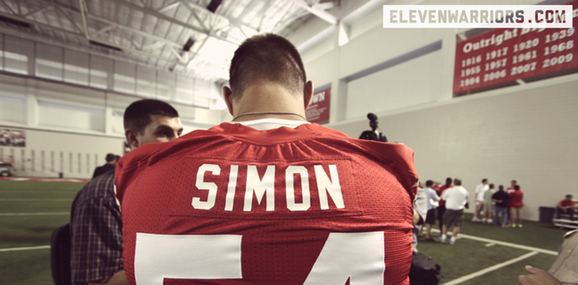 In less than three weeks, Ohio State will take the field in the season opener against Miami (Ohio). With the taking of the field, a new era of Buckeye football will be underway. But the focus now is crunch time of fall camp. Over the next week, Ohio State will endure 10 practices. 
It is not panic time for head coach Urban Meyer, however. He said the Buckeyes are on par with their preparation for the RedHawks. The confidence has rubbed off on the team. They enter the home stretch with an air of self-assurance. Among those anxious for the season is Ohio State's stellar freshman class.
Taylor Decker's strength in pass-blocking goes back to his high school days. Decker's school had a good running back, so they ran consistently. He said it's something he's working hard on improving. 
Decker has been working on the playbook and said he's got it down now. 
Despite competing against one another, Decker said he and Reid Fragel have a good relationship. 
Physically, Decker said he is a late bloomer. Because of that, he's been working to get stronger and gain overall strength. 
Decker said he has no previous experience blocking in a spread offense, but he said running the new offense is fun.
Decker's big brother on the team is Jack Mewhort. 
Johnathan Hankins believes the team has the ability to go 12-0. If not for the postseason ban, he said the Buckeyes would be a national title contender.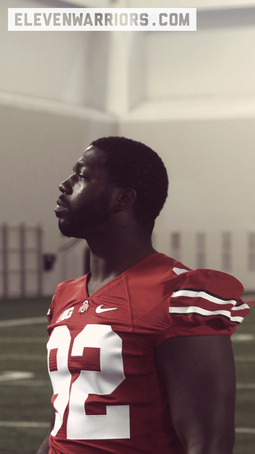 Like Meyer, Hankins believes Nathan Williams' return takes the defensive line to the next level. 
Because of the past 20 months, Hankins said Ohio State is looking to make a statement this season. 
Hankins said he pays no attention to the NFL draft board. His focus is on the coming season. He said defensive line coach Mike Vrabel helps keep him focused on the task at hand. 
Evan Spencer said Braxton Miller can be 'ridiculous' in Meyer's offense. Spencer thinks the offense is 100 percent suited to Braxton's strengths.
The wide receivers and Miller put in countless hours of work over the summer and Spencer sees it paying off now in fall camp. 
Spencer said he and Miller did a lot of film study together over the summer. 
Carlos Hyde prides himself on having good hands, going as far as to say that they are the best on the team. Corey Linsley said Hyde's hands are good enough to be a tight end. 
Linsley said Hyde worked hard on agility and juke moves during the spring and summer and is now much harder to deal with in space.
According to Linsley, Fragel is the starter at right tackle. Linsley said some things holding Fragel back are pass-blocking and moving too fast instead of letting his assignment develop.
Linsley said Decker is too good to not play. 
During Saturday's scrimmage, Linsley said Bri'onte Dunn had the best play with a 25-yard run that fired up the offense.
Linsley believes Guiton has improved so dramatically that he's not surprised to hear Meyer might put him and Miller on field together.
Ed Warinner is much more of a "yeller" than Jim Bollman was, Linsley said. He described Bollman as laid back. Warinner is more demonstrative in his efforts to motivate.
Linsley said no playmakers have emerged at wide receiver. No one has separated from the pack. 
Noah Spence said he is still busy learning the playbook and his assignments. He said he is seeing most of his action on passing downs.
Jordan Hall said he should be back by the second or third game of the season.
Hall is currently on week seven of a 12-week rehab plan.