CJ Reavis was on Ohio State's campus for the first time when he made the trip to Columbus for Friday Night Lights a few weeks ago. 
The rising star, a junior defensive back from Chester (VA) Thomas Dale, enjoyed the trip and has stated many times that he has strong interest in the Buckeyes. Those statements were only affirmed after his FNL visit, where not only did he soak in the electric atmosphere, but he brought his parents with him too so that they could also see what Urban Meyer has to offer their son.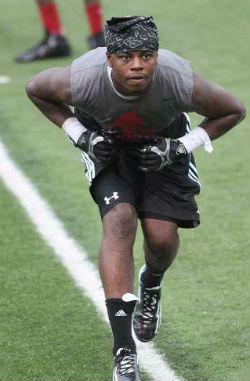 With the Buckeyes lacking depth in the secondary, defensive backs very well could be a position recruited with strong emphasis in the class of 2014. 
On today's current roster, there are only a couple of proven cornerbacks in Bradley Roby and Travis Howard (though some would argue if he is proven), and both could be gone after this year, with Roby going to the NFL and Howard graduating.
At safety, CJ Barnett and Christian Bryant are holding things down, but both players have two years remaining and will be gone by the time the class of 2014 steps on campus, meaning talent will certainly need to be brought in.
Meyer and his staff got a look at some of that potential talent at Friday Night Lights, where Reavis was one of a few star defensive backs in attendance.
We caught up with CJ to find out how his experience at FNL went, what the coaches have told him, what is going on with his recruitment, and more. Keep reading to hear the latest on one of the top defensive back prospects in the class of 2014, CJ Reavis.
How was your Friday Night Lights experience at Ohio State?
It went very well.  It's the best camp I've been to.  The vibe from the fans was pretty sweet as well.
What did you think of your overall performance at the camp?
I thought I did excellent.  The coaching staff agreed.  They said they liked my hips and my ability to backpedal.  Coach Meyer went out of his way to tell me he was excited about my performance.  I think I still need to refine my technique.
Who do you think put up the strongest competition against you?
Artavis Scott and Shelton Gibson were definitely the toughest to cover.  They were quick.
Were you able to strike up a relationship with any of the other recruits in attendance?
Oh I definitely did.  I got to know Darius West and Raekwon McMillan real well.  I talked to McMillan before the camp had started.  Darius West and I talked quite a bit.  We have been texting back and forth and staying in touch now.  We talked about the possibility of playing together at the next level.
Did you get to talk to any of the coaches while at Ohio State?
My family and I were able to sit down and talk to Coach Withers and Coach Smith for a while.  Coach Smith is the recruiter for my area.  He and Coach Withers said that they were impressed with me and wanted to get to know me better before extending an offer.
What offers do you have right now?
I have offers from Virginia Tech, North Carolina, North Carolina State, Boston College, Virginia, and Maryland.
With the summer winding down, have you made any plans regarding fall visits?
I don't have any plans set as of right now, but I do know that I want to make it to Columbus to see Ohio State play Michigan.
Have any schools separated themselves from the pack early in the process for your services?
Right now out of the schools that offered me, my favorites are Virginia Tech and North Carolina.  Ohio State will be right there once they offer.  I've also talked to Michigan a little bit, and I think they may be close to offering.