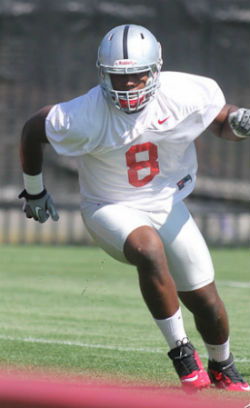 In the last year, our recruiting coverage here at Eleven Warriors has vastly improved.
Not only did I do everything I could to help bring you all the latest happenings on the trail, but we were also fortunate enough to bring on Dave to help with both football and basketball, as well as our two new young guns in Miles and Derek, who I'm convinced don't sleep after working with them over the last couple of months.
While we continue to plan to bring you bigger and better things on the recruiting front in the coming months, we figured we might as well use the assets we have, thus the first ever 11W Recruiting Staff Roundtable.
In this edition of the roundtable, we'll talk about our thoughts on the current state of the class of 2013, how we expect the class to finish, what 2014 players you all should keep an eye on, which 2014 quarterback we prefer in the early going, and which 2012 signees we think will have the biggest impact this fall.
Join us after the jump to hear more from Dave, Miles, Derek, and myself on all of these topics, and be sure to chime in with your opinions or inquiries in the comments section below so that we can answer any questions you may have as the summer recruiting season comes to a close.
Currently sitting at 16 commits, how do you feel right now about the recruiting class of 2013? Who are the commits you are most excited about and are there any current verbals that left you questioning the staff's decisions?
Dave: The 2013 recruiting class has been everything I expected to this point. Yes, it can be frustrating to see Michigan with a higher-rated class right now, but in reality, who cares? Urban has locked down some legitimate athletes that will undoubtedly be household names by they time they leave Columbus and a few commitments have been major surprises (i.e. Marcus Baugh and Michael Hill).
I am most excited for Jalin Marshall. He is that type of super athlete that Urban has been wanting and he will not disappoint. I expect him to have 5+ receptions, 5+ carries, and a few big special teams plays per game by the time he's an upperclassman.
I am not in the least bit tentative about any offer. The staff knows what they need and they know the abilities of these players and the team's needs more than any expert can analyze. If Urban is extending an offer, I believe in the prospect.
Miles: I'm very happy with where the class is at right now. Most people forget Urban has had much less time than other coaches to get to know prospects and has still been able to assemble a top 10 class.
On the offensive side of the ball, I'm most excited to see Jalin Marshall and Ezekiel Elliott. Defensively, I'm most excited to see Joey Bosa, the nephew of former Buckeye great, Eric Kumerow. In addition to Bosa, I'm excited to see Cameron Burrows, the first commit of the 2013 class, as well as Eli Woodard.
Derek: It seems standard protocol to applaud the job Meyer has done with recruiting but I truly think the new head coach and the Buckeye staff have done a great job so far with the 2013 class. 
The spots that needed to be addressed heading into the class were an elite quarterback, one to two more offensive tackles, a linebacker or two, playmakers at the wide receiver position, and to add more depth in the secondary.  They got the elite quarterback they needed in JT Barrett, Evan Lisle is a highly touted prospect at offensive tackle, and the secondary class that includes Eli Woodard, Cam Burrows, Jayme Thompson, and possibly Darron Lee is one of the nation's best groups.  At linebacker, Ohio State is in position to possibly land Tyquan Lewis and Mike Mitchell, and perhaps Christopher Worley, with Florida commit Daniel McMillian taking a look as well. 
The only question mark with this class right now would be the lack of playmakers at the wide receiver position outside of Jalin Marshall.  Help could be on the way, though, with the possibilities of Devon Allen, James Quick, Shelton Gibson, and others.
Alex: Right now I feel pretty good about the class, especially considering the sanctions, but the finish will be very important. I think a lot of us thought Urban Meyer was going to come in and basically pick and choose who he wanted in this class. That was not the case for 2013, as the recruiting cycle starts earlier these days and the staff didn't get to partake in that full cycle with this class. Urban won't get to pick and choose for 2014 either, but I think it will be an even stronger class, which is scary considering this will be a top 10 group.
Who am I to ever really question the staff's evaluation of a player? That is the truth, but with it being said, there are times where coaches "take chances" with certain players who may be considered projects. The one everyone is talking about there is Timothy Gardner. I haven't seen enough of Gardner to judge him, but he will need to cut more weight to play at the level OSU wants him at.
Another player who is extremely talented but there are question marks around is Darron Lee. I'm glad we took him for his talent, but I would love to know what position the coaches see him fitting in at. I love him at safety or star, but if he can grow into an outside linebacker and play with punch at the position, he can be a scary athlete to have in the arsenal for the Silver Bullets.
With this class expected to number somewhere from 20-22 players, what positions do you feel are the biggest need for the remaining spots to fill? What players do you expect to take these spots and finish off the class?
Dave: It has to be expected that the staff will take more receivers. I still think James Quick will commit to Ohio State when it's all said and done and Shelton Gibson will do the same. The other open spots are up in the air, but the focus should be on offensive line depth and defensive backs.
Miles: The class is definitely lacking playmakers on the offensive side of the ball. I expect Marshall and Elliott to be great players, but they simply aren't enough.
On offense, I expect the Buckeyes to close out the class with Louisville (KY) Trinity WR James Quick, who is favoring the Buckeyes and hometown Louisville right now. In addition to Quick, I feel Cleveland Heights (OH) WR Shelton Gibson will be a member of this class when/if he takes care of his academics.
Defensively, I feel the Buckeyes will add a linebacker, a viper (DE/LB hybrid), and a star (LB/S combo).
I feel Plano (TX) Prestonwood Christian Academy LB Mike Mitchell will fill the 'backer spot. The Buckeyes currently hold the lead for Mitchell, although Florida State and Texas A&M are still in the running for his services.
I feel Tarboro (NC) DE/LB Tyquan Lewis will fill the viper spot. Lewis has visited twice this summer, most recently for the Friday Night Lights camp, and appears to be down to Ohio State and his home state school, North Carolina. The Tar Heels may even be full along the defensive line, which would make Lewis a near Buckeye lock.
Lastly, I believe Glenville (OH) LB/S (star) Christopher Worley will round out the class on the defensive side of the ball. Securing the commitment on Worley would keep the Glenville-Ohio State pipeline flowing.
Derek: Linebackers and wide receivers are crucial in filling out the remainder of the class. 
At linebacker, the light at the end of the tunnel is a little brighter because a strong chance exists that Tyquan Lewis, Mike Mitchell, and/or Chris Worley will be Buckeyes. 
At the wide receiver position, things are a bit more grim.  Shelton Gibson is the one that OSU has best chance at, but outside concerns have prevented it from being a "sure thing".
If there are six spots left, I see Donovan Munger, Christopher Worley, Shelton Gibson, Tyquan Lewis, and Mike Mitchell as five players to definitely be Buckeyes.  Gibson would be, pending that everything off the field works out.  A sixth spot would likely be saved for a talent like Vonn Bell or James Quick.
Alex: Looking at remaining spots, I would like to see two wide receivers, one offensive lineman, two linebackers, and another defensive back. I think adding a linebacker and another receiver should be the biggest priorities.
As for filling out the class, that is a tough one to answer. Right now I would say Donovan Munger, Tyquan Lewis, Mike Mitchell, and Shelton Gibson are four players I see in. I will go out on a bit of a limb and predict Vonn Bell will be in as well. If there are one or two more spots left in the class, all of the names mentioned above could be in, as well as guys like Dorian Johnson, Daniel McMillian, Dennis Finley, Devon Allen, Ryan Timmons, and many others still on the board.
Looking forward to the class of 2014, who are four or five players that fans need to know about right now? Who do you think will be the first player in the class to commit to Ohio State?
Dave: Da'Shawn Hand, William Crest, Drew Barker, Raekwon McMillan, and Thaddeus Snodgrass. I would love Hand to commit early (#1 player in the class) so the class could be built around the best player in the nation. But realistically, I could see a more tied to Ohio State player like Snodgrass committing early, as Meyer definitely will sell every receiver and athlete on his success with Percy Harvin, and that sell will reel in several top prospects.
Miles: Offensively, fans need to keep an eye on ATH Jalen Hurd from Tennessee. At 6-3/200, Hurd is one of the best playmakers in the 2014 class and currently has Alabama in the lead, followed by OSU.  He has expressed interest in playing running back in college and the Buckeyes are offering him that opportunity.
Another player to keep an eye on is Springfield (OH) WR Thaddeus Snodgrass, who in my opinion is the top offensive player in Ohio for the class of 2014. It's shaping up to be a battle between the Buckeyes, Michigan State, and Notre Dame for Snodgrass' services.
Defensively, two players jump off the page. The first being Woodbridge (VA) DE Da'Shawn Hand, the number one player in the class of 2014. The only schools Hand has visited thus far are Alabama, North Carolina, and Virginia Tech, but he is expected to make a trip to Columbus this fall. Hand isn't expected to make a decision until after his senior season, so there is a long way to go on this one.
The second 2014 player Buckeye fans need to know about is LB Raekwon McMillan out of Georgia. McMillan recently visited Ohio State for the second time this summer and enjoyed himself. He is the top linebacker target in the 2014 class and has the Bucks and Georgia out in front.
It's tough to forecast the first commit, but if I had to guess, I would go with Cleveland (OH) St. Ignatius OL Jimmy Byrne. It's still really early though and things can easily change.
Derek: It's difficult to narrow it down to only four or five as I think the 2014 class has the capability to be better than the 2013 class.  I'll go with five out of state prospects and five in the state of Ohio, as there are just too many to choose.
Outside of state borders, names to know are going to be QB Drew Barker, OL Demetrius Knox, OL Orlando Brown Jr., LB Clifton Garrett, and LB Raekwon McMillan. 
The five 2014 recruits inside Ohio to know would be WR Thaddeus Snodgrass, OL Kyle Trout, OL Jimmy Byrne, LB Dante Booker Jr., and DB Darius West.
I think the first player to commit to Ohio State in the class of 2014 will be Dante Booker.  Other possibilities would be Jimmy Byrne or, pending an offer and how soon, Darius West.
Alex: Another tough one as there are just so many talented players in this class. Like Derek, I will also go with a list of Ohioans and a list of out-of-staters.
In Ohio be on the lookout for WR Thaddeus Snodgrass, QB DeShone Kizer, OT Jimmy Byrne, LB Dante Booker Jr., DB Darius West, RB Ashton Jackson, LB Davonte James, and ATH Dareian Watkins.
Out of state, there are so many talented stars, but I'll list a ton and go with all of the quarterbacks (Allen, Barker, Henderson, Crest, Watson), RB Derrell Scott, RB Donte Williams, RB Mikale Wilbon, WR Mark Andrews, WR Braxton Berrios, WR Tyre Brady, WR Johnnie Dixon, WR Artavious Scott, TE Jeb Blazevich, OT Mason Cole, OT Denzel Ward, OT Damian Prince, OT Orlando Brown Jr., OT Demetrius Knox, OT Jamarco Jones, OT Braden Smith, OT KC McDermott, DL Da'Shawn Hand, DL Andrew Brown, DL Malik McDowell, LB Clifton Garrett, LB Raekwon McMillan, DB Nick Glass, DB Tony Brown, DB Montae Nicholson, DB Quincy Wilson, DB Quin Blanding, DB Jabrill Peppers, DB Damon Webb, DB Edward Paris, and others [loses breath].
As for the first commit, I will go with Dante Booker Jr. out of Akron (OH) St. Vincent-St. Mary.
There has been a lot of talk so far about the quarterbacks in the class of 2014. Right now the staff has said they plan on taking just one player for the position, although speculation is that could end up being two players. If you had to choose just one of the quarterback prospects in the class to take today, who would it be? If you could take two, who would be your second pick?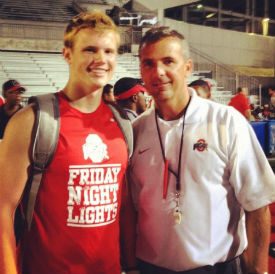 Dave: If I'm head coach, I'm taking William Crest. Crest fits the mold of a Braxton Miller or JT Barrett, who are both perfect for the spread. If I could take two, I would take Drew Barker and Crest. One dual-threat and one pro-style quarterback, giving my team the ability to match-up against any defense and show opponents different offensive looks and schemes. Refer to: 2006 Florida Gators with Leak and Tebow.
Miles: If I could only take one quarterback in the 2014 class, I would take Burke (VA) Lake Braddock QB Caleb Henderson. In my opinion, Henderson was the most impressive quarterback at Friday Night Lights in a group that included him, Drew Barker, DeShone Kizer, and Joey Duckworth. He clearly had the best arm and he was a lot faster than I thought he was based on watching his film.
If I could take another quarterback to go with Henderson, it would be Toledo (OH) Central Catholic QB DeShone Kizer. Kizer has great speed but needs to work on his throwing mechanics if he wants to succeed at the next level. With that said, Kizer has the most upside of all the class of 2014 signal callers that OSU is recruiting.
Just a note, Drew Barker is the second-best quarterback the Buckeyes are recruiting in my opinion, but I think he's very similar to Henderson, so I'd rather go with a much different player in Kizer. 
Derek: I've been very adamant about it, but I think Drew Barker fits Meyer's offense like a glove.  He is growing in size, has good mobility, possesses a great arm, improved over the camps he attended, and loves to compete.  His consistency and improvement in accuracy at the Friday Night Lights camp in Columbus is what sold me on him being my guy.
Caleb Henderson would be my second choice, but it would be hard to bring in two top 10 players in one class at the position. A second option would suit players that may fall through the cracks, like Kyle Allen or Joey Duckworth.
Alex: Right now I have Caleb Henderson and Drew Barker on the top of my big board and like Derek and Miles said, I can't see both in this class. If I had to choose one I would pick Barker right now, as I think he moves a bit better and has displayed some intangibles of leadership you want in a quarterback. I'd like to see both in a game first before I make that call though.
As a second quarterback, I would take more of a raw passer/athlete with DeShone Kizer being my first choice. Don't sleep on a guy like Chris Durkin or Joey Duckworth, both of whom aren't the prototypical spread quarterback, but both of whom have shined in the camp setting this summer.
Looking back at the class of 2012, they are now all on campus and are taking part in their first camp. Who is one offensive player and one defensive player in the class that you expect to make an immediate impact?
Dave: Offensively, Bri'onte Dunn is obviously the clear-cut favorite to be the most productive freshman, if he can put the legal troubles behind him. He will most likely get a ton of carries early on, especially with Jordan Hall sidelined.
Defensively, everyone likes to talk about former five-star defensive ends Noah Spence and Adolphus Washington, but I want to say Najee Murray. Murray is a super athlete with a high football IQ who is not afraid to lay the wood when necessary. There has already been discussion that Murray could play in the slot on offense, but I definitely think he will see the field in certain situations on defense and definitely on special teams. I can foresee Murray being that guy who blocks punts and forces fumbles on the kickoff team.
Miles: An offensive player I think will have an immediate impact is OT Taylor Decker. Decker enrolled early back in January and is already second on the depth chart, splitting some first team reps at right tackle behind tight end turned offensive lineman Reid Fragel. I think Decker will be starting by the third week of the season.
On the defensive side of the ball, I'll go with DE Noah Spence, the Buckeyes' top rated recruit in the 2012 class. I think Spence will make an immediate impact as a situational pass rusher and play his way into more field time if he performs well.
Derek: One 2012 offensive recruit that could have an immediate impact is Michael Thomas. He showed great ability during the spring game and has a favorable depth chart at the position.  Taylor Decker is on the minds of many, but if Reid Fragel wins over the right tackle position, the no-huddle offense could limit his ability to substitute and get on the field at times. 
On defense, I like Noah Spence. Ohio State is limited on outside speed rushers, so I think he has the best chance at playing time.
Alex: On offense, I am going to go with Mike Thomas. Right now he is behind Devin Smith, Philly Brown, and Evan Spencer on the depth chart, but I think OSU will go to a lot of four wide receiver sets and I think Thomas could even work his way past one of those players above him. He has good hands, great size, and a tremendous work ethic. Unlike with Taurian Washington or Bam Childress, I don't think Thomas's spring performance was a fluke. Do I expect him to get 12 catches every game? Absolutely not, but 4-5 would be nice and would make for a great freshman year.
On defense, I will also go with Noah Spence. With Nathan Williams coming off his injury and the need to get John Simon down the line and out of the LEO spot, I think Spence will flourish if he shows early he can make things happen when rushing the passer. I expect Simon/Williams to handle the primary duties at that end spot, but expect Spence to get early opportunities in passing situations to show his skills. Like with Ryan Shazier last year, the more Spence plays and gets comfortable with play recognition and what is going on around him, I think the more he sees the field and I expect a nice year from the nation's top player (according to Max Preps).